A surprisingly exciting match given the few amount of chances saw the two squads play to a 0-0 draw.
It was a tale of two halves, with the visitors flying in the first half but coming out empty handed, and the home side controlled the second half with the same result.
Spurs, having won away at Hull City last week despite what Andre Villas-Boas called "practically no support," began the match by overwhelming the Everton defense.
AVB's side tossed unending pressure at Everton's defense, which struggled to hold its shape and track the movement and pace of the Tottenham wingers Lewis Holtby and Andros Townsend.
The frustration pushed Everton to the brink, with Howard receiving a yellow card from referee Kevin Friend in the opening 15 minutes for dissent, and defenders Phil Jagielka and Leighton Baines could be seen voicing their displeasure on numerous occasions.
The pressure earned Spurs a litany of free kicks, one of which saw Kyle Walker test Howard in the 19th minute, but the American keeper held firm to deny the defender's strike.  Romelu Lukaku, starting by himself up front with Aroune Kone out injured, was forced to come back and defend a bit as well, using his imposing figure to assist his back four.
Spurs maintained their pressure into the depths of the first half, as the game blasted open in the 23rd minute.  Everton did their best to counter and push Spurs back but they struggled mightily to get out of their own half.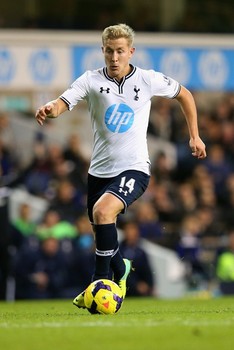 However, nothing came of the pressure for Spurs, and finally, on the half hour mark, Everton began to put a foothold into the match.  The visitors have struggled mightily this season in developing the final ball to score from open play.
The second half proved more fruitful for Everton. Lukaku identified Vlad Chiriches as the weakest link in the Spurs back four, and he looked to exploit that on a few occasions.  Lukaku nearly broke on a 3-on-2 opportunity just after halftime but Michael Dawson made a pinpoint tackle in the box.
Everton pressed more with their substitutions, and James McCarthy nearly found Lukaku in front of goal but the big Belgian couldn't get a clean touch to it with a defender glued to his hip.
As both teams strongly pressed for a goal on both sides, a scary moment came over Goodison Park in the 78th minute. Lukaku went full-speed chasing a long ball, which Lloris easily collected.  The 20-year-old, running at pace, couldn't stop in time and just caught Lloris on the head with his knee, which appeared to possibly knock the Spurs goalkeeper unconscious momentarily.
Clearly wishing to continue, a long and ferocious argument by Lloris to stay on the pitch proved successful, despite Spurs medical staff and players alike pleading with the Frenchman to come off in favor for American Brad Friedel.
Everton were clearly on top following the incident, with subs Ross Barkley and Gerard Delofeu making large impacts on their attacking play.
The draw looked more and more evident as the nine minutes of stoppage time continued to tick, and Spurs will be disappointed to have wasted their impressive first half and finish yet another game with no goals from open play.
The draw muddies the waters at the top of the table even further. The point for Spurs pushes them up to fourth place level on points with Chelsea and Liveprool, while Everton remain in seventh equal with Manchester City and Southampton.
LINEUPS:
Everton – Howard; Coleman, Jagielka, Distin, Baines; McCarthy, Barry; Mirallas (Delofeu, 63′), Osman (Barkley, 63′), Piennar; Lukaku (Jelavic, 86′).
Spurs – Lloris; Walker, Dawson, Chiriches, Vertonghen; Sandro (Dembele, 61′), Paulinho; Townsend, Holtby (Eriksen, 86′), Lennon (Sigurddson, 69′); Soldado.