As I headed towards the Welsh Capital on the train this morning, the sleepy foothills of the valleys to my right acted as a juxtaposed precursor to the atmosphere brewing in Cardiff.
Excitement, bedlam and anticipation all neatly packed into the first-ever South Wales derby being played in the Premier League on Sunday. Wales and its biggest city has come alive to a soccer rivalry that promises to produce fireworks, fervor and passion on and off the field.
To help set the scene, it's worth nothing that a massive police presence is evident as I pull into Cardiff Central station. Heddlu (meaning Police in Welsh) are everywhere, mounted on horses, dressed in riot gear and no doubt these guys have been up since the crack of dawn helping to escort the 2,000 plus Swansea fans along the M4 and into Cardiff safely in the revolutionary tactic known as 'the Bubble.'
(MORE: Rivalry and passion define soccer's heyday in South Wales – Part I)
As I got off the train at Cardiff, it was evident that the party had been going on around here for most of the morning already. Outside many of the pubs lining the city center streets were groups of middle-aged men who already seemed to be two or three beers deep… at least. Usually rivalry games likes this have earlier kick off times to stop fans drinking before the game… the South Wales derby begins at 4pm local time. The decibel levels should be through the roof with the inhibitions gone after a few pints and local bragging rights at stake.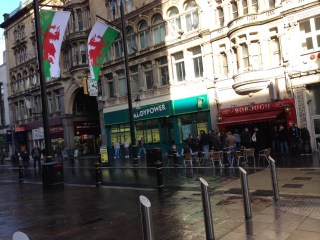 Around the stadium men of a certain age are lingering around, with locals waiting for the Swans fans to arrive on buses but the whole 'Bubble' operation had averted any ugly scenes that have marred this fixture in the past.
(MORE: A tale of two cities in South Wales – Part II)
The pitch looks immaculate, the segregation is in place and the PA system is booming with music to liven things up. Fans from both teams are starting to filter into the stadium, as Cardiff and Swansea will kick off the first-ever game in the Premier League that will not have an English team in action…
At last, South Wales has arrived in the PL. The stage is set for Cymru to show it's true identity as a soccer nation.
We're ready here at the Cardiff City Stadium… are you?