Hugo Lloris never should have been allowed to continue at Goodison Park.  End of story.
With the Spurs goalkeeper appearing to have been momentarily knocked out by Romelu Lukaku's knee, the woozy and foggy player fought ferociously to stay on the pitch.
Lloris won protests by the medical staff, his captain Michael Dawson, and manager Andre Villas-Boas, staying on in favor of the substitute Brad Friedel.
In allowing his player to run back onto the field, AVB failed his players and proved that when it comes to head injuries, the Barclays Premier League lacks greatly in both the knowledge of head injuries and how to properly and safely deal with them.
It's ironic that Lloris was injured by Lukaku.  Clearly unintentional, the imposing Belgian forward had dealt with the same situation just over a month prior, admitting he doesn't even remember scoring a goal thanks to a blow to the head – which he was allowed to not only continue after, but played a full 90 two days later.
(MORE: Romelu Lukaku situation shows need for Premier League concussion policy)
With one instance, the argument can be made that a need for a policy change is in order (as you can read from Liviu Bird in the link above).
But a flurry of instances this season? Policy is no longer the fix.  A need for education is in order. Education on not just the consequences of serious head injuries both immediate and long-term, but education for medical staff and coaches on how to simply tell a player "no, you cannot go back in." Former US international and current ESPN fixture Taylor Twellman agrees:
https://twitter.com/TaylorTwellman/status/397018438175956992/
Guess what? AVB after the match said Hugo Lloris can't remember getting knocked out. He then proceeded to laud his player for his assertiveness in the situation. What a surprise.
It was clear that nobody but Hugo Lloris wanted Hugo Lloris on the pitch after watching what happened. And yet Hugo Lloris ended up back on the pitch.  That is a problem.
This isn't Spurs first head-injury mishap this season, either.  Just last week, AVB admitted winger Andros Townsend was unconscious and needed oxygen when medical staff arrived to treat him after falling over a video advertising board.  He returned to play in the match.
Stoke City defender Robert Huth was knocked out in September against Manchester City. He played the full 90.
Many in the United States have argued that the National Football League as well as the NCAA has taken things too far regarding head injuries, changing the game itself in an attempt to protect players.  While that may be true, there is no doubt that if the type of injury Lloris sustained had happened in the NFL, and the player had been allowed to come back on, a full investigation would be launched, fines would be issued, and staff members may even lose their jobs. Obviously a much more violent sport, a head injury is a head injury, and should be dealt with the same no matter the sport.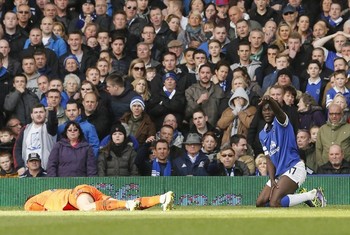 Major League Soccer also has much stricter rules regarding head injuries.  As Liviu points out, MLS requires every single player to undergo baseline testing before the season starts. Following an incident such as the one at Goodison today, the player would immediately be substituted and must prove symptom free – and even then must be cleared by a neuropsychologist – before resuming any type of activity.
Research and evidence have proven time and time again in recent history that head injuries in sports have not just serious but long-lasting effects on the lives of players both during and after their careers.
Adrenaline, recklessness, passion, and youth often drive these players to desire to play through such injuries, and it is the job of the staff to prevent them from doing so.
As Liviu cited in his story about Lukaku, there is also a complete lack of a structured system for teams and players to follow should they sustain a head injury.
The official policy, as cited in the 2013-2014 Premier League official handbook, states, "Any Player, whether engaged in a League Match, any other match or in training, who having sustained a head injury leaves the field of play, shall not be allowed to resume playing or training (as the case may be) until he has been examined by a medical practitioner and declared fit to do so."
What kind of a "guideline" is that? It's a disaster that the Premier League has such a lackluster structure in place – no structure whatsoever – to deal with serious and dangerous injuries such as this.
Hopefully this incident will, unlike Lukaku's, drive the Premier League to institute some type of structure to force teams to act on behalf of player safety.  If they don't, nobody will, and it is the players who will suffer – mightily.
Here is video of the incident: