Part of the lore around Portland's rise is the concept of Porterball, a term the Timbers' head coach will never own. NBC's Kyle Martino brought the moniker to national attention this summer, but it'd been whispered for some time, even if Caleb Porter's always bristled at any implication such a term could transcend the team itself.
But with a focus on style evident from early on — when the coach himself would focus on shots, passes and possession as indicators of the team's progress — it's no wonder a style that's so different than John Spencer's became a focal point. It's not only that Porter likes an approach emphasizing possession, pressing and movement, it's that the difference in philosophy brought such a drastic change in the standings.
So as Portland enters Thursday's second leg on a nine-game unbeaten run, it's worth asking what's happened to Porterball. Most people may not have noticed it's wane, but it was evident on Saturday. While beating Seattle 2-1, the Timbers ceded 60 percent of the possession and 20 shots, seemingly by choice. It just doesn't fit the Porterball narrative.
[MORE: Johnson, Nagbe goals allow Portland to take edge out of Seattle]
"[Seattle] had a little bit more of the ball, but that was a part of the game plan," Porter said on Saturday, clearly happy with the result. "We wanted them to have a bit of the ball so we could roast them on counter-attacks, and I thought we were very dangerous on the counter all day long and I thought we were organized."
The roasting may have been confined to a handful of moments, but it's hard to argue with the results. The one goal conceded? It was off a long throw. Beyond Seattle's goal, their best chance was a late corner that Clint Dempsey put of the crossbar from just over six yards out. Everything else was pretty well-controlled, including a Dempsey shot in the fist half which, though it grazed the crossbar, would have nailed Donovan Ricketts' hand had it not led to a goal kick. Though Seattle racked up low percentage shots, the game's next-best chance was probably Ryan Johnson's, who was unable to convert a late second half breakaway that would have left Portland up three.
"They had some shots from distance. They didn't have a ton of great looks where they got in behind us," Porter said. "I thought we were very organized and played a very pragmatic game plan, and it's a win on the road."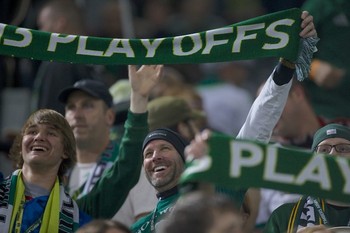 The premature death of 'Porterball'
Pragmatic? Conceding possession? Willing to lose the shots battle? When the heck did this happen? This isn't Caleb 'Porterball' Porter, guardian of the next era of American soccer's approach. These are the words of Bruce Arena or Dominic Kinnear after they've lulled their opponents into mistakes.
The change isn't about Seattle, necessarily. It's been happening since early September, with the results apparent after Portland returned from Carson after a disappointing 1-1 draw with Chivas USA (Sept. 14). They'd go on to win their next two games 1-0 (Colorado and Los Angeles), finishing second in possession, shots and total passes each time. Over their next five games, Portland would only score more than two goals once (a 5-0 at Chivas to close the season) while conceding multiple goals on only one occasion:
Date
Opponent
Final
Possession
Shots
Shots
on Goal
Passes
Sept. 20
Colorado
1-0
49-51
9-13
2-1
397-412
Sept. 29
LA Galaxy
1-0
47-54
5-9
3-2
413-465
Oct. 6
at Vancouver
2-2
51-49
14-16
3-8
435-410
Oct. 13
Seattle
1-0
49-51
15-11
3-3
409-418
Oct. 19
Real Salt Lake
0-0
44-56
9-8
4-0
371-476
Oct. 26
at Chivas USA
5-0
53-47
17-12
9-4
462-405
Nov. 2
at Seattle
2-1
40-60
10-20
5-5
325-483
These are the last seven games of Portland's unbeaten run (first Chivas result left out). If you toss out the two games against the non-playoff teams, you see some consistent outcomes – a complete change from the early season's possession-based approach.
Portland losses the possession battle every time. They almost always get outshot and out-passed, but they're never giving up more shots on goal. For all of Sigi Schmid's hopes that Seattle's quantity of chances will come good in Seattle, his team's performance on Saturday just fits the bigger picture. They're playing Portland's game; not the other way around.
"I've prepared [my team] for Plan A or Plan B," Porter said after the Oct. 13 win over Seattle, his team having used their "Plan B" to even the season series with their rivals. "When you're playing good teams, you have to prepare for that …"
"The reality is when you have two teams playing each other who both want to do the same thing, they're going to have moments when they'll have us deeper," Porter explained. "I've tried to prepare these guys to be composed and mature when we're playing with a lower block …"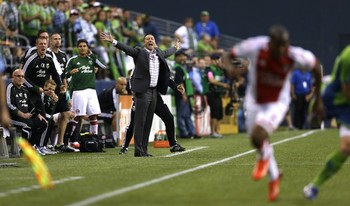 Learning from early season mistakes
It's a change that's about more than versatility. Interspersed with Portland's five losses and 15 draws were moments were being too aggressive had cost the Timbers points, often from winning positions. They wanted to press. They wanted to play in the opponent's half. But they were also giving up key goals.
"Earlier in the year we were up the field, pushing and playing well, or we were just getting run through," Porter conceded, after the 1-0 win over Seattle. "We've kind of down shifted just a little bit to balance our team. Just a little bit.
"We're a little bit more setup to win games this time of year. This time of year, [they're] going to be tight games."
Now when the Timbers gain a lead (another point of emphasis within the team), they have a way to hold on, and when they claim an early lead, the numbers look very non-Porterball. Before earning their second goal on Saturday, Portland had held 48 percent of the possession, while the Galaxy were also able to pad their statistical edges after the Timbers went up 1-0.
As his playoff debut showed, Porter made the right decision, siding with pragmatism over idealism. But what does this mean for Porterball? Does all the talk about possession soccer, pressing and playing in the other team's half take a back seat to a more conventional approach?
Not entirely. Like Porter says, it's about having a Plan A and an alternative, and if he has to step back from some of the high-minded talk from earlier in the season, so be it.
"When I fail, I look at it and correct it," Porter said. "Same with [my team]. I think that's a big reason why we're winning these games now."