Sigi Schmid is one of American soccer's real success stories, a self-made coaching figure who made his way up from college coaching ranks into MLS, starting a neat little collection of MLS Cups, Supporters Shield trophies and U.S. Open Cup crowns upon arrival into domestic soccer's top tier.
And he's about to lose his job.
Maybe, that is. There are two big caveats here, starting with the fact that Seattle is only "mostly dead," which, as we know, is "slightly alive." So, the Sigi Sounders are not out of the playoffs just yet. His Sounders are certainly half a chalk outline right now, trailing Portland by a goal and staring at the tough road leg in this home-and-away conference semifinal. But teams can and have come back in these aggregate goals MLS series following a bummer loss at home; teams that lost the opening leg at home are 3-for-11 in manufacturing a memorable rally.
The other caveat is that fans and media won't make this choice. That's on owner Joe Roth and on GM and minority owner Adrian Hanauer, along with the Sounders' big cast of very serious, buttoned up, corporate types.
But is there really any other outcome here? ESPN's Adrian Healey and I talked about it Sunday, just hours after the tough loss to Portland. He agreed that Schmid was highly unlikely to survive a series loss here.
Indeed, it seems so unlikely that Schmid could survive the weight of the October collapse, one now appearing to bleed into November, if Schmid cannot scare up a massive result in Portland, where the Sounders must overcome a 2-1 deficit when the teams clash at Jeld-Wen on Thursday.
(MORE: What we learned from Portland's win at Seattle)
Not at a club of such big ambition. Not at a club with more fans in the stands than at two or three other MLS grounds combined on most weekends.
Quick review of the facts:
Seattle Sounders FC remains on the hunt for meaningful post-season success. The Sounders did get past last week's elimination match against Colorado, which is something. Still, the lack of larger playoff success looks like the really big pole that the sputtering Schmid mobile is likely to smash into.
The history of making hay with big signings is sketchy at very best. The relative success around CenturyLink of DPs Freddie Ljungberg, Fredy Montero, Alvaro Fernandez, Blaise Nkufo and Mauro Rosales (that's not mentioning Clint Dempsey and Obafemi Martins out of the current crop) is all up for big debate. At best.
The October fade was a horrible sight for Sounders fans, who had gotten their hopes up thanks to the summer surge, one that was punctuated by Clint Dempsey's hardy and hopeful arrival.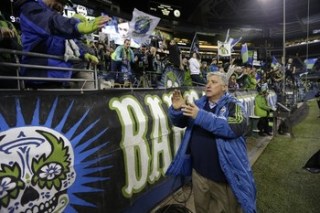 If this conference semifinal cannot be overturned, it's a dreaded double whammy. Because it's against Portland, the rival to top all rivalries in MLS. It's already a scab to be picked at; Joshua Mayers' good research reveals that Portland's weekend win was that organization's first victory in a competitive match in Seattle since 2005.  Yeah, that's gonna leave a mark.
Finally, there's this: Seattle soccer made a lot of noise about the Galaxy's starry alignment of soccer luminaries, the highly recognized likes of Landon Donovan, David Beckham and Robbie Keane. When would the Sounders get their bite off the soccer icon apple?
Well, here's Dempsey now … and how 'bout them apples?
His arrival removed the last, uh … what word can we use here other than "excuse?"  Let's go with "obstacle."  Either way, stamp it with "removed!"
Not all of this is Schmid's fault necessarily. But it's a case where the negative weight of it all will almost certainly reach critical mass. The call for change will create its own momentum, and it just seems so painfully unlikely that Seattle's only coach (in MLS soccer that is) will survive.