UEFA Champions League's group stage resumes on Tuesday, with Groups A through D completing the phase's fourth round. With special focus on the day's big match in Turin, here's a preview of the week's first eight games:
WHERE DISASTROUS WON'T CUT IT
Juventus (Italy) vs. Real Madrid (Spain)
Kickoff: 2:45 p.m. Eastern, Turin (Juventus Stadium)
Two weeks ago, Real Madrid beat a 10-man Juventus 2-1, sending the Bianconeri to third in Group B. Since, the Merengues have allowed seven goals in three games, with head coach Carlo Ancelotti labeling his team "disastrous" after giving up two second half goals this weekend's to Rayo Vallecano.
[REVIEW: Cristiano Ronaldo double helps Real Madrid see off 10-man Juventus]
[REVIEW: Despite 3-2 win, Carlo Ancelotti rips "disastrous" Real Madrid]
"We've been conceding too many goals and this is our problem," Ancelotti says, staying coy on which pair he'd start in central defense. "[Raphaël] Varane will play tomorrow because he didn't play on Saturday and will be fresh, then I'll choose between [Sergio] Ramos and Pepe to partner him.
Obviously, disastrous is an exaggeration (Real Madrid did win, 3-2), but he was right to worry about his team. They haven't been good enough. Three goals conceded to Sevilla? Two to Rayo Vallecano? It won't work against Juventus. In fact, Real's defending is enough to wonder what would have happened them if Giorgio Chiellini hadn't picked up a second yellow card two weeks ago.
[REVIEW: Spain roundup: Ronaldo hat trick, Bale double lead Real Madrid's rout of Sevilla]
Juventus was starting to control that game. They gave up an early goal to Cristiano Ronaldo, but after that, their midfield was dictating the terms of the game. They'd created a clear chance for Andrea Pirlo and cashed in on a goal by Fernando Llorente. Something was going to have to happen to turn that game back in Real Madrid's failure, and it did. Chiellini got sent off.
He won't be Juve's only absence. Wing back Stephan Lichsteiner and forward Mirko Vucinic are still out, leaving Juve short-handed for a game which they need to win to keep their knockout round fate in their own hands.
[REVIEW: Where They Stand: Groups A through D after three rounds of UEFA Champions League]
"We've got to show on the field, as we did in Madrid, that we deserve to go through," head coach Antonio Conte said Monday. "Otherwise we will be the first to kneel down and applaud those who make it through at our expense."
Real Madrid, on the other hand, confirm a place in the knockout round with a win and, depending on what happens in Denmark, could secure first place in their group.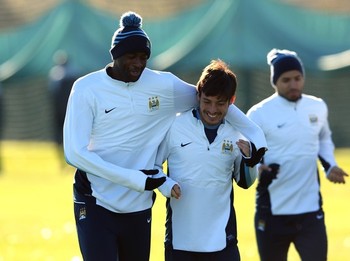 BREAKAWAY TIME FOR MANCHESTER CLUBS
Manchester City (England) vs. CSKA Moscow (Russia)
Kickoff: 2:45 p.m. Eastern, Manchester (Etihad Stadium)
Real Sociedad (Spain) vs. Manchester United (England)
Kickoff: 2:45 Eastern, San Sebastián (Aneota)
Amid all the focus on racism from the previous match in Moscow, a potentially historic moment is being ignored for Manchester City. If they win, they're through to the knockout round (unless Viktoria Plzen beats Bayern Munich). After two years of European failure under Roberto Mancini, Manuel Pellegrini could have the Sky Blues into the final 16 after four rounds.
[MORE: Manchester City hopes to leave racism controversy 'in the past' ahead of visit from CSKA]
"For Manchester City, [getting through the group stage] would be a great achievement," Pellegrini confessed on Monday. "We all know what happened in the last two years, so for a club that is always trying to grow every day, progression in Europe is very important."
Manchester United's knockout round fate won't be decided on Tuesday, but they have a chance to assume a commanding position in Group A. Beat Real Sociedad in Spain, and the Red Devils will move to 10 points. Last year, 16 of 18 teams who reached that plateau made it into the knockout round. The year before, it was 11 of 12 teams.
To reach that mark, Manchester United will have to improve on their performance of two weeks ago, where only a Iñigo Martínez own goal separated the sides at Old Trafford.
[REVIEW: Three points, few answers for Manchester United in Champions League]
"We have to play well if we're going to get those ten points, which will get us over the line," Manchester United boss said, emphasizing the importance of that double-digit mark.
"I won't take anything for granted. I have a lot of respect for Sociedad."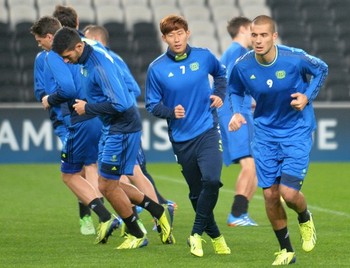 THE BEST MATCH YOU WON'T WATCH
Shakhtar Donetsk (Ukraine) vs. Bayer Leverkusen (Germany)
Kickoff: 2:45 Eastern, Donetsk (Donbass Arena)
The big, untold story of the last match day? Shakhtar, now consistent presences in Champions League, got blitzed in Leverkusen. In a battle between teams fighting for the spot behind Manchester United in Group A, Sami Hyypiä's team scored a knockout, with Stefan Kießbling's double leading Bayer to a 4-0 victory.
[REVIEW: UEFA Champions League roundup: All hail Ibra as PSG, Bayern Munich, Real Madrid stay perfect]
"The result in Leverkusen didn't reflect what happened on the pitch," Shakhtar coach Mirsea Lucescu said on Monday, an act of denial. "In the first half, they didn't create anything except for the move that led to Stefan Kiessling's goal, and before the break we were unlucky as Alex Teixeira missed the opportunity to equalise. Our task for the second half was to risk playing attacking football, but after the second goal we stopped doing the things that we spoke about."
Perhaps predictably, Hyypiä sees things differently.
" Our victory was fully deserved," Hyypia affirmed, "but I think that everything will be different here in Donetsk. They're a very strong Shakhtar side and now they're playing at home, so I expect it will be a very difficult match for us."
Leverkusen rested players this weekend, so they'll be ready for a Shakhtar team that lost in league on Friday (shocking, Shakhtar are still in second place in Ukraine). With Bayer carrying a two-point edge into Tuesday's match, a draw will do nicely.
Regardless, these are two teams who, while unlikely to go far in the competition, have talented, dynamic, yet distinctly different attacks. With Shakhtar needing a win and Bayer coming off a four-goal victory, this could be the day's highest scoring game, with the likes of Kießling, Luiz Adriano, Sidney Sam, and Teixeira capable of scoring against the best teams in the world, let alone sides a step or two down the pecking order.
It's the best match you'll have no access to on Tuesday, which is too bad. As much as the big names that you know will make the knockout round, these teams are what group stage is all about – getting to see talented sides that won't normally cross your path outside of Champions League soccer.
Others
All games kickoff at 2:45 p.m. Eastern time.
Viktoria Plzen (Czech Republic) vs. Bayern Munich (Germany), Štruncovy Sady Stadium, Plzen – Bayern ties a competition record with their sixth-straight win if they win in Plzen. Two weeks ago, they out-shot the Czech champions 30-2 en route to a 5-0 win.
Copenhagen (Denmark) vs. Galatasaray (Turkey), Parken, Copenhagen – Win this game and their match in Istanbul against Juventus (match day six), and Gala are into the knockout round, but the Denmark leg of that double will have to be conquered without goalkeeper Fernando Muslera and playmaker Wesley Sneijder. Both internationals have been ruled out for the game at Parken.
Paris Saint-Germain (France) vs. Anderlecht (Belgium), Parc de Princes, Paris – A win puts PSG in the final 16, and coming off a 5-0 win in Belgium, they're heavy favorites to take full points. In this season's competition, Anderlecht have the same number of points as goals: 0.
Olympiacos (Greece) vs. Benfica (Portugal), Georgios Karaiskakis Stadium, Piraeus – The Greek champions have already earned a point in Portugal, leaving head coach Michel wary of complacency within his squad: "We must avoid being over-confident … We are only thinking about the present, though, and not the future." But teams are on four points through three rounds.