The pace and rhythm of Major League Soccer's playoff stinks. It's broken, largely ineffective and fairly nonsensical. There's no other way to say it.
It's really about a larger problem with MLS priorities: League stability now largely achieved, steady growth now a pleasant reality, Major League Soccer can now lean into the business of refining its product. And nowhere is refining ("reforming" actually, in this case) more important than in year-long scheduling. The concerns are myriad, including the problematic issue of playing through FIFA fixture dates, TV time slots that don't make a lot of sense, the loss of opportunity in a lack of simultaneous final-day kickoffs and more.
Over the last few days, we've seen another troublesome, pot-holed road of MLS scheduling: a playoff docket that works against the league in so many ways, in limiting ticket sales and in stripping away any chance to build meaningful post-season momentum.
Let's start here: Major League Soccer is committed to its playoff system. Not everyone agrees it should be this way; a day never passes in MLS supporter circles without impassioned debate over whether traditional world soccer models – single table, no playoffs, plus promotion-relegation – should decide the championship. But American sports are about playoffs, and I happen to believe that's fine.
So MLS is committed to playoffs, and fair enough. League deciders favor the playoffs so much that three years ago they added two teams to the post-season field, getting more teams involved not only in the post-season, but in the truly exciting stretch run, the dramatic playoff races that (league officials hope) create memories, adding interest and fans along the way. So, fair enough to all that.
But it makes no sense to draw a big red circle around your post-season and point toward that show cow all year – and then fail to make it a priority in overall scheduling.  The league builds and builds and builds toward the playoffs – and then "Poof!"  So much of it is over in about 10 minutes.
(MORE: Dynamo president Chris Canetti talks about low turnout)
If we isolate scheduling, it really looks like the playoffs are just something MLS sticks on the back of the regular season. As in, "All right, let's get this over with!"
First thing that happens: Teams often get two or three days to sell the first match. That's why Seattle had just 32,204 in attendance for its elimination game against Colorado, a contest that kicked off just two-plus days after the final regular season kick. A few days after that, Seattle was back on the field again, this time playing before 38,507. Both are great numbers in domestic soccer – but well below average for the Seattle Sounders.
Along with the final regular season match, MLS policy forced Sounders FC to ask its fans to buy tickets three times within seven days. And that's a tough ask. Bottom line, when Seattle is having trouble selling tickets to important matches, something has gone very wrong.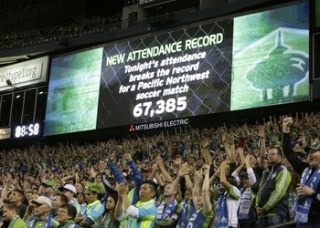 Houston had issues selling playoff  tickets, too, no real surprise considering the Dynamo didn't know it was in the post-season until final day – and then had seven days to sell two matches. (Yes, other sports, NBA, NHL, etc., face tight sales windows at playoff time. But as we all know, and yet sometimes conveniently forget during these conversations, MLS is not the NBA or even the NHL.)
TV becomes problematic, too, with so little time provided to sort out the particulars. MLS had major trouble ginning up network interest in last week's elimination matches. Neither of tonight's matches (where the league's largest market club, New York, could be eliminated) will appear on an English-language national outlet.
Aside from ticket sales and missed opportunities to create sponsor involvement and TV interest, MLS gives itself and its clubs zero chance to build some real marketing momentum along the post-season way.
The season ends. Three or four days later, two teams are gone. A week after that, four more are out.
Think about that: Within 11 days of the final regular season whistle, 6 of 10 teams are gone! The bulk of the playoffs – remember, that big red circle the league has pointed to over an entire year – are history in just 11 days.
That is what MLS wants its playoffs to be about?
The single-game, 4th-vs.-5th elimination match is fine – but put it on the weekend after the final regular season match. (And for heaven's sakes, stop putting one of the first MLS playoff contests on Halloween! People are out and about, not home watching sports.)
(MORE: MLS loses opportunities with no final-day simultaneous kickoffs)
Then stretch these conference semifinal series over two weekends. Give them some room to breathe. We see fantastic momentum build during playoff series runs in baseball, basketball and hockey. Those are multi-game sets, of course, and MLS is fine with its two-game, home-and-away format – but give them a chance to create some energy in the market, at least.
None of this even addresses issues of fairness or technical quality. Play, travel, play, travel … that's hardly a recipe for great soccer.
Mostly though, MLS just doesn't give itself a chance to exploit the meaningful post-season narratives, the memory makers that create club history and build legacy. And that's a real shame.
It's not that difficult: Add a couple more regular season weeknight dates – and then avoid them at all cost during the post-season.
Generally, when creating the overall schedule, MLS needs to start with a playoff schedule that makes sense, and then back into the regular season from there.