UEFA Champions League's group stage continues on Wednesday, with Groups E through H completing the phase's fourth round. With special focus on the day's big match in Germany, here's a preview of the week's final eight games:
WHEAT FROM THE CHAFF
Borussia Dortmund (Germany) vs. Arsenal (England)
Kickoff: 2:45 p.m. Eastern, Westfalenstadion, Dortmund
Arsenal need to get those points back. After losing at home two weeks ago, they're in a three-way tie for first. They still have to play at Dortmund. They still have to play at Napoli. If they don't get a result in one of those matches, they're probably headed to the Europa League.
"I don't know if this will be a decisive match – it also depends what happens between Marseille and Napoli – but it is a very important match for us," Arsenal manager Arsène Wenger explained on Tuesday. "[B]ecause we lost at home … now have to win the away games."
Europa League seems like a cruel possibility for a team we've seen perform so well in England, but there are two factors in play here – one discussed at length, the other glossed over. This is an incredibly though group, with all of Arsenal, Dortmund, and Napoli possessing the quality to advance in this round and the Round of 16. But also, England just isn't as good as it was five years ago. Success in the Premier League doesn't necessarily mean a team will have proportional success in Europe.
That change was evident at the Emirates two weeks ago, when Borussia Dortmund won at the Emirates. Though Arsenal didn't necessarily play poorly, they were clearly on a different, lower level than one of the continent's elites. Though the Gunners battled, taking the match to the 82nd minute tied 11, Robert Lewandowski eventually separated the sides late.
"[T]he match in London there were also moments where [Arsenal] did manage to find that tiny gap," Dortmund  boss Jurgen Klopp explained. "[S]mall things could have made a difference."
If Arsenal's to prove contenders in Europe as well as England, they have to find a way to bridge that gap.  They need to raise their game to a different level. They need the small things to go their way rather than Dortmund's, because without a result in Germany, the Gunners are likely to be starting at third place with two games to go.
"We maybe lost the first game because we wanted to absolutely win it at all costs and we exposed ourselves," hindsight tells Wenger. "It was a midfield battle and we got caught on the counterattack because we were all up front and were not happy with the draw.
"It will strengthen the resolve of my team to come out and show a different level."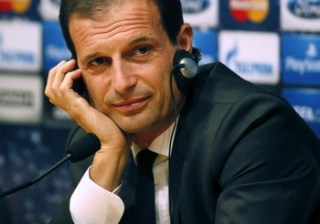 SAME SHHH, DIFFERENT YEAR
Barcelona (Spain) vs. Milan (Italy)
Kickoff: 2:45 p.m. Eastern, Camp Nou, Barcelona
With Milan having fallen to 11th in Italy, news around the Rossoneri's Wednesday match has focused on internal politics, not the challenge presented by the Spanish champions. A second successive slow start to the season has Barbara Berlusconi, one of embattled owner Silvio Berlusconi's daughters, seeking to gain full control of the club and oust CEO Adriano Galliani, who some see responsible of the downsizing of Milan's squads. If Barbara is unable to jettison Galliani, head coach Max Allegri could leave, with reports in Italy claiming the fourth year boss has two games to save his job.
Barcelona may seem a suboptimal opponent to face when you need results, but Milan's recent record against last year's semifinalists is a decent one. Thanks to their meeting in last year's Round of 16, the teams have played three times this calendar year, and while many would expect the Blaugrana to have gotten the best of those encounters, the teams have split the games. Each team has won once, with the 1-1 draw in Milan two weeks ago doing little to dissuade the notion the Rossoneri are capable of matching up with Barcelona.
Despite that matchup, focus will be on the turmoil with Milan, who went through a similar situation last year after saying goodbye to much of their veteran core. Then, Milan were even lower than 11th (lingering closer to the drop) when, just as this week, management issued a statement in support of Allegri. The team would eventually eek through their Champions League group before bowing out in the knockout round, but along the way they soared up the Serie A table and eventually reclaimed a Champions League spot.
Even though Serie A is more competitive this year, Milan have the talent to do that same. And just as last year, the team's matches with Barcelona provide their embattled coach a chance to temporarily silence his detractors.
REBOUND OR REGRESS
Chelsea (England) vs. Schalke (Germany)
Kickoff: 2:45 p.m. Eastern, Stamford Bridge, London
The difference between a blip and a streak is the second result. Reverse the trend before it starts, and disappointment looks like an aberration. But fail to respond to adversity, and you've got a pattern. And once you have a pattern, you have to worried about what's fueling it, how long it will last, and the potential for the pattern to become a characteristic.
After Saturday's loss a Newcastle, Chelsea are at the left end of that process, but after losing 2-0 (and getting out-shot, in terms of shots on target, 8-2 by the Magpies), José Mourinho is wary of his team's mindset.
"Sometimes when you win a lot of times, players forget why they win," Mourinho explained on Tuesday. "Probably they forgot why they won against Schalke, Arsenal and Man City. When you win and win and win – three, four, five matches – sometimes they forget. Maybe they think they win because they are good, but there are many other ingredients that make you a consistent winner."
The fact that Chelsea won 3-0 in Germany won't placate Mourinho, nor should it. Are Newcastle a greater obstacle than the Miners? Or, at least, so different that the same result that befell his team this weekend couldn't be replicated on Wednesday? Of course not. Play like they did at St. James Park, and Chelsea could fall.
It makes the analysis ahead of the match quiet easy. Thanks to the team's meeting two weeks ago, we have a good idea of which side is better. Now it's just  a matter of whether Chelsea plays that game or the one that was on display on Saturday. Do the former, and Chelsea will move clear of Schalke in Group E.
Others
All matches start at 2:45 p.m. Eastern with the exception on Zenit-Porto. Playing in Russia, the Zenit match starts at 12:00 p.m. Eastern.
Zenit St. Petersburg (Russia) vs. Porto (Portugal), Petrovsky Stadium, St. Petersburg – A disappointing Champions League campaign for Porto could reach now lows in Russia, where Zenit will be favored to extend their one-point lead on the Dragons in Group G, thus strengthening their claim to the group's second knockout round spot. Juan Quintero and the suspended Hector Herrera are absent for Porto in what has to be seen a must-win game, considering the team still has to go to the Vicente Calderon.
Basel (Switzerland) vs. Steaua Bucharest (Romania), St. Jakob Park, Basel – The Swiss champions were drawn in Romania two weeks ago and need a win on Wednesday. Murat Yakin's team faces group-closing matches against Chelsea and at Schalke, and while they're capable of getting results in each, their best chance to improve on their four points is Wednesday at St. Jakob Park.
Napoli (Italy) vs. Olympique Marseille (France), San Paolo Stadium, Naples – Nothing short of three points is acceptable for Napoli, who close group stage with matches against Dortmund and Arsenal. With Marseille having failed to claim a point yet this tournament, Rafa Benítez's side is heavily favorited to move to nine points, even if they'll have to do so with a depleted defense. Miguel Britos, Camilo Zuñiga, and Giandomenico Mesto are all out.
Atlético Madrid (Spain) vs. Austria Wein (Austria), Vicente Calderon Stadium, Madrid – Perfect through three rounds, Atlético face their easiest match of group stage, with a win clinching their spot in the knockout round. A draw in St. Petersburg would allow the Colchoneros to take Group G.
Ajax (Netherlands) vs. Celtic (Scotland), Amsterdam ArenA, Amsterdam – Celtic's win in Glasgow two weeks ago dropped Ajax to fourth and positioned the Scottish champions to challenge Milan in Group H. A win in Amsterdam could vault Neil Lennon's club above Milan ahead of the Rossoneri's visit to Scotland, but coming off a draw in league on Saturday, Lennon's aware his team will be underdogs.