If there's one Premier League match to have circled on your calendar this weekend it's Manchester United v. Arsenal (Sunday 11:00am ET on NBCSN or watch live via NBC Sports Live Extra).
The Gunners haven't won a league match away at United since 2006 but from Robbie Earle's point of view, Old Trafford simply isn't the fortress it once was.
Ouch. But don't despair too much United fans, because from injuries to a difficult string of matches, Arsenal have problems of their own.
So I sat down with the former Wimbledon 'Crazy Gang' member and current NBC Sports Premier League pundit to get his take on what to expect in this weekend's marquee matchup.
Let's get stuck in.
WHICH CLUB NEEDS TO WIN THIS GAME MORE – MANCHESTER UNITED OR ARSENAL?
Manchester United. Simply because if they loose that means they'll be trailing the leaders by 11 points, and I'm not sure they can make that up. For Arsenal, the result in this match won't prove or disprove whether they are title contenders.
People are talking about United being on a nice run but beating Stoke and Fulham isn't much to brag about. Beating Arsenal, however, would be a massive deal. It would close the gap to five points and then you have the international break coming up to help them re-focus on getting back in the title race.
ARSENAL HAVEN'T WON IN THE LEAGUE AT OLD TRAFFORD SINCE 2006, HOW MUCH WILL THAT FACTOR IN?
I don't think Old Trafford means that much anymore. That's one of the things that United have lost during this transition – the fear that opposing teams used to have of playing at Old Trafford. We've seen Southampton and Stoke go there and play quite well. So while I think Arsenal will respect Old Trafford, I don't think they'll fear it. It's simply not the fortress that it once was.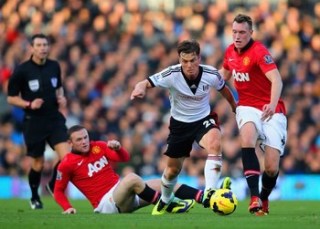 IF YOU'RE DAVID MOYES, WHAT'S THE BIGGEST WORRY YOU HAVE IN THIS MATCH?
The midfield. So far its been Carrick +1 with Fellaini, Cleverley or Kagawa and I'm still not sure what the best pairing is for United.
Against a team like Arsenal, United's wide midfield players will be key because the Gunners love to outnumber teams on the wings like they did last week against Liverpool. And if they're able to do that against Arsenal, the holding players will get stretched wide to the touchlines and this could be big trouble for United.
Despite some injury issues with Flamini and Wilshere, Arsenal still have Ramsey, Ozil, Cazorla, Arteta and Rosicky and I'm not sure United can stop the quick, incisive passing of the Gunners.
One thing United may consider is changing their formation. This could be a game where we might see Rooney drop a bit deeper throughout the match. Because there's such a dearth of midfield quality at United we could see Rooney in more of what I like to call a "50/50 position" where he's used 50% as a defender and 50% as an attacker.
With Arsenal, there's always a period during the game where they dominate possession in the midfield. Rooney will have to recognize when that happens and drop deep into the midfield to help United through it. Once it ends, Rooney can then push on and focus on his work up front. But unless Rooney drops back to key on players like Ramsey and Ozil, it could be problems for United.
One player Moyes could use in the holding role against Arsenal is Phil Jones. He's defensive minded and loves to match up one-on-one. He marked Cristiano Ronaldo off the park in the Champions League last year and did the same to Marouane Fellaini when he was starring at Everton. For me, Jones is slightly better being one place beyond the mistake that hurts you. When he plays in the back and makes a mistake, he costs United goals. But in the midfield he can make those mistakes and still have the defense to back him up.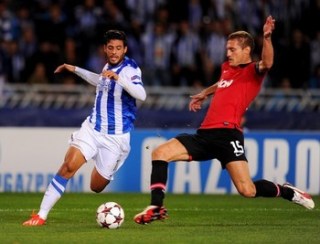 UNITED'S BACK FOUR HAS BEEN STRUGGLING, WHO IS THE KEY MAN THERE?
I think Vidic is so important to United right now. He made a couple of really telling challenges against Fulham last week. He's what I like to call a "natural born defender." He tackles, elbows you off the ball and he looks ugly – defenders should be ugly.
Vidic is a proper defender and I get the sense that he trains everyday like he plays. I bet he kicks you when he's training. And I think United have missed a bit of that strength and power and physicality at the back. Against Stoke, they looked a bit light-weight to me. I thought Peter Crouch bullied Jones and Evans.
I think Vidic is clever because he's very tactically aware. He reminds me of how Steve Bruce was at Manchester United. Whenever I used to play against Bruce, I'd think: 'I'd love to get Bruce one-on-one because I can run him.' But I never did because Bruce was so clever at organizing his defenders around him. He'd keep Gary Neville and Gary Pallister really tight to him. Then he'd drop Roy Keane right in front of him making it impossible to get in on him.
And that's exactly what Vidic is starting to do – he's constantly directing people around him, which helps him deal with problems before they happen. Vidic can read where the danger is going to be and deal with it. That little bit of instruction has been missing the last few years but now Vidic is on it.
It happens in all levels of football, you have to change the way you play. And the clever ones make sure they're not exposed. I think John Terry's done the same thing at Chelsea. Last year everyone was saying how his body is broke but this year he's been outstanding. He gets Ivanovic and Cole tight to him and has Ramires parked right in front. Most importantly, Terry doesn't put himself into areas where he can be exposed. There was a time when he used to go out on the wings and get roasted. He doesn't do that anymore. He lets someone else handle that business and stays central. It's a blueprint that I see Vidic following and it's crucial to United's success defensively.
DO YOU SEE SHINJI KAGAWA FITTING INTO THIS MATCH?
At the moment, no. I think you go with a player with a bit more work rate and physicality, someone like Valencia.
Kagawa was outstanding at Dortmund. Brilliant. But his problem at United is that Rooney operates in the same pockets of space that he likes to play in. And Rooney's ability to dominate these areas is probably United's biggest strength – so Kagawa becomes the odd man out.
The only way Kagawa becomes a major factor against United is if they can get a lot of possession. And I don't see that happening against Arsenal so if Moyes did use him he would become a bit of a passenger.
For Kagawa, it could be a situation of needing to reinvent himself. He could become a "link-continuity player," one who gets the ball from his defenders and is comfortable receiving it and moving it up the pitch. It's essentially a cog role that links up the midfield and defense. Unfortunately, he hasn't shown himself to be that kind of player yet. He much prefers to be in an advanced role where he can pop in and out of space to make things happen.
That's a luxury that United can't afford right now. They're too rigid. It's funny though, you could plug Kagawa into the fluidity of Arsenal's midfield and he'd be perfect.
HOW WILL UNITED BREAK DOWN THE ARSENAL DEFENSE?
They'll be targeting the center-halves of Arsenal, Koscielny and Mertersacker. I think those two have done quite well this season, they look a bit more robust in defense, but Rooney and Van Persie love to attack through the middle so that's where they'll challenge Arsenal.
Van Persie is a great drifter. He loves to get himself in those spaces between the two center-halves so he can make darting runs in behind them and into space. It's a technique that I call a "false position" for a center-forward, where it tricks both center-halves into thinking they have him covered when in reality, neither of them do. This positioning creates uncertainty among defenders and I think United will look to get Rooney that ball in between the midfield and forward lines so that he can find Van Persie making those darting runs in behind.
Speaking of this strategy really highlights how disappointing the wide players at United have been of late. They used to have guys like Beckham or Ronaldo who you had to worry about outside but that's no longer the case. So I don't see United's wingers eliminating Arsenal's full-backs like they used to. The key to United's attack will be in those central areas where they look to hurt teams like they did Fulham last weekend.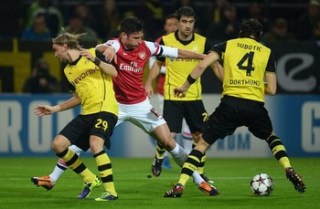 HOW IMPORTANT IS OLIVIER GIROUD TO ARSENAL?
He's immense. The one thing this Arsenal team cannot afford is an injury to Giroud. He's the man they need to wrap in cotton wool. As much of an impact as Ozil has made if he went out of the team they could still bring in near like-for-like quality. But if Giroud pulls a hamstring or turns an ankle, Bendtner is not the man to lead the line the same way.
Of course, when Podolski and Walcott return from injury they could play that striker role. But I was also thinking that Wenger could play a False 9 if he wanted.
It would be brilliant, like Total Football. You'd love to see the experiment with the freedom that Wenger affords his players.
THE PARITY OF THE PREMIER LEAGUE IS ASTOUNDING – WHEN WILL WE SEE SEPARATION?
That stretch of matches around Christmas and New Years comes fast and furious and there's a lot of points to be had. I think at that time we begin to see some separation as teams begin to sharpen their focus.
When I was a player January was the time of year when teams begin to map out what they want to accomplish in the next month. They'll look at the schedule and say that by this point in time we need to get X amount of wins. I've worked with managers who like to physically show you how close you are to the mark.
So for example, with relegation. One of our coaches used to have a board up with a 40 point line. And with every point he'd move the ruler up a bit closer to that mark. It's something really simple but we used to go in on a Monday and you'd literally see yourself advancing, getting closer to the mark. All these little things matter – keeping players challenged and motivated to what the targets and goals are.
That period, January and February, there are loads of team meetings. It's literally meetings all the time about the FA Cup, the Capital Cup, the Champions League and the Premier League. It's all about goal setting and the mindset. You're into that part of the season where your fitness is good so mentally it's so important because it's make it or break it.