On Tuesday night Zlatan Ibrahimovic took some time off from Paris Saint Germain's 1-1 draw with Anderlecht to inform Sacha Kljestan of his distaste for the American's mustache. 
Following the Champions League group stage match, Kljestan rehashed the incident to Belgian newspaper, Het Nieuwsblad.
"After a perfectly normal challenge, Ibra turned to me and provoked me, making a joke about my mustache, saying: 'That really is terrible.'" The incident made Kljestan laugh, "I responded by saying that he should think about his nose."
A decent comeback by 28-year-old but one that's hardly needed when you're married to Jamie Lee Darley, who – in case your Googling skills are failing you – is insanely hot. Like Victoria Secret hot. Literally.
All Kljestan had to do was point to the ring.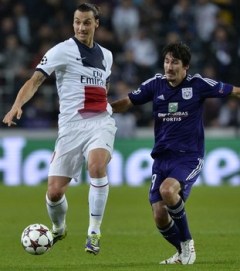 Of course, Zlatan could do the same as his wife, Helena Noell Seger, is also a model/actress. I know. Shocker, right?
Point being, when you're a famous footballer it doesn't matter if you have a rat-tail across your upper lip or a nose so hooked it could haul tuna – you're still a handsome devil in the eyes of the most beautiful women on earth.
As tends to happen when playing competition that he deems inferior, Ibra was obviously feeling frisky last night because he also dug into two of Kljestan's teammates, Olivier Deschacht and Luka Milivojevic. Deschacht, for one, wasn't falling for it. "I didn't want to make him angry so that he would score four goals again [which the Swede did in the game against Anderlecht two weeks ago]. I have too much respect for him."
In October of last year Ibra was branded "arrogant, dirty and childish" by a player for the Faroe Islands after the Swede scored them game winner and proceeded to call the losing side "a bunch of fishermen."