Just when things looked to be back on track at the Etihad Stadium, wham, they've been dealt quite a blow.
Diminutive Spanish playmaker David Silva could miss up to a month after injuring his calf in the 5-2 UEFA Champions League win over CSKA Moscow and will definitely miss City's trip to Sunderland on Sunday (watch live 9:05am ET on NBCSN and online via NBC Sports Live Extra).
Silva, 27, has been in sensational form for the Citizens so far this season as he seamlessly links midfield with attack and has been the main reason behind City's incredible offensive breakout as the league's top scorers.
The Spanish international has scored three goals in seven league games and has also added three assists as his mesmeric dribbling and faint drops of the shoulder have torn opposition defenses apart. In their 10 PL games so far this season City have scored 28 goals, Silva has been quarterbacking that dominance.
Again, Silva's been the pivotal cog in that well-oiled attacking machine but as Manuel Pellegrini revealed in his pregame press conference on Friday the Spanish star won't be the only player missing for City on Sunday against Sunderland.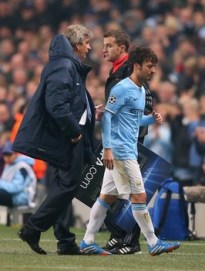 "Obviously we have another day before we make any decisions but David Silva, Richard Wright, Stevan Jovetic and Vincent Kompany will miss the Sunderland game," Pellegrini said. "Fernandinho and Matija Nastasic have slight problems but he could possibly be fit for Sunday."
With Silva out, City's Chilean boss is eager to assess how long Silva will be out for. Almost a month seems to be the general consensus.
"As I say we have some more time but we will have to wait and see. Silva has a problem with his calf so he could miss three or four weeks," Pellegrini said.
However quickly the injury heals up, it's bad new for City's fans.
They adore their tiny playmaker and the nickname "Merlin the Magician" has adorned Silve ever since he played a major role in Man City lifting their first-ever Premier League title in 2011-12.
Over the next month City have some big games coming up starting with the away trip to Sunderland, home league games against Tottenham and Swansea, a Champions League clash with Viktoria Plzen a trip to West Brom.
It is though Silva could earmark the away trip to Southampton on December 7 for a potential return, but I guess the only positive for City right now is that the Spaniard will now have at least 10-12 days of complete rest as the upcoming international break arrives after this weekend.
They certainly have plenty of other talented attackers who can help plug Silva's absence, but do they have anyone who can unlock an opposition defense with a quick flick or give-and-go like Silva can? I think not.
Jesus Navas and Samir Nasri can offer plenty of creativity, but they're better served wide in City's attack. Silva's has been wrecking havoc in a more central area and his presence will definitely be missed over the next month or so.
It's a massive blow for Man City, let's see how Pellegrini's men cope without their magician.