PORTLAND, Ore. — It didn't take long for Diego Valeri to show he'd move on from Saturday. Then, the Portland playmaker was anonymous, his greatest influence being that of a decoy that drew Seattle's attention. It wasn't meant to be that way, but in his hour of action, Valeri failed to make an impact.
On Thursday, Valeri's impact was almost immediate, the Portland Designated Player creating a chance for Rodney Wallace in the third minute. That shot went wide, and a 14th minute breakaway for Diego Chara that Valeri had a part in creating also failed to beat Michael Gspurning, but after a quarter hour, there was little doubt: Portland's most creative player wouldn't go unnoticed in their conference semifinal finale.
In the 44th minute, after Portland had gone up 1-0, Valeri made his mark. On an attack built down the right, Valeri burst through the defense and onto a short pass from Rodney Wallace, a ball he'd pushed behind the line and into the six-yard box. There he beat Adam Moffat and Jhon Kennedy Hurtado, sliding onto a shot he'd put into the far side netting for what would prove to be the series-winning goal.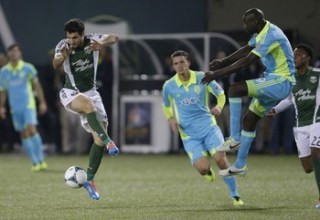 Seattle had done their best to stop him, their physicality giving his goal a tinge of justice. In the seventh minute, DeAndre Yedlin sent him to ground clutching his angle, with the rookie right back laying him out again a few moments later. After Valeri switched to the other side, Marc Burch lad a go at him, too, initially going hard through his back to draw a whistle. The left back's second foul on Valeri briefly forced him off the field in the 41st minute, yet the night's most fouled man (four times) had his redemption three minutes later, running through Burch's side for his goal.
As with most games, there were a number of quality candidates. Goal-scorer Will Johnson had a strong night, particularly after the Timbers ceded twice and needed to settle down. Rodney Wallace played a part in each of Portland's last two goals, his cross for Futty Danso leading to the Timbers' third score of the night.
Yet there was something about the way that Valeri started Thursday's match, apparently intent not to repeat Saturday's performance. Like Graham Zusi last night, his numbers don't reflect the influence he had as a focal point for his attack. But whether it was creating early chances for Wallace or doing his own scoring, Valeri's influence was obvious. He is our Portland Timbers Man of the Match.