A lot can happen in a year, just look at Southampton.
In November last season the Saints were languishing at the bottom of the Premier League table after their promotion from the Championship and had just five points from their opening 11 games.
On November 11 2013, they are third in the PL and have accumulated 22 points. They're remarkably 17 points better off than they were last season, and there's no doubt that the management, players and fans at St. Mary's are dreaming of creating history.
Yes, they haven't played many of the big teams yet. But they have beaten Liverpool 1-0 at Anfield and outplayed Manchester United at Old Trafford in a deserved 1-1 draw. The Saints have comfortably dispatched Crystal Palace, Fulham, Swansea and Hull at home and look the real deal as they surge forward, keep the ball and play an attractive attacking style of soccer that sees Pochettino lauded in his first full-season in charge after controversially replacing Nigel Adkins last season.
(MORE: Latest Premier League Standings)
What a great decision that looks to be now from Chairman Nicola Cortese. The Saints are marching on.
Following their 4-1 win over Hull City on Saturday, they sealed their best-ever start to a top-flight season. Last week Pochettino picked up the Barclays Premier League Manager of the Month award for October and three of the Argentine's players were called up to the England squad, as inclusions for Rickie Lambert, Adam Lallana and Jay Rodriguez marked the first time since 1984 that three Saints players were involved for England at the same time.
(MORE: Maurico Pochettino aims for Champions League with Southampton)
The club is going through a golden period. Many fans down on England's South Coast are rubbing their eyes in disbelief. A top-10 finish this season would have delighted many, now Southampton's odds to win the title have been slashed to 150-1 after being 3,000-1 in many bookmakers over preseason.
As you can see from the multiple call ups, the benefits for the small club in Southern England succeeding in the PL is also boosting England's hopes. At all age groups.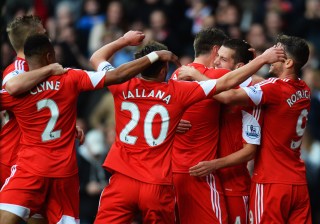 A conveyor belt of young English talent is rolling out of the Staplewood training ground as first-team regulars James Ward-Prowse and Luke Shaw, both teenagers, will play for the England U-21s this week. Three others will play for England's U-19 side, and the likes of 22-year-old right back Nathaniel Clyne has been mentioned by England manager Roy Hodgson as "someone we've been monitoring closely."
Three Lions boss Hodgson was on hand to see the Saints tear apart Hull in the first half last weekend, as Lambert smashed home a PK and Saints' 24-year-old captain, and academy graduate, Lallana scored a wonder goal after a mazy run. The England boss couldn't stop his wide grin growing as the game wore on. A quick chat with Saints Chairman Cortese was caught by the cameras, needless to say Hodgson likes what he sees from the Saints.
Are we surprised? Not really.
Over the years they've always been a breeding ground for top talent, with the likes of Matt Le Tissier, Alan Shearer and Wayne Bridge all developing their skills at Southampton. More recently Theo Walcott, Gareth Bale and Alex Oxlade-Chamberlain have pushed Saints' academy further towards the front of people's minds and with the latest crops of youngsters now knocking on England's national team door, more is to come.
(MORE Premier League Supporters – The dramatic rise of Southampton FC and their fans)
You can break down their tactics and how they're outworking and dominating possession against every team they play this season, but the simple fact is that Southampton have continuity and a clear ideology that's seem them rise from the depths of League One to the top of the Premier League in under three years. A past PL mainstay who went into a tailspin as financial ruin threatened to kill the club off, the Saints have performed one of the greatest rebuilds in recent English soccer history. Corteses and head of development Les Reed traveled around to the best academies in the world, including Barcelona's La Masia, to see how they could improve Saints' already impressive school of excellence. In January their new $45 million training complex will be finished and the club will be equipped to keep grinding out international stars of the future.
All those years when they churned out the likes of Walcott, Bale and Chamberlain but had to sell them while they were in the lower leagues are gone. Now the Saints hold on to their best youngsters, and England borrow them occasionally too. We will have to wait and see how long that will last, but the Saints certainly have strength in-depth as Northern Ireland captain Steven Davis, Uruguayan international Gaston Ramirez, talented England midfielder Jack Cork and Japanese internationals Tadanari Lee and Maya Yoshida can't get anywhere near the starting lineup.
Whether they can make a sustained push for the top four, we'll have to wait and see. But if they've got a chance when January rolls around, the Saints will spend big. They're bankrolled by German construction company Liebherr and they were already the fourth-highest spending PL club during the summer transfer window.
But all of this wonderful youth development, fine PL displays and Champions League talk may stop in a few weeks time as after the international break they face Arsenal at the Emirates — a win for either side could see them top the table — and then Chelsea away the week after. If the Saints can pull off impressive results against those two PL powerhouses, we could even be talking about Pochettino's youngsters as possible title contenders.
A year ago, who would have thought that?