Bad news arrived for Barcelona on Monday, as superstar striker Lionel Messi has been ruled out for eight weeks with a hamstring injury.
Messi, the reigning World Player of the Year for a record four years in a row, felt his left hamstring give way during Barca's 4-1 win over Real Betis on Sunday. The 26-year-old Argentinian forward immediately left the field and tests show the diminutive attacker has torn a muscle in his hamstring and will be out until at least January.
That's a huge blow for club and country.
(MORE: What matches will Messi miss for Barcelona?)
Messi is often targeted by opposition defenders, as the tiny magician is arguably the greatest player the world has ever seen. His exploits in recent years has seen him go alongside soccer greats such as Diego Maradona and Pele as geniuses of the game. But his 2013-14 season, and the end of  last season, has been disrupted by multiple injuries and this hamstring tear will unfortunately see Messi out of action for quite some time.
(MORE: Lionel Messi vs. Cristiano Ronaldo: Battle for the Ballon D'or in El Clasico, infographic)
Following his injury hit spell to the end of last season, when Barca bandaged him up and threw him into games against Paris Saint-Germain and Bayern Munich in the Champions League, that seems to have had a knock on effect on Messi's overall fitness and he's struggled to be 100 percent with it this season. He's already had two spells out with injury this season, with separate injuries to his right thigh keeping him out for a total of four weeks already.
That said, he's still scored 14 goals in 14 games this campaign but that's nowhere near his other returns, in terms of goals scored, in years gone by.
This injury will be a shame for soccer fans across the world as Messi lights up every game he plays in and great hype and anticipation fills every single stadium when his name is read out amongst the team sheets. Barca have already qualified from their UEFA Champions League group and sit comfortably on top of La Liga but Messi's influence will be sorely missed be Gerardo Martino's team over November and December. As for Argentina they'll be hoping Messi's injury won't set him back too much as they aim to back waves at the 2104 World Cup in Brazil.
But one man who may benefit from Messi' injury is Real Madrid and Portugal striker Cristiano Ronaldo.
The 28-year-old attacker has been going toe-for-toe with Messi in the last few years but has finished runner-up to the Argentine three times and now FIFA has adopted the Ballon D'or to be awarded to the worlds best player. Is Cristiano about to get his hands on the coveted accolade for the first-time since 2008? I think so.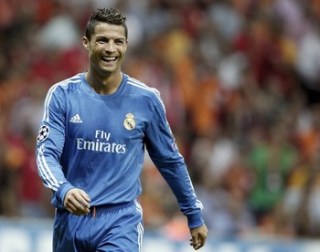 Messi is out of commission until the new year, which leaves Ronaldo with a clear run at claiming the headlines across the globe. On Saturday against Real Sociedad Ronaldo bagged his fourth hat-trick of the season in all competitions as he's now netted 16 goals in 13 La Liga matches and 27 goals in 19 games this campaign for Madrid and Portugal.
If he keeps that form up there's no doubt in my mind he will win the FIFA World Player of the Year gong, something he may have deserved regardless of Messi's injury.
But it does seem as though Messi's untimely drop in fitness has not only cost himself playing time and a chance to wrack up more record breaking stats, but also a chance to win an unprecedented fifth consecutive World Player of the Year award.
For the next few months, it's over to you Cristiano.