SPURS' SCORING STRUGGLES, FRIEDEL'S FOOTSTEPS BEMUSING
Whatever way you look at it, Tottenham Hotspur are struggling to score goals this season and it's costing them, big time. But it has been going on for some time, and after netting just nine times in 11 games — three of those penalties — only the bottom two sides Sunderland and Crystal Palace have scored fewer. I noticed a lack of composure and cutting edge in front of goal in Spurs' 1-0 derby loss to Arsenal back in September.
Tottenham manager AVB replied angrily to me after I suggested Tottenham's suffered from a lack of creativity.
Other journalists shook their head in agreement with my question, AVB was described as 'delusional' and it seems as though he still doesn't agree with me questioning his sides creativity. This is what he had to say then, and he'll probably say the same now as offensive issues placate his sides title charge.
"I think that is a false question," Villas-Boas replied. "I don't think there is a good argument. We came to Arsenal and created lots of chances, obviously there are players that are different from others. There are players that are box-to-box, players that are more creative and have that ability to link up with others. It's not a concern but it's something that we have to work on. It's very difficult with all the stops for international duty, most of our players will go away. But I think it will come through time, through matches and I'm very, very confident because the ability is there from all the players."
At the time I thought it was a fair question, after two months of offensive struggles I think it's an even better one. Tottenham's lack of cutting-edge creativity is still hurting them and may derail their title aspirations and dreams of a top four finish. I like AVB, a lot, I think he's a terrific young manager and he will figure this out. But he has to somehow get Spurs' players to believe they're going to score. Right now, they don't. The vast mixtures of attacking talent he's used isn't clicking in the league, and they've now only scored 34 goals in 25 home league games that AVB has overseen. Frustrated moans, groans, heckling and boos rang out from the home crowd against their own team in the loss to Newcastle. As Villas-Boas has told fans, that won't help. But you can see why they're upset. But Tottenham fans, don't despair, Spurs lead the league in 'chances created' as they'd set up a staggering 130 goalscoring chances before the Newcastle game.
Several times in Sunday's 1-0 defeat to Newcastle, Gylfi Sigurdsson and Andros Townsend get their heads up after bamboozling full backs but had nobody to aim for in the box. Right now Roberto Soldado is taking most of the blame as Spurs' main striker with people using the 'three of his four PL goals have come from the penalty spot' argument to say he isn't doing his job. He's doing a lot of great things, holding the ball up, bringing the midfield into play and his movement is sublime. But other attackers aren't flooding into the box with purpose to try and get on the end of things, Paulinho, Townsend, Eriksen and Sigurdsson need to get beyond Soldado and want to get on the end of inviting crosses. Spurs don't seem to WANT to win enough right now, the hunger, belief and passion of a team that's trying to win it's first title since 1961. Villas-Boas needs to address their lackluster attitude in front of goal.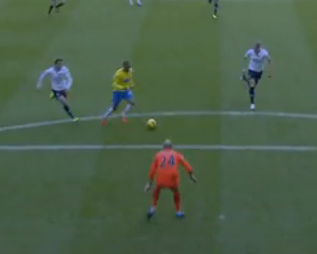 Creating decent chances isn't an issue, it's just putting them away. On Sunday Tottenham had 31 shots against Newcastle, but they found Magpies 'keeper Tim Krul in inspired form as he made 14 saves that's a PL record since they began collecting that stat in 2006-07.
And as for the goal they conceded, Brad Friedel's initial backwards one-two shuffle cost Spurs' veteran American 'keeper some all-important yardage as Loic Remy closed in on goal. If first-choice Tottenham 'keeper Hugo Lloris would've been in between the sticks (rested due to his head injury, more coming up on that) he would have gobbled up Yoan Gouffran's through ball with his sweeper-keeper ways. But if you look in the image left, Friedel's initial step back cost him at least 3 or 4 yards which would've meant he met the ball and Remy on the edge of the box instead of seeing the Frenchman glide past him and tap into and empty net while Friedel languished on the floor.
BIG GUNS FALTERING
Arsenal, Tottenham, Chelsea and Manchester City. Name one thing they all have in common right now…
Premier League Schedule – Week 11

If you answered dropping points, give yourself a pat on the back, or a smiley face sticker, or something fun like that. But for fans of those four teams, it wasn't a happy weekend as Arsenal lost to Manchester United, Spurs lost at home to Newcastle, Chelsea somehow rescued a point in controversial fashion late on to West Brom at home and City lost away at relegation threatened Sunderland.
What the heck is going on? Well, the PL is becoming much more level, just six points separate Arsenal in top spot from Man City in eighth. Why is this happening? The fat cats (the aforementioned quartet, plus Man Utd) didn't fatten up enough in the summer, and like scrawny teenagers hitting the gym to try and impress the prom queen during their senior year of high school, the likes of Liverpool ($95 million), Everton ($32 million) and even Southampton ($54 million) saw an opportunity to elevate themselves, spend big money and strengthened considerably where they needed to. It worked, Chelsea and Manchester City spent over $220 million between them but mainly bought attackers, which they already had a rich abundance of. Now we legitimately have seven or eight teams who can not only challenge for the top four spots, but the top two. I'm not saying the likes of Everton, Southampton or even Liverpool are going to challenge for the title but they're going to give it a bloody good go. This year is the year of the underdog in the PL. This weekend proved that, hands down.
TOP PERFORMERS
Adam Lallana – What a week for Southampton's young captain. First he put in a man of the match display at Stoke City, then he was called into the England squad for his first proper inclusion, then he capped it off by scoring a spectacular goal in front of England manager Roy Hodgson as the Saints smashed Hull 4-1. Can he keep it going with the Three Lions next week?
Wayne Rooney – One of Lallana's England teammates was in great form for United, as he swung in the beautifully curvacious delivery that his drinking partner (and occasional strike partner) Robin van Persie got on the end of to sink Arsenal. So often in the big games Rooney deliver, he did it again.
Steven Gerrard – Last week a radio show I went on asked me if Gerrard was finished and past it. I'm not sure if the Liverpool captain was listening to radio stations in the U.S. last Monday… but he certainly didn't played like it. He had the bit between his teeth and set up three of Liverpool's four goals with vicious set pieces and a cheeky nutmeg on Dimitar Berbatov in the buildup to Liverpool's third goal. He came off after 65 minutes to a standing ovation, write off Stevie G at your peril.
Tim Krul – The big Dutchman made a Premier League record (since PL records for GK stats began in 06/07 that is) 14 saves against Spurs on Sunday with a highlight reel that will make you drool with envy. Krul's leg save on Eriksen in the second half was sublime.
Wes Brown – Starting his first PL game since January 2012, the former Manchester United man was a colossus at the back as he intercepted, headed and tackled his way into the hearts of Mackems fans for his shutting down of Alvaro Negredo in the Black Cats 1-0 win over Man City. Rolled back the years in a massive win, Brown is fighting fit and raring to make up for lost time.
CHELSEA BAILED OUT BY POOR PK CALL
There's cruel… and then there's this. On Saturday Chelsea were seconds away from losing their 65 game unbeaten run at home in the PL under Jose Mourinho. But a controversial moment made sure the Baggies didn't depart West London with all three points or a smile on their face.
Referee Andre Marriner took an age to point to the spot in second half stoppage time but when he did, disbelief, relief and devastation hung in the air as the steel girders high up in the stands at Stamford Bridge shook with the booming cheers of Chelsea's fans.
Brazilian midfielder Ramires burst into the penalty box, with less than 20 seconds left of the four minutes of allotted stoppage time, and went down like 'a sack of spuds' as West Brom's Steven Reid slightly, and I mean slightly, nudged him. Ramires hit the deck, Marriner pointed to the spot, Eden Hazard hit home the PK to make it 2-2, and then seconds later the game was over.
Mourinho (of course) agreed with the decision, West Brom's manager Steve Clarke — Mourinho's former assistant and a Chelsea player for 11-years — disagreed and everyone agreed the Baggies were hard done by. Chelsea seem to have lady luck on their side this weekend, but it will even itself out, right?
One thing's for sure, West Brom's injured 'keeper Ben Foster certainly didn't agree with the decision… this Tweet has been modified due to, erm, colorful language.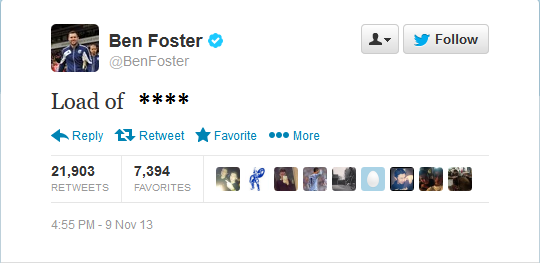 HOLD ON TIGHT, YOU'RE ENTERING CONCUSSION CENTRAL
There's something about Sunday's and head injuries in the PL. Last week Hugo Lloris got hit hard by Romelu Lukaku and played on to much furore and damnation of Tottenham Hotspur. One week later, Lloris wasn't able to play against Newcastle on Sunday due to "medical advice" according to Spurs boss Andre Villas-Boas. Then, as if we needed one, we had another reminder about how dangerous the sport can be when Manchester United faced Arsenal. In the first half two ugly hits left Nemanja Vidic heading to hospital and off as a sub at half time, while Wojiech Szcezeny and Phil Jones were also involved in a nasty collision.
It's a contact sport, yes, but stricter guidelines must be put in place to help the wonderful medical staffs who work so hard to ensure their players are always in top condition. No doubt this debate will rumble on, but it's time to lay off the clubs, medical staffs and managers involved and instead ask the governing bodies to provide evidence assistance and guidelines to follow.
ARSENAL vs. SOUTHAMPTON: FIGHT FOR THE PL SUMMIT… WHAT!?
With the international break giving us a two week respite from Premier League action, a few games after the break now look much more meaningful given the wide-open PL standings which dominate the upper echelons.
Just six points separate the top eight teams and the topsy-turvy results see one fixture in particular taking center stage in Week 12. Arsenal vs. Southampton could see the winner sit top of the table after the next PL matchday. That's right, Southampton. Few would have earmarked the game between Arsenal and the Saints being much more than an easy home win when the fixtures were released in the summer… now it's first against third and top of the table clash. Okay, maybe it won't make as many headlines as Arsenal vs. Manchester United or Liverpool, but if the Saints continue their remarkable early-season form against the Gunners then they could be top of the table in November.
Pochettino's men spanked Hull City 4-1 and were 3-0 up after 36 minutes on Saturday, watch above, as England called up three Saints players – Rickie Lambert, Adam Lallana and Jay Rodriguez – for the first time since 1984 in midweek and Nathaniel Clyne plus teenagers James Ward-Prowse and Luke Shaw have impressed for England's U-21s and aren't far away from the full squad. Top young English talent who're driving a small team toward the top of the PL, no wonder England manager Roy Hodgson was smiling at St. Mary's Stadium as he watched on. No doubt he'll be watching the game at the Emirates on November 23. So will everyone else now.