There's no debating it – Andre Marriner's penalty decision against Steven Reid last Saturday was disgraceful.
Ramires leaned into the West Brom full-back and began to go down before the "contact" ensued. The Brazilian knew what he was doing and, to his credit, did it well. But Reid's arms were by his side and his path of travel was straight. For me, this was Marriner succumbing to the pressure of Jose Mourinho.
What really deserves attention, however, is not whether or not it was a penalty but whether or not players should dive in the area.
On the face of the topic the answer is obvious: no. Absolutely not.
But what about referees who refuse to call penalties when players don't go down? It happens more than we think.
Tottenham winger Erik Lamela was a victim of the non-call in the first-half of last Thursday's 2-1 win over FC Sheriff in the Europa League.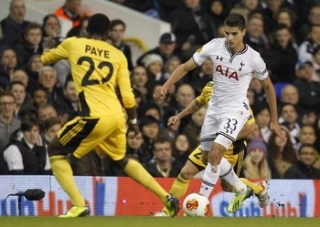 The Argentine beat his man clean off the dribble and the defender's flail was enough to put Lamela off-balance and lose possession, but not enough to make him go down. It was a sure-fire penalty that, had Lamela gone down (dove), surely would have been called. Instead, Danish referee Kenn Hansen stayed quiet.
The moment was not lost on Lamela, who, enjoying the best game of his young Spurs career broke into the box in the 66th minute and was again knicked at by an awkward tackle.
This time Lamela made no mistake about it, tumbling to ground in a heap of penalty goodness. Hansen had no choice but to point to the spot and within a minute Jermain Defoe converted his record breaking 23rd European goal for Tottenham.
The above lesson is strong evidence of why notorious penalty divers like Ashley Young (and, apparently Ramires) exist – because it works. And sometimes, as in the case of Lamela, it's absolutely necessary.
So the debate continues. To dive or not to dive?