That Eddie Johnson is being shopped by the Seattle Sounders shouldn't surprise anybody, but after Sports Illustrated's reporting this morning, we have reason to believe it's already started. The U.S. international is looking for a big raise, one that would likely make him a Designated Player, and with Mauro Rosales's DP slot likely to be given to Osvaldo Alonso (more rumors, but good ones), Johnson's set to be squeezed out. The team has two other forwards signed to Designated Player deals: Clint Dempsey and Obafemi Martins.
Realizing the reality of the situation, Johnson's unlikely to be surprised by the trade talk. As he positioned himself for a new deal this season (his "pay me" celebration along with his musings on Twitter), he must have known this was a possibility. And if it takes him moving to another team to get the compensation he deserves, so be it. With 24 goals over the last two years, Johnson has certainly out-performed the relatively modest deal that brought him back to Major League Soccer last year. (Johnson was paid $156,000 this season.)
Still, as Seattle left JELD-WEN Field last Thursday, eliminated from the playoffs at the boots of their archrivals, it wasn't hard to notice a small rift — a philosophical disagreement, of sorts — between the striker an his boss.
"You've got to run off the ball for people," Seattle head coach Sigi Schmid noted after the Sounders' 3-2, second leg loss to Portland. He didn't name names, and he was responding to a general question about the team's problems in attack. But in a game where an emergency forward (Shalrie Joseph) started along side Eddie Johnson, the question wasn't whether the criticism applied to Johnson; rather, if it could be reasonably be applied to anybody else.
Schmid continued, eventually praising Timber Ryan Johnson, Eddie Johnson's equivalent with Portland:
"Sometimes running is not running for the ball yourself. It's running to make space for your partner. We have some great individual talent, we try to get it to that. There's sometimes where we have good sequences of knocking the ball, but at the end of the day you still have to get behind the defense.

"Portland at times their center backs will just clear the ball and it will be behind your defense, and Ryan Johnson will just hustle us there and try to put pressure on somebody … so it's not like it's silky play, but they get the ball behind your defense. And we need to turn the opponent's the defense more often than we do right now."
Johnson was asked about the issue after the match. He seemed prepared for the criticism, making an allusion to the team playing too direct, something he had also done in the wake of Seattle's leg one loss to Portland:
We have to have guys get on the ball for our strikers to find space. If the game becomes very direct, we're playing into [Portland's] strengths … But if we can get … guys on the ball and play through the middle, then we can slip five or ten yard balls. Then it's easier … to get their back four disjointed. We weren't able to do that tonight.
Though there appears to be some disagreement, neither Schmid nor Johnson were heated about the issue. It was explanation, not confrontation. In the wake of their season-ending loss, both probably had bigger issues in mind.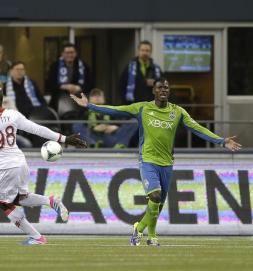 It's also important to note Johnson never expressed an unwillingness to run or even an acknowledgement that he may not have been running as much as others wanted. His explanation was more nuanced, akin to asking 'what's the point of running when we don't have the ball? Or we're not playing a style conducive to taking advantage of those types of runs?'
Even if Johnson was seeing things the same way as Schmid, he might be squeezed out of Seattle by the cap game. But these little disagreements can't help, especially if both sides are making their case to the press. If the contract situation was different, it'd be a rift that could be overcome. This offseason, however, it will probably the last relic of Schmid's tenure as Johnson's coach.
The good news for Seattle: There's no shortage of teams that could use him. He's an all-star caliber player (made the team in 2012) and a U.S. international. There just aren't that many better number nines in MLS. Be it at the bottom of the league (D.C. United) or top (New York), there are teams who'd be markedly improved with Eddie Johnson. This player isn't moving because he's bad. He's moving because he's outplayed his place under Seattle's cap.
If we were a couple years in the future, where teams had bigger salary caps and potentially more Designated Player spots, Eddie Johnson probably wouldn't be leaving Seattle. But in 2013, Johnson's likely played his last season with the Sounders.