GLASGOW — Tim Howard has had plenty of whacks, bumps and bruises over the years and the U.S. national team veteran has brushed most of them off.
However he accepts, like many, that head injuries aren't just something you should shake off and carry on playing with. And as we've all seen from multiple incidents in the Premier League lately, how to deal with concussions is becoming an issue.
On Sunday November 3 at Goodison Park, USMNT 'keeper Howard stood and watched on in horror from the other end of the pitch as Tottenham Hotspur's French international stopper Hugo Lloris was knocked unconscious after a nasty collision with Romelu Lukaku.
Remarkably Lloris played on after lengthy treatment from Spurs' medical team. There was uproar from the press, doctors, governing bodies, the PFA and just about everyone else in between, as the way Premier League clubs treat concussions and head injuries was called into question.
(MORE: PFA demands players "should not continue after loss of consciousness" as Lloris incident hits home)
Teams, leagues and, most importantly, the players, need help.
I asked Howard if soccer's lawmakers could perhaps set up better guidelines on how to deal with a concussion or head injuries, to help restrict the amount of long-term damage they could cause. Leaning forward and donning a concerned look on his face, Howard agreed that perhaps new guidelines would help.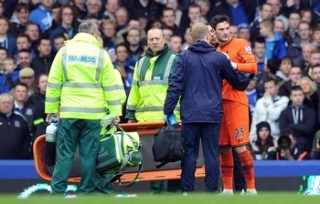 "I think if you look at how American sports have dealt with concussions and all the disastrous information that have come out in studies about post concussion, yeah, there needs to be a precedent set through the governing bodies," Howard agreed. "A simple, 'hey are you all good?' and a thumbs up… it's not enough. It's important that the governing bodies, as they have in American sport, make the laws so stringent because we know the repercussions of letting players play on, whether they've been knocked out or have concussions. We realize how bad concussions are."
(MORE: New head injuries in the Premier League add to swirling cyclone of criticism – video)
Howard, who was talking to me after coming in from a windswept Murray Park in Glasgow as he prepared for the USA's upcoming friendlies with Scotland and Austria, was adamant that if he'd have been the one knocked unconscious in Everton's 0-0 draw with Spurs, instead of Lloris, he would've expected the Toffees medical staff to take him out of the game immediately.
So, did he agree with how Spurs' medical team acted?
"That's their decision," Howard said. "I would hope that if I was knocked out in the game that my medical staff wouldn't have given me the option, that they would've taken me off."
(MORE: Andre Villas-Boas stands by Tottenham's decision to let Hugo Lloris play on)
As Howard and I discussed the topic we both agreed that the medical staff at Tottenham, and those at any other PL club, shouldn't be making decisions on players concussion symptoms in such a fast-paced environment where split-second diagnosis' are often rushed unintentionally.
"I think it's important, as you mentioned, that UEFA, FIFA, governing bodies, whomever, that the guidelines become more stringent," Howard said. "It takes the guess work out of it and it takes decisions out of people's hands."