GLASGOW — Laughing and joking around on a cold, blustery November morning on the outskirts of Glasgow, all is well with the U.S. national team.
And why shouldn't it be?
They're coming off the back of one of their best ever international seasons under Jurgen Klinsmann's tutelage, losing just three times during 21 games so far in 2013, going on a record-breaking 12-game winning streak, qualifying at a canter for the 2014 World Cup,  currently ranked 13th in the world and have arguably the strongest player pool the USMNT has ever had. Life is good for fans of the U.S.
Friendlies against Scotland on Friday (watch live on ESPN, 3pm ET) and Austria next Tuesday (2:45pm ET, live on NBCSN) close out an incredibly successful year. Being up close and personal with the squad, you can tell the players are enjoying themselves as they train in Scotland. A large group playing a possession game erupt into giggles and whoops of delight on numerous occasions early on in Tuesday's morning session. Life is good for the national side.
"This team has always been about the collective group," AS Roma midfielder Michael Bradley said. "We've always had a team that no matter who is available on a given day, no matter who is there, they're going to step on the field and be committed to putting a performance in that really reflects the group and makes everyone proud."
(MORE: Exclusive – U.S. 'keeper Tim Howard agrees governing bodies can help with head injuries)
That large squad Bradley speaks of has been evident over the past six months as Klinsmann's project has cranked up a notch. A Gold Cup win over the summer with mostly MLS players and young European and Liga MX hopefuls showed just how deep the USMNT are.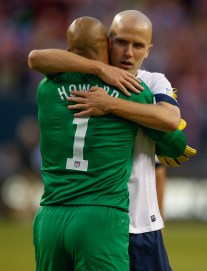 One of those player who used clutch performances in the USA's Gold Cup success to propel himself into the forefront of Klinsmann's plans was Seattle Sounders striker Eddie Johnson. Speaking after training on Tuesday, the 29-year-old forward believes a strong feeling of togetherness is helping all USMNT players to get better.
"There are a lot of familiar faces, a lot of the guys who've been in the qualifying rounds, friendlies, Gold Cup, so we're all used to playing with each other," Johnson said. "The more we can have familiar faces, the better understanding and camaraderie we have as a national team on the field and getting better. This is a good test for us, two good games and every player here is eager to do themselves justice as far as putting themselves in a good position to end 2013, as well as put themselves in a good position to be selected for the World Cup."
That team spirit is something Bradley, a stalwart for the U.S. in central midfield and perhaps the first name on Klinsmann's team sheet, also alluded to.
"It's a special group to be a part of," Bradley said. "In the way with the team spirit and the way we get on with each other. When you look at the calendar, there's not a lot of games left between now and the World Cup. We're looking to use every chance that we get to move ourselves up the ladder."
With big things expected at Brazil 2014 after breezing through qualifying and beating the likes of Germany, Bosnia and Italy in friendlies over the last few years, I asked U.S. goalkeeper Tim Howard if this was the best USMNT team he's ever played on. The Everton star paused and gave a glowing appraisal of the current roster.
"This is the most diverse," Howard said. "I've played on some good U.S. teams, particularly when I was younger. This team has a lot of diversity in both age and background, I just think the best thing about this team so far is the balance. We've got the best balance, we've got depth in a lot of positions, we've got people who play in lots of different countries, we've got some olds and youngs. The balance is very good, the chemistry is very good."