It was the clash of global titans that wasn't, with both Portugal's Cristiano Ronaldo and Sweden's Zlatan Ibrahimovic held quiet for much of today's match in Lisbon. Yet after an often tenacious, largely frustrating day, Ronaldo had the last and only laugh, his 82nd minute header giving Portugal a 1-0 lead after leg one of the teams' World Cup 2014 qualifying playoff.
The two teams will meet again on Tuesday in Sweden, their playoffs' second leg set to determine which nation claims one of Europe's final four spots at Brazil 2014. The Swedes need only overturn a one-goal deficit to return to a tournament they missed in 2010, yet if Portugal scores in Solna, the Selecçao will hold an away goals tiebreaker that could prove crucial to qualifying for a fourth straight World Cup.
Coming into the match, all attention had been focused on the battle between Ronaldo and Ibrahimovic, perhaps leaving many shocked when 44 other players deigned to show up in Lisbon. Though many may have thought a game of one-on-one was schedule, 20 other starters were picked to join to two icons, forcing narratives to give way to an actual game of soccer. With a World Cup spot was on the line, its remarkable the actual teams didn't get more coverage ahead of today's match.
Either predictably (or, paradoxically, depending on your level of cynicism), the match never came close to matching the mano a mano, battle of the titans hype it generated before kickoff. Instead, a home team pressing to make the most of their home leg were almost contained by a well-organized, sometimes dangerous visitor, one who can take comfort in having kept the match within reach after leg one. Though Sweden never found the away goal they threatened to take in the first half, they leave Portugal was a manageable deficit, their adversary's 1-0 home win akin to holding serve.
Portugal were the aggressors over the first 45 minutes, even if Sweden would end up with the first half's best chances. The Seleccao's control of possession only produced one shot on goal – a weak header from Helder Postiga shortly before halftime. Sweden, on the other hand, saw strong play down their flanks produce close calls from Ibrahimovic, Sebastian Larsson, and Kim Källström. The hosts' best chance was a Joãõ Moutinho shot in the fourth minute that couldn't manage a sharp angle into a vacated goal.
The second half started with another early chance for Portugal, though a chip over the Swedish defense saw another empty goal missed when Postiga's shot was inadvertently blocked by Pepe. The Portuguese defender had come forward to knock down a ball vaulted over the Swedish defense, with Pepe heading down to the right of goal. Swedish goalkeeper Andreas Isaksson tried to pounce on the bouncing ball only to see Postiga poke it out of his reach. The Portugal striker then saw a hurried shot toward the open goal only hit his teammate, who was standing near the right post.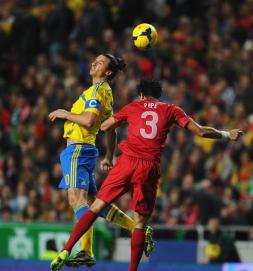 It was the beginning of a one-sided half, the early close call potentially convincing Sweden to hold out earlier than they may have liked. For the next half hour, Erik Hamrén's team stay deep and compact, forcing Portugal to do something special to beat them.
That moment came in the 82nd minute, with Miguel Veloso's run out of central midfield and beating Larsson to put in a far post cross. That's where Ronaldo out-muscled left back Martin Olsson, giving Portugal the lead they needed ahead of Tuesday's leg in Sweden.
Despite Ronaldo's winner, the match was less about two titans than it was two teams. Portugal's desire to leverage their home leg was evident from the opening moments, even if determined play from their visitors nearly keeping them off the scoreboard. And while Zlatan Ibrahimovic was influential in two of Sweden's first half close calls, he was left out of the game by a team that only held 32 percent of the ball.
Perhaps leg two can be the showdown so many people want. More likely, it will be a battle between two teams, one of whom will miss next year's World Cup.
Lineups
Portugal: Rui Patricio; João Pereira, Pepe, Bruno Alves, Fabio Coentrão; Raul Meireles, Miguel Veloso, João Moutinho; Nani, Héldeer Postiga, Cristiano Ronaldo
Sweden: Andreas Isaksson; Mikael Lustig, Per Nilsson, Mikael Antonsson, Martin Olsson; Sebastian Larsson, Rasmus Elm, Kim Källström, Alexander Kacaniklic; Johan Elmander, Zlatan Ibrahimovic