Olympique Lyon had been to four straight UEFA Women's Champions League finals. If it wasn't for a complete, well executed sit-deep-and-wait plan this spring from Wolfsburg, it would have been three titles in-a-row. So until this week, they were the monarchs of Europe, the best team in women's club soccer, and probably the best club team we've ever seen in a section of the sport that's just starting to mature.
Then they lost. In the Round of 16, the competition's overwhelming favorite (to at least make their fifth straight final) couldn't protect the 1-0 lead they'd earned Nov. 9 in Germany. Lyon were victimized by the team they beat to claim their first title (2010-11), with Turbine Potsdam using goals from Stefanie Draws and Maren Mjelde bringing the Germans back from two goals down to overthrow the crown. When Mjelde's 73rd minute penalty conversion gave Potsdam the away goals tiebreaker, Lyon was left to ruminate with their 2012-13 final misgiving, Wolfsburg having also won via a converted penalty.
Despite Potsdam's obvious quality, their upset has left the tournament in a slightly uncertain state. Obviously, the show will go on, and for those that have rued Lyon's Euro-fueled rise, this day was long in coming. Yet there's little doubt OL were the competition's highest profile team. Losing them this soon is like Barcelona going out just after group stage. Or Michael Jordan's Chicago Bulls being upset before the finals. Or Roger Federer in his prime being upset in round one at Wimbledon. Of course it could happen. That doesn't mean we're prepared for it.
But the wreckage of Lyon running aground isn't so bleak. Challenging people to look beyond the easy story, this crash may have a silver lining. There may be some secret magic on this island that will give us some insight on who we are. We could learn to walk on our own, find love again, and leave all the trappings of our other lives behind.
Then again, we could all end up at a church, incredulous and despondent at how things turned out.
In a follow up post, we'll sift thought the pros and cons of Lyon's early exit, but it's worth noting: These are the kind of existential problems that come from a tournament's maturing. Four years ago, nobody would have cared if a dominant team bowed out of Women's Champions League. Now, a small ripple actually makes it to shore. People may not know much about women's soccer, but some of them know Lyon's the standard. That knowledge alone is a type of progress.
Now the task for Champions League is to create another heroine – a second, replacement headline that will keep those that came for dominance invested in chaos. Is that focal point Turbine? The holders' Wolfburg? Or a United States' national team-heavy squad, Tyresö? Or maybe the chaos can be contained, discussed, appreciated and sold. Maybe it's time for Women's Champions League to be the show, not Lyon.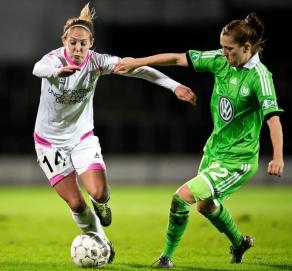 There's no need to settle on one answer. Whether it be about rulers or serfs, Women's Champions League doesn't have to be a single-story competition anymore. If the potential of Lyon's exit is realized, casual fans may come to think beyond the two-time champions when considering the world's best club competition.
Here are the Round of 16's other results:
Tyresö (Sweden) 4-o Fortuna Hjørring (Denmark) [6-1, agg.] – U.S. international Whitney Engen scored as Sweden's runners up make their first final eight.
Torres (Italy) 2-0 Rossiyanka (Russia) [2-1, agg.] – 38-year-old Patrizia Panico scored in the 63rd minute, with a late goal line clearance in stoppage time sending Italy's champions through.
Neulengbach (Austria) 3-0 Konak Belediyespor (Turkey) [6-0, agg.] – The Turkish club's first appearance in Champions League ends one round later than many though, even if they were never in a tie that serves as another argument for improved seedings, draw procedures.
Wolfsburg (Germany) 3-1 Malmö (Sweden) [5-2, agg.] – The second of the round's highlight matches send the holders through thanks to goals from Lena Goessling, Luisa Wensing, and Martina Müller.
Zürich (Switzerland) 1-3 Barcelona (Spain) [1-6, agg.] – A surprisingly easy tie for the Spanish champions, who make their first quarterfinal. 18-year-old Serbian Jelena Cankovic standout, given her first start of the competition, scored her second goal.
Glasgow City (Scotland) 2-3 Arsenal (England) [2-6, agg.] – Even though Suzanne Lappin scored two minutes into the second leg, this matchup was never close, though their second leg trouble (outshot by Glasgow) does raise questions as to whether Arsenal is really more than a dark horse in this competition.
Birmingham City (England) 5-2 Zorky (Russia) [7-2, agg.] – The debuting Russians were out of their league against a team also taking their first turn in Champions League, with a brace from Kirsty Linnett help Brum to their easy win.
You read that title right. There are two big posts on UEFA Women's Champions League. The pro/con debate on Lyon's exits is here.