It's the stuff Malcolm Gladwell writes books about: tournament favorite Lyon's early exit from UEFA Women's Champions League. Or rather, Gladwell would write a book why we perceived OL to be the Goliath. Then he'd go on The Daily Show and explain why out-of-control bias overlooked the fact Turbine Potsdam should have been favorites all long. Because if there's one thing John Stewart's always wanted on the show, it's a hard-hitting segment on the future of Champions League.
Five years of soccer tells us otherwise. Lyon's dominance isn't a psychological phenomenon. They were the real deal. Four straight finals with demolition runs to the last two left little doubt. Lyon (pictured, above, ahead of last year's final) were the world's best, making this week's Round of 16 ouster all the more confusing. While it wasn't unfathomable that a team like Turbine could oust Lyon, a quarterfinal without the acknowledged best team in the world feels incomplete, like an unsolved crime. We need method, we need motive, but we also need to know how to move forward. We need closure.
So let's break out the whiteboard and deploy the most reliable tool in the anal retentive nerd arsenal: The pro-con list. Let's go through the good, sift through the bad, and let's do so in writing. Because anything this important needs 1,800 superfluous words.
Ultimately, let's try to figure out if a Women's Champions League without Olympique Lyonnais is a good thing, or a bad thing:
PROS
Teams are either catching up or figuring it out – Lyon didn't just win back-to-back titles. In 2011-12, they rolled, outscoring their opponents 37-5 in route to their second straight Champions League. Before losing last year's final 1-0, they had outscored their opposition 40-2, leaving people who called their loss in London with plenty of evidence in support. What are you more inclined to believe: 77-7 over 17 games, or 1-0 in a final?
The way Turbine replicated Wolfsburg's achievement makes it hard to say the Lyon era's done. At least, it's hard to be conclusive about it. After all, it took a hand ball and the away goals rules to leave us in this state.
There is, however, an aura of vulnerability that didn't exist seven months ago. As Turbine showed, Lyon can be outworked, pushed around a little, and yes, beaten. Kryptonite's been found.
For some, the competition becomes more legitimate – For years, the complaint about Lyon's league was that there was no competition, and with Paris Saint-Germain still building their project, it remains a one-team race (even if spots two through four have become so much more interesting). England faced similar complaints about Arsenal's dominance until Liverpool swiped their title this year.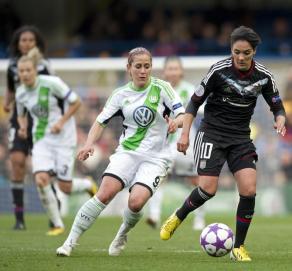 Erroneously, people started assuming the same about Champions League. Why watch if you know Lyon's going to win? Perhaps for the competition's other 31 teams, though people looking for excuses not to watch will always find something. For them, Lyon's loss won't be convincing.
For others, a new, more competitive Champions League will be seen as a more legitimate competition. Whether that's the right conclusion is almost irrelevant. At least some fans be more likely to follow, which leads us to …
It may be the only way to grow – Whatever it takes to get more people interested in Champions League, right? Those that came for Lyon's dominance – the majesty of watching the best club team ever (who played some damn good soccer) – aren't leaving now. But those that were over Lyon and stayed away? They may be more likely to tune in. That Swedish or English soccer fan that didn't want to look beyond their league before might tune-in mid-week to see if Arsenal, Birmingham City, or Tyresö will claim the crown.
This competition's still taking baby steps, no matter how quickly some teams went to speed up the clock. Perhaps this phase of the competition's growth could use the variety. Then, when a new group of people come on board, it might be time for another Lyon to capture other imaginations.
People who hate big spenders: "Throw your pennies in the air/If you're a true hater" – In the men's world, Lyon's a huge club. That they're one of the few from that money-laden realm to strive for excellence on the women's side put them at a huge advantage. OL's roster is full of high-priced talents thanks to their cherry picking the rest of France's talent and their increased forays into the global market (Lotta Schelin, Lara Dickemann, Saki Kumagai, Megan Rapinoe among their foreign stars).
That they went out at the boots of a German team, albeit one that has players from nine different countries, will have symbolic value. While the Frauen Bundesliga brand doesn't carry the quite same financial connotations as its male counterpart, some will still see the German club as doing it things the "right" way while Lyon's broken out the check book.
CONS
Competition loses a focal point – Diehards like more diversity in their story lines, but favorites are a great way to draw in casuals. It was that way with the Lakers and Celtics in the 1908s. It was that way with the Yankees (at various points in baseball's history), and with a competition that's still well short of its stride, it was that way with Lyonnais. It's always difficult to replace a headline act.
Another team could prove their equal, but that's probably not going to happen. It took more than one result for periodic viewers to remember Lyon. We'll need a few more headlines from one club before was see a line of succession.
Odds are the days of hegemony are probably over. People may have to come for the soccer, not the dominance.
Lyon's gone all France-y, really shouldn't be losing these games – Since 2011, the French national team has been the most disappointing side in international soccer, their combination of skill, compelling talents, and attractive play unable to generate a true threat at the last three major tournaments. From dark horses at World Cup 2011 to favorites at Euro 2013, Les Bleues have been repeat offenders in the disappointment department, their results falling short of their potential.
All during that run, France's contributors have been predominantly Lyon players, yet those stars had managed to contain their on-field disappointments to the international realm. Not so anymore. Not only have Lyon lost the last two Champions Leagues from  a favorite's position, they've used their national team's trademarked "how did they let that happen?!?" approach. Leaving few explanations for their failure, Lyon's gone all France-y on us.
Lotta Schelin will be under-appreciated – Schelin is the best player in the world. Others' mileage may vary (that's what comment sections are for), but for me, the debate isn't even that compelling right now. While the distance between her and the next level isn't big, a gap exists. There's a precision Schelin brings to the striker position that's unparalleled in the world game. Nobody can match it: not Abby Wambach; not Christine Sinclair; not Alex Morgan.
Unfortunately, she's becoming a victim of her own success, and that victimization is going to cost her FIFA World Player of the Year. Like Lionel Messi in years' past, or Zlatan Ibrahimovic, or Cristiano Ronaldo, people are starting to complain that she doesn't score in big games, and while that's true (she didn't score against Potsdam, in Sweden's Euro 2013 eliminator, or in any of the Champions League finals), the reason is obvious. You give talented, well-organized teams one thing to do — like stop one player — they'll usually find a way. As we saw in the buildup to this week's Portugal-Sweden playoff, we usually greatly exaggerate the potential effect stars can have on a match.
Go ahead and bring up examples of Pele, Maradona, and the new Messi, but they're exceptions to the rule. Ibrahimovic, Ronaldo, or almost any other player in the history of the world's game can be stopped. As can Messi. It's up to their teammates to make the opposition pay.
I use mens' players with the hopes of making the point as accessible as possible. No matter how many times world soccer's provided evidence to undermine the idea that everybody can be Maradona, people are still unconvinced. It's not enough to be a superstar. Every player needs to be a Super, Mega Star or they're torn down.
Maybe Lotta Schelin isn't a Super, Mega Star, but she's still the best player in the world. If Abby Wambach or Nadine Angerer win FIFA Player of the Year simply because Schelin didn't go full Michelle Akers on the world, that's just wrong. But it would also be par for the course for that award.
The draw methodology is pretty seriously messed up – On this, we can all agree. There's no way Lyon should be facing Turbine Potsdam this early in the competition. There's no way Paris Saint-Germain and Tyresö should have met in the round of 32, either. And Wolfsburg shouldn't have forced to eliminate Malmö this early. We don't need Champions League final-caliber matchups in November.
The system needs to be changed. Right now, 16 of the competition's 32 teams get seeded, drawn out of one bag against teams from the other – a process that changes come the Round of 16. In the interest of having the best matchups come during the later, more marketable times of the tournament, the "seeded" teams need to be protected deeper into the tournament.
A group stage is out of the question. There's not enough money in this competition to support that right now, leaving two options (which, admittedly, me and three Twitter friends thought up):
Tennis/NCAA-style seeding and bracket, where the top X teams get seeds. Instead of a redraw at the end of each round, the bracket remains constant from the beginning. Or,
You reseed after each round until a certain point in the tournament; say, the semifinals. At the Round of 32, you have 16 seeds. At the Round of 16, you have eight. You do something to keep Lyon and Turbine from meeting so soon.
There is another problem, though, and that's the seeding itself. With the landscape of women's soccer in flux (thanks to the money coming into the game), it's difficult for any rating system to stabilize. UEFA coefficients are much more effective on the men's side than the women's. You still have a situation where a team like Glasgow City is seeded while Tyresö is not.
Until that reaches the type of equilibrium we see on the men's side, all seedings are going to be flawed.