[youtube http://www.youtube.com/watch?v=aj2cTazTgV8]
It was the type of shootout you'd see on a basketball course, not a soccer field: Two players, one-on-one, their teammates fading into insignificance as alpha tried to one-up alpha. You saw it in Zlatan Ibrahimovic's determination, his second half brace temporarily leaving Sweden one goal away from the World Cup. and you saw it in Cristiano Ronaldo's elation, the Real Madrid star's stern "right here" declarations celebrating his tie-sealing goal.
For as tedious as the pre-match hype was — everybody trying to portray Portugal against Sweden as Cristiano Ronaldo versus Zlatan Ibrahimovic — that's exactly what we got. It too three halves to surface, but by the end of Portugal and Sweden's playoff, it was all about the two icons, stars trying to eclipse each other in front of a full house in Solna. After two legs and 180 minutes, two of the world's top three players had combined for six goals.
But thanks to a Swedish defense that was beaten badly three times, four of those goals went to Ronaldo, whose Tuesday hat trick sent his hosts crashing. Despite a second half brace from Ibrahimovic, Sweden will miss their second straight World Cup, today's 3-2 loss allowing Portugal to advance to Brazil 2014 (4-2, aggregate).
Portugal joined the day's other six qualifiers to bring the World Cup field to 30, with France eliminating Ukraine shortly after the final whistle in Sweden. Ghana and Algeria won their African qualifying playoffs earlier today, while Greece and Croatia defeated Romania and Iceland in Europe.
[MORE: Historic comeback sees France into World Cup 2014, Ukraine denied place in Brazil]
[MORE: Europe World Cup playoff roundup: Greece, Croatia complete UEFA's field for Brazil 2014]
[MORE: Ghana finish off Egypt to qualify for World Cup 2014 in Brazil; what now for Bob Bradley?]
Over the next two days, the final two World Cup 2014 spots will be decided. Uruguay carries a 5-0 lead over Jordan into the teams' second leg in Montevideo (Wednesday), while Mexico is likely to advance past New Zealand on Tuesday night, having earned a 5-1 lead last week in Mexico City.
From the early moments today in at Friends Arena, it was clear that Ronaldo's late goal in Lisbon would allow Portugal to play from their more comfortable, counterattacking posture. Conceding Sweden the ball and electing to stay organized rather than pursue, the Seleccao were able to rely on their transition to dominate the first half. Though Sweden held 56 percent of the ball, they were outshot 9-3 in the first half, a 40th minute header from Hugo Almeida nearly doubling Portugal's 1-0 lead.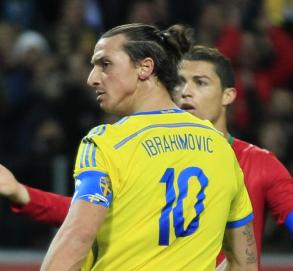 Five minutes into the second half, Portugal had their two-goal advantage, a counter that left Ronaldo behind the Swedish defense ending with a left-footed shot from 12 yards out into the right of goal. Beating a high defensive line, Ronaldo cut across right back Martin Olsson to get onto an João Moutinho ball play through central defense. Moments later, alone on goal, the Real Madrid star's second goal of the playoff had the visitors up two.
But in a playoff that was billed as Ronaldo versus Zlatan, it was time for Ibrahimovic to step up. In the 68th minute, a corner from Kim Källström saw the Paris Saint-Germain star out-muscle Bruno Alves at the edge of the six-yard box, his header into the left of Rui Patricio's net cutting Portugal's lead to one. Four minutes later, the Seleccao were left with only their tiebreaker edge, an Ibrahimovic free kick from just outside the penalty box pulling his team event.
But again, Sweden's high line would be victimized. From the left this time, Ronaldo was left to go in alone on goal once more, sprinting past the Swedish defense at the center line for an eventual chance from the left of goal. Burying is shot in the far corner, the Portuguese captain made it 2-2 (3-2 on aggregate).
Their lessons unlearned, Sweden allowed themselves to be beaten again in two minutes later, a turnover in midfield quickly converted into an open chance when Moutinho found Ronaldo streaking across right back Mikarl Lustig. After drawing Isaksson out, Ronaldo put his right-footed shot into the top of the Swedish next, completing his hat trick.
With their 3-2 win in Solna, Portugal had navigated their third straight major tournament qualifying playoff, but after 180 minutes that produced six goals from Ronaldo and Ibrahimovic, few are likely to remember the matchup's context. Instead, the same fascination that dominated the buildup with write the history of Portugal-Sweden. With four goals over two games, Ronaldo earned his spot in next year's World Cup, but with two goals in five minutes of Tuesday's second half, Ibrahimovic did his part to ensure the show delivered on its promise.