Tick tock, tick tock.
You hear that Becks? Time to get a shift on fella, this MLS franchise in Miami isn't going to sort itself out you know?
Well, in case you missed it on Tuesday, massive news came elsewhere on the soccer scene in Florida as Orlando City became Major League Soccer's 21st franchise.
In Orlando to celebrate with the ownership and fans of MLS' newest club was Commissioner Don Garber, who spoke out about a franchise in Miami becoming a direct rival for Orlando. After that, the Sun Sentinel claims that Beckham has until the end of this year to get his franchise signed and sealed under the terms of the clause he had in his original MLS contract.
Um, that's news to us, right guys? That interesting tidbits of news on Beckham's proposed ownership of a new franchise in Miami would make sense as to why Goldenballs is in a rush and wants to get LeBron James on board. The global superstar only has until December 31, 2013 to get everything done and dusted to make his cut price expansion franchise, costing just $25 million, a realty under the terms he set out when he signed with LA Galaxy and MLS back in 2007.
(MORE Orlando City SC confirms they will be next MLS franchise)
As for the Commish, Garber is hopeful a soccer franchise in Miami would work out.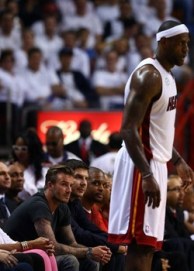 "We have been working hard. I was in Miami Friday and Saturday and met with the mayor during that meeting. There is a lot of momentum in that city," Garber said. "He's [Beckham] been out meeting with partners, a couple of celebrity partners. The ownership group is coming together. They have been working to find a location for a soccer-specific stadium. If those pieces come together the way we all hope they will, then we could have a team in the next number of years in Miami, but there is still a lot of work to do on all those fronts."
Tick tock, tick tock.
So, are we really going to see two MLS teams added to Florida in just over a month? It looks that way.
With Beckham meeting all the important people involved in Miami and Bolivian billionaire Marcelo Claure ready to spend the big bucks at Becks' side, it seems as though he has a tight deadline to work with.
Many people are suggesting MLS teams in Florida will once again be a flop. But with the huge numbers on show during Orlando's launch party on Tuesday and the massive amounts of cash and celebrity status of Beckham's side in Miami, it seems as though Florida plan to do it big this time round.
They just need to get a shift on. Tick tock, tick tock.