As he picked up his Golden Boot award for scoring the highest number of goals, for the third time in the last four years, in European club soccer on Tuesday, FC Barcelona's Lionel Messi gave some indication as to how his thigh injury is healing.
The Argentinian ace expects to return in January.
Persistent thigh and hamstring injuries have plagued the 26-year-old over the last six months and this lengthy lay off may be exactly what he needs to finally eradicate the long-term issues.
Saying that, Messi is etching to make his return. Will it be on January 5 when Barca play Elche after the winter break in Spain's La Liga?
"I hope so," Messi said. "The truth is I have not put a date on the return. If all goes well it will be that date, but we will see what happens. I will be back when it is supposed to happen."
Throughout his recovery, all eyes will be on Barcelona to see how they cope without their talisman. They'll probably continue to win with ease in Europe and in the league as Messi returns home to his native land of Argentina to fully rest and recuperate.
"My objective is to return in good shape, to strengthen the body so that, God willing, I can play without injuries," Messi said. "I am improving bit by bit — it does not hurt any more. I am starting to do things."
And we all know that when he is fully fit, nobody can get near the pint-sized genius.
(MORE: 31 down; one to go – Updated list of countries qualified for FIFA 2014 World Cup in Brazil)
Something struck me about this lengthy lay-off, Messi has never really had this much time off in his eight-year career so far. It's a blessing in disguise… for Argentina at least.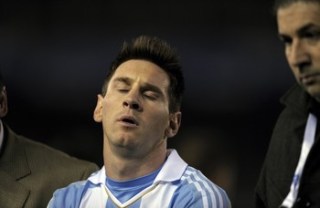 Heading into World Cup 2014 in Brazil, La Albiceleste are aiming for a vast improvement on recent World Cup performances. Since 1990, over 23 years ago, they haven't made it past the quarter final stage. For a side that has won the World Cup in 1978 and 1986, Argentina have underachieved massively in recent years.
Messi's performances in the famous blue and white stripes haven't been anywhere near the regular masterclasses he churns out for Barcelona. A rest and some much needed down time will recharge his batteries and let him regain his form and fitness to reach his peak just before the World Cup rolls around. That's ominous for the rest of the teams at the tournament as Brazil's fiercest rivals completely dominated South American qualifying for the 2104 tournament, finishing top of CONMEBOL with ease.
A resurgent, fresh and hungry Messi captaining Argentina can only be a good thing. One other thing, every time a World Cup has taken place in South America or Mexico, a side from South America has won the tournament.
Uruguay lifted the Jules Rimet trophy in 1930 when it was hold in their homeland and they won it again in 1950 when it was held in Brazil. In 1962 Brazil won the famous trophy when Chile hosted the showpiece event and they won it again in 1970 when Mexico was the host. The Argentina won the trophy in 1978 in Argentina and again in Mexico in 1986.
All signs point towards a South American side winning the World Cup this summer. Messi's rest over the winter means he will recharged and ready to lead Argentina's charge for their third World Cup trophy.