The disappointment of CONCACAF's final round is officially meaningless. Three wins in 10 to close qualifying? It doesn't matter, nor does the four-coach carousel that left Mexico in turmoil or El Tri's need to have their World Cup lives saved by the arch rival Americans. After their two-legged playoff romp of Oceania champion New Zealand, the only thing that matter to Mexico soccer are six words: El Tri are going to Brazil.
Fueled by a first half hat trick from Santos Laguna's Oribe Peralta, Mexico became the 31st team to qualifying for the 2014 World Cup, the ease of their playoff's second leg in Wellington better described by the tie's aggregate score than the 4-2 victory Miguel Herrera's team collected on Wednesday. Finishing their 180 minutes against the All Whites with a 9-3, Mexico easily qualified for a sixth straight World Cup.

It was just over a month ago that those World Cup hopes were on life support, Mexico's impending loss in Costa Rica on CONCACAF's last qualifying match day set to eliminate the team as Panama held on to a 2-1 lead over the United States. Then, in stoppage time in Panama City, a Graham Zusi goal pulled the U.S. even, a result that would allow Mexico to stay ahead of the Canaleros to claim CONCACAF's playoff spot. When Aron Johansson gave the U.S. a win one minute later, Mexico had survived, if miraculously so.
Now, 36 days later, Mexico's been reborn, a transformation that's involved wholesale changes by Herrera, hired after the team's loss in Costa Rica. Coming off a win last week in Mexico City, those changes were again evidence in the team's starting XI – the same 5-3-2 formation that produced a 5-1 win at Estadio Azteca. Conversely, New Zealand made five changes, Ricky Herbert sacrificing a defender for an attacker as the All White set up to chase goals.
Yet as if picking up from leg one, it only took 14 minutes for Mexico to increase their lead. Whereas El Tri had failed to beat Glen Moss minutes earlier, a move orchestrated by Carlos  Pena and Oribe Peralta eventually beat the Wellington Phoenix goalkeeper for the opener. Running across New Zealand captain Tommy Smith and behind the All Whites line, Peralta scooped Pena's through ball over a sliding Moss from six yards out, the ball descending down and over the goal line to make it 6-1.
By the 22nd minute, when a ball threaded through the defense forced Moss into a point-blank stop on Raúl Jiménez, Mexico was using New Zealand's desperation to their advantage, turnovers forced at the edge of their defensive third rewarded with space in midfield. Although the Kiwis were able to pose an occasional threat, as they did through Jeremy Brockie in the 24th minute, Mexico were still generating the better chances. In the 29th minute, Miguel Layún found an unmarked Peralta at the top of the six-yard box for an embarrassingly easy goal.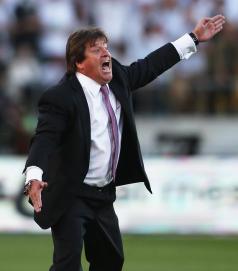 Four minutes later, Peralta had his hat trick, a goal created after a New Zealand turnover deep in their own end allowed Pena to get behind the defense. Replicating goal number two, Mexico increased their overall lead to seven with Peralta's left-footed finish from just outside the six.
Even when things broke right for New Zealand, it was to no avail. In the 39th minute, Mexico goalkeeper Moises Muñoz conceded a penalty kick – a chance for the Kiwis to give the packed stands at Westpac Stadium reason to buzz going into halftime. Instead, Brockie served a thigh high shot well inside the left post, allowing Muñoz to keep it 3-0.
A second half played at a gallop saw New Zealand dominate possession but initially generate few chances on Muñoz, Mexican energies funneled into defense able to neuter any threat the All Whites posed from their myriad corner kicks. Despite the hosts' control of the ball, attention was on whether Perelta would get a fourth, not whether Herbert's side would get their consolation.
In the 72nd minute, Peralta nearly scored a fourth, a ball headed for goal kept out by a New Zealand defender. In the 75th, a cross from the right just hopped over Peralta's boot, the Man of the Match again unmarked at the edge of the six-yard box. Replaced in the 76th minute, Peralta would have to content himself with the mere three goals.
In the 80th minute, New Zealand began collecting their small but (if the crowd's raucous reaction was any indication) important consolation, a generously given penalty off a Rafa Marquez handball allowing Chris James to get the All Whites on the board. Finishing high into the right of goal, James cut the Kiwis's deficit to two, with a volleyed conversion by Brockie off an 83rd minute cross bringing the hosts within one on the night. When Pena added Mexico's final goal in the 87th minute, however, the air left had once again left the New Zealand sails.
Ultimately the story was less New Zealand's silver lining than Mexico's rebirth, with players like Peralta casting further doubt on the importance of European-based players to Mexico's cause. Herrera controversially omitted all foreign-based talents from has playoff squads, leaving the likes of Javier Hernandez, Andres Guardado, and Giovani Dos Santos with their English and Spanish clubs. But in Peralta, Pena, and Raúl Jiménez, Herrera found players that were capable of performing to Mexico's standards, and while the seleccion has seven months to figure out how to re-integrate those superior talents, Herrera's point was proven. Mexico has enough talent not to be beholden to reputations.
Ideally, El Tri's playoff success would serve as a wakeup call for the collection of talented but underperforming stars that once looked like a golden generation. But if the Hernandez and Dos Santoses of the world can't reestablish their pre-qualifying form, Herrera has given the seleccion a way to be competitive next summer. At least, the home-based crew has proved more willing to fight than the superstars they replaced, a fight that's qualified Mexico for another World Cup.