On Wednesday Stoke City announced that a fourth U.S. international will not be joining the Premier League side, as Juan Agudelo's work permit appeal has been shockingly turned down.
With that decision, which Stoke can not appeal against, Agudelo's transfer to the Potters will almost certainly be cancelled and the New England Revolution forward is now left in limbo.
Agudelo, 20, seemed to be on his way to joining the Potters on January 1 when his contract with Major League Soccer expires and everything was signed and sealed back in August for the USMNT youngster to shine on the big stage in England.
Now, that's all ended. The reason why Stoke had to appeal on Agudelo's behalf was because he has not played in 75 percent of national team games over the last two years. In England a work permit can be granted straight away for a player outside the EU, if they have played in that number of games for their national team and their side is ranked in the top 70.
Stoke City's Chief Executive Tony Scholes was left flabbergasted by the decision, as he and manager Mark Hughes made their case to a panel in London today but proved unsuccessful.
"We're bitterly disappointed that the panel rejected our appeal for a work permit for Juan," Scholes said. "The criteria by which the panel should make work permit application decisions are well established and have been in place for some years and, despite recent comments to the media and discussion in the media, that criteria has not changed. We are therefore left amazed that our application for a work permit for Juan has been rejected when you compare his talent and ability to players who have been granted a work permit on appeal in the past."
He has a point. But it is worth noting that new FA Chairman Greg Dyke wanted to crack down on the number of young foreign players arriving in the Premier League and it seems as though Agudelo is one of the first victims of the new tough stance on foreign imports. Just recently I was chatting with both Tim Ream and Geoff Cameron who spoke about their excitement in welcoming Agudelo into the America fraternity plying their trade in England.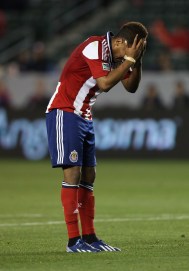 Nobody saw this coming. Let's face it, so many other players with far less talent and potential have been granted work permits to play in the UK after not meeting the requirements. In my opinion Agudelo offers more, long-term, than the likes of Brek Shea, Ream and maybe even Cameron.
(MORE: Juan Agudelo signs for Stoke City, will join Premier League in January)
The fact that a player that has scored for the USA against Argentina as a teenager and has been long touted as one of the most promising talents in U.S. soccer isn't worthwhile to make an exception for and would not add something positive to the Premier League is preposterous. The worst thing about it is that Stoke can't appeal against the decision and were given no explanation as to why Agudelo's work permit appeal was turned down.
"Unfortunately, under the rules of the appeal panel system we were given no explanation why the application was rejected and so can only speculate as to the reasons why we have been unsuccessful," Scholes continued.
Agudelo will be left shocked and bemused that this move has fallen through and the young strikers career moves just seem to be getting worse as times goes by.
Having left the New York Red Bulls after coming through their academy, Agudelo joined Chivas USA in 2012 and was traded in a matter of months after El Chelis regime gave him the chop. At New England he scored regularly but was often injured and with this move to Stoke lined up back in August, understandably the Revs' planned for next season without Agudelo which saw his appearances limited towards the end of the season.
What next for Agudelo? A move abroad may happen elsewhere in Europe where employment laws aren't as strict as the UK or perhaps he will remain in MLS. It seems as though he may have burnt his bridges with New England, so yet another move for the 20-year -old will be on the agenda.
What a mess.