On Saturday one of English soccer's greatest rivalries will take center stage for the first time in the 2013-14 season: Everton host Liverpool at Goodison Park.
This season the Merseyside derby could not be any closer to call.
Both teams stadiums are separated by the famous Stanley Park, as Goodison sits just 0.9 miles away from Liverpool's home Anfield. And this year these two clubs, in terms of their ambitions on the field, are also extremely closely situated with both playing attractive free-flowing soccer and aiming for the Champions League. Liverpool are currently in second, while Everton are just three points behind them in sixth heading into the derby.
(PREVIEW: EVERTON vs. LIVERPOOL)
U.S. national team 'keeper Tim Howard will be aiming to stop Liverpool's deadly strike duo of Luis Suarez and Daniel Sturridge on Saturday, as the USMNT veteran believes his 17th taste of the Merseyside derby in the PL will have an extra kick to it following superb starts to the season for both clubs.
"I think it will add something extra," Howard said with a smile on his face. "I don't think the derby ever needs extra motivation… but yeah I think both teams have been doing brilliantly. I think we've quietly crept in there and Liverpool have stayed quite near the top and we're maybe one result from really getting to that top level. It will be a really good derby, in that regard."
Howard, 34, has enjoyed yet another stellar season in goal for the Toffees and is currently on a 240 minute shutout streak which has helped Everton surge towards the top of the table under new manager Roberto Martinez. It will be a landmark day for Howard, as he breaks the club record for the most starts in the Premier League by surpassing David Unsworth's record of 271 .
WATCH: EVERTON v LIVERPOOL LIVE ON NBCSN AND NBC SPORTS LIVE EXTRA ON SATURDAY, 7:45am ET
But the USMNT goalkeeper somewhat sheepishly deflects the praise away from his own brilliant performances and suggests the guys in front of him make his job easy.
"The boys have been great," Howard said. "If we can keep that going in the derby we will all be heroes. The back four has been playing fantastic, obviously Leighton Baines, Sylvan Distin, Phil Jagielka and of course Seamus Coleman. You're talking about top international players."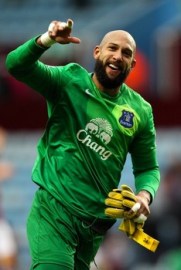 However, we all know having a solid defensive unit is much more than just the back four and the goalkeeper playing well. Howard points to two new arrivals being influential in Everton's defensive success.
"We've brought in Gareth Barry and James McCarthy, and they've been unsung," Howard said. "Particularly on the ball people have been talking about how good they've done, but you have to look at our defensive record in the fact that it's not just the back four. There's that defensive six, we play as a unit. Without those guys breaking things up it would be really difficult to keep the defensive rhythm going. It's good. We're in a good rhythm, we're starting to read each others body language, the communication is really good. We will try and keep that up, it's been positive for us."
(MORE: U.S. 'keeper Tim Howard agrees governing bodies can help with head injuries)
With Martinez' new system working well at Everton and the Toffees one of a whole cluster of clubs looking to break into the top four this season, Howard believes this Premier League campaign is the most exciting in recent history.
Howard and Everton are aiming to jump ahead of the jostling pack and bring qualification to the Champions League group stages to Goodison for the first-time in history.
"Everyone always talks about the top four spots and there used to be five teams for that, then six teams and I feel like this year there's probably eight teams that are really going to push for the top four," Howard said. "There is going to be a couple of really disappointed teams because there's only four spots for the Champions League. This season there's really eight contenders and its impressive."
Howard has been impressive in every sense of the word this season, can the U.S. 'keeper and Everton keep it going against Liverpool? If they can, it would send out a huge message that the Toffees will be sticking around at the top of the table.