Laura Harvey's become everybody's fantasy league nightmare –  the person who just won't stop chasing deals. Since the National Women's Soccer League season ended on Aug. 31, the Seattle Reign have made five trades, the rest of the league's general manager surely growing tired of  "Laura Harvey, Seattle, WA" popping up on their called ID.
No, Laura, I don't need another trade offer from you … Yes, Laura, I do realize you like to deal, and I know you're interested in all on my team's best players … I just don't have time for this … You've made so many trades, this isn't even realistic anymore.
But as anybody who's ever been in a keeper league knows: The person that won't stop flooding inboxes always stacks up talent. It's annoying, and you loathe the fact that they're putting so much time into it, but through pure persistence, the owner finds people's weak points. They close deals that make you call their trade partners and scream, "Why did you do that?"
"Don't you know not to listen to Laura? You are ruining the league for everyone! Just stop taking her calls."
Take this week's big trade: Harvey got one of the league's jewels – one of the U.S. Women's National Team's vaunted four-deep world-class attack. Sydney Leroux, arguably the player with more pure potential than anybody in the league, was sent west from Boston, where she grabbed 11 goals in 19 games last season. To get her, the Reign gave up a talented prospect (Kristie Mewis), a fungible backup goalkeeper (Michelle Betos), and first and second round picks in the 2015 draft.
This is the kind classic, Fantasy Manager 101 "bag of stuff" deal that infuriates the rest of the league, the one that leaves every other GM saying "I could have beat that." Going one way, you have a player who's capable of leading the league in goals. Going the other, you have your typical focal point-plus-grab bag that Seattle will never miss.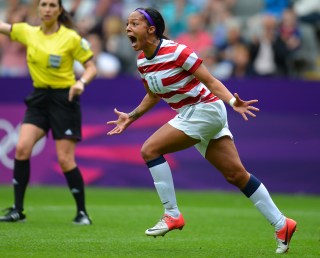 There were a number of factors that led to the end of Leroux's time in Boston, factors beyond Harvey's persistence or the coincidental going home narrative laced throughout the trade's announcements. Having never played a full professional season before, Leroux's transition to the professional game was not exactly a smooth one. A relationship with then-head coach Lisa Cole that saw the natural striker sometimes played wide and eventually sat early in the season never improved. As questions about intensity were accompanied by days away from the team documented on the player's Instagram, the link between star and club seemed to suffer. Leroux's 2014 would have to be better.
Boston had to decide if they wanted to be in the Sydney Leroux business. Sure, the Pacific Northwest native may have preferred playing on the West Coast, but if Boston doesn't want to make this deal — if they're willing to take a chance on rebuilding a relationship with one of the league's most talented players — they don't make the deal. And they certainly don't accept a discount rate for some of the world's best attackers. If Boston had to decide if they wanted to be in the Leroux game, this week's trade told us their decision.
It's not that either side wanted it to fail. It's that it never clicked. It's a relationship that ended in a passive, mutually filed divorce. That's why you didn't hear a lot of surprised reactions when Breakers general manager Lee Billiard made the tough call, deciding to make a deal where he gave up the best player. Boston wasn't going to get a Lauren Holiday, Abby Wambach or Alex Morgan in the deal. None of those players were available. He had to trade down.
From his point of view, Kristie Mewis may have been as good a centerpiece as Billiard was going to get. The Boston College and Hanson, Mass. talent has huge local ties, something that's led Billiard to covet her since January's draft. But she's also in transition. A skilled, attacking player at BC, Mewis now projects as a left back for the U.S. Women's National Team. With Boston short on fullbacks and having traded last year's number one pick (defender Casey Short) to Chicago, it's assumed Mewis will be patrolling the left flank at Dilboy Stadium. If Mewis becomes one of the league's best left backs (and I really should bold and italicize that if), this deal becomes merely lopsided instead of a steal.
But where the swap gets even more interesting (if that's even possible) is with Seattle. A team that was decimated at the beginning of 2012 by the absences of all their U.S. stars (Hope Solo, Megan Rapinoe, Amy Rodriguez) has completely reloaded. In three months' time, they've done from a team unable to avoid a seventh place finish to a potential competitor.
In goal, Hope Solo will be ready from game one, whereas a wrist injury kept her out of action until the middle of last season. Even when she returned, she didn't seem right, whether it was her wrist, the lingering effects of shoulder surgery before the 2011 World Cup, or both. This fall, however, she has looked closer to her normal self for the national team, sparking hope she'll be full-on Hope Freakin' Solo come April.
Defense, however, was Seattle's big problem, and although there are still no stars in the squad, there are a lot of decent options. U.S. international Stephanie Cox heads a deep fullback corps that includes Nikki Marshall, Elli Reed, and Kiersten Dallstream. In the middle, Canadian international Carmelina Moscato will try to rebound from a bad 2012, with reliable options like Lauren Barnes and natural midfielder Kate Deines also available. Even if a couple of players flop (as happened last year with Canadian international Emily Zurrer), Harvey has options.
Last season, the midfield, had to carry the team, but the load was so heavy that the team would occasionally hit a wall in the middle of the second half. This year, Jessica Fishlock and Keelin Winters won't have to shoulder as much of the load, and with promising destroyer Mariah Nogueira having also been acquired from Boston (seriously, why so generous, Boston?), Leroux won't be the only Breaker gift in Harvey's squad.
But it's in attack, where Seattle struggled desperately in the absence of Rodríguez (pregnancy), where the Reign has improved the most. Of course, there's Leroux, but on Wednesday, Seattle announced the acquisition of Kim Little, a Scottish international who has spent the last six years at Arsenal in England. In her former North London charge, Harvey has a player who already has 32 UEFA Champions League goals to her credit. Once Megan Rapinoe returns mid-year from her time at Lyon, Seattle will have one of the most talented and balanced attacks in the league.
Compared to the team that started on Aug. 17 against the Thorns (the Reign's last game), there haven't exactly been wholesale changes. Seven players that were chosen that day could be in Harvey's XI come April. It's the fact that she's been able to acquire the likes of Leroux, Little, Nogueira and Moscato while giving up almost nothing from her core that's so galling: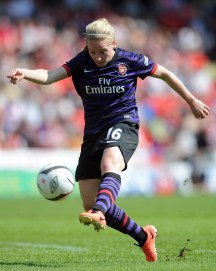 Leroux was acquired with spare parts plus the Mewis, who Harvey got from Kansas City for Rodríguez earlier this fall.
Little's discovery rights were obtained from Washington for Christine Nairn, a talented player but one who is actually the same age as Little.
Nogueira, a promising 22-year-old who was staring at Stanford this time last year, was obtained for two third round picks.
And Moscato cost Harvey midfielder Kaylyn Kyle, who was one of the worst in the league at her position before being moved into central defense.
Most of these trades make sense for both teams, but from Seattle's point of view, they're four upgrades that didn't cost Harvey anything that worked (Fishlock and Winters in the middle) or drew fans (Rapinoe and Solo on the posters). Come April, Seattle should reap the benefits of Harvey's rotisserie baseball management.
The offseason's only three months old, the college draft is still a couple of months away, and teams don't even know who the next set of allocated players will be. Yet Harvey has already assembled a roster that looks as strong as Western New York's, Kansas City's or Portland's – the three teams that finished bunched at the top of last year's standings.
While talent on paper doesn't necessarily mean production on the field, it does mean better odds for a Seattle team that seemed cursed in 2013. But over the course of three months, Seattle's general manager/head coach has put all that in the past. You may not want her in your fantasy league, but thanks to her Let's Make a Deal approach to the offseason, Laura Harvey has made the Reign the NWSL's most talked about team, not to mention a contender in 2014.