At the Emirates Stadium on Saturday, first take on third as Arsenal face Southampton in a potential battle for top spot.
Who would've predicted that before the season started?
The Saints have had a magical start to this campaign and have already traveled to Anfield and beaten Liverpool, as well as outplayed Manchester United at Old Trafford to grab a point. Two impressive performances away from home against two of the Premier League's top teams will hold the Saints in good stead as they look to topple league leaders Arsenal on Saturday.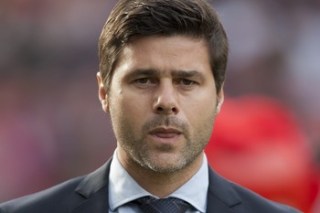 Mastermind of Saints' success story is Argentine manager Mauricio Pochettino and he believes his young, exciting and incredibly confident side can get a good results against the Gunners.
"I think it's going to be similar to the game against Liverpool because when we were playing them they were top of the league," Pochettino said. "And, as with every game in the Premier League, it's going to be very exciting, so we're going to do our best to try and get a positive result. We always have to believe that we can get something positive out of every single game that we play. We believe that we can play a very good game and we can get a very positive result in this game – we always believe in that."
WATCH LIVE: ARSENAL vs. SOUTHAMPTON ON NBCSN AND NBC SPORTS LIVE EXTRA, SATURDAY, 10am ET
As Pochettino said, belief is high at St. Mary's after England call ups for their trio of attackers Rickie Lambert, Adam Lallana and Jay Rodriguez over the recent international break. A hole host of other internationals and youngsters were also in dazzling form for their respective nations, as the Saints continue their march towards the top of the table.
Currently Arsene Wenger's Arsenal side rule the roost but a win for Pochettino's men by two or more goals and a defeat or draw for Liverpool in Saturday's early game, could see the Saints top of the standings when Saturday evening rolls around.
As for the task ahead, Pochettino knows Arsenal will be no pushover and has earmarked one player in particular that Saints' defense must shut down.
"So far I think in the league Arsenal are showing the best football and they have been the best side," Pochettino said. "They're very dynamic and very quick and fast on the counter-attack. They have extraordinary players at their disposal. Way back when Mesut Ozil was playing in Germany he was already showing signs of brilliance with his skills. At Real Madrid he acquired a lot more experience at European level and he added to his game. As a player I rate him as one of the top ten players right now on the European stage."
Saints' main aim is to qualify for European soccer this season. A big win away against league leaders Arsenal would go a long way to proving their top six credentials to the many doubters who believe it's a step too far for the South Coast club.