We continue to roll out our choices for the league's top defender, top goalkeeper, top rookie, MVP and more:
Today we look at ProSoccerTalk's writer's picks for Major League Soccer's Rookie of the Year: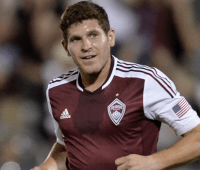 Dillon Powers, Colorado Rapids
Dillon Powers helped lead the Rocky Mountain rookie revolution around DSG Park. A central midfielder (who kept far more experienced foreign veterans off the field), he was in the middle of all things offense and defense for Oscar Pareja's stylish side. Even statistically, Powers' body of work gets more impressive upon just a little deeper examination. Deshorn Brown (a top ROY candidate) tied an MLS rookie record with 10 goals, and also had four assists, so he contributed directly to 14 goals as a forward. But Powers' ability to contribute directly to 11 goals (5 goals, 6 assists) as a central midfielder really is something else.
.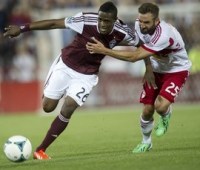 Deshorn Brown, Colorado Rapids
I thought Andrew Farrell's season for the New England Revolution ended up under-appreciated, something I only bring up because this became a two-Rapid race (DeAndre Yedlin love dissipated, too). Among them, I went with Deshorn Brown, who I thought was a handful for Colorado Rapids' opponents throughout the season, bringing value that went beyond his 10 goals (which tied an MLS rookie record). That said, every time somebody tells me they voted for Rapids' teammate Dillon Powers, I feel guilty and left out.
.
Joe Prince-Wright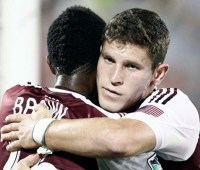 Dillon Powers, Colorado Rapids
Having come up against Powers once upon a time, his relentless movement and maneuvers to make space for himself is what impresses me most. At Notre Dame he led one of the most storied college soccer programs in the nation and he's made the step up to MLS with consummate ease. Smashing long-range efforts in at will, bagging five goals and keeping Colorado's engine ticking over in the middle of the pitch, Powers was a big reason why Oscar Pareja's men made it to the playoffs. This guy will be a stud in the coming years. Think Will Johnson, but more powerful.
Schedule of ProSoccerTalk's choices for MLS awards:
Friday: Rookie of the Year
Monday, Nov. 25: Coach of the Year
Tuesday, Nov. 26: MLS Most Valuable Player
Wednesday, Nov. 27: MLS Best XI