PORTLAND, Ore. — Given two weeks, your mind can figure out how to screw things up. It's funny like that. No matter how much how positive you think you are, how focused you think you can be, the bad stuff has a way of getting in. Strong minds have ways of dealing with that, but most of us can't help dwelling. We're always aware of the worst-case scenarios.
For the Portland Timbers, those worst-case scenarios are no longer just mental. Down by three goals at one point in the first leg of Major League Soccer's Western Conference final in Sandy, Utah, the playoff neophytes had to starefailure in the face. That they responded with a late goal from Frederic Piquionne salvaged their chances of making their first final (making it 4-2 just before the referee blew for full-time), but chasing two goals ahead of Sunday's kickoff, Portland's already had to deal with disappointment.
[REVIEW: Four-goal night leaves Real Salt Lake up two on Portland after West's first leg]
Real Salt Lake, however, could have carried leg one's energy into JELD-WEN Field, but instead of three or six days between games, the international break happened. With 14 days between legs, their momentum has cooled. Over a shorter period of time, they could have willed themselves to stay focused, concentrated on their short preparation period, and fed off of the positive between Utah and Oregon. Staying in their normal routine, it would have been easy to put blinders on. Instead, the 2009 champions had to ramp down, occupy all that time, and try to avoid thinking about all the ways Portland could crawl back into this match.
In that sense, there's nothing good that can come out of this break for Real Salt Lake. All these 14 days have done is Caleb Porter a chance to figure out what went wrong in leg one. While Jason Kreis is trying to maintain his team's focus, Porter can spend two weeks building his squad's confidence. By Sunday's kickoff, Portland will have walked through every scenario where they can get back into this contest.
[MORE: Notes on Real Salt Lake ahead of Sunday's match]
What if Portland scores early on Sunday, a goal that would change the whole dynamic of the tie? And I'm not just talking about something freaky that happens shortly after kickoff. What if Portland scores in the 44th minute? Only down one with 45 minutes left at home, the second half looks completely different.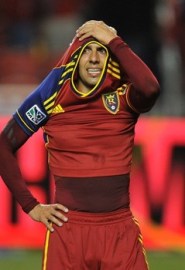 If that happens, the Timbers don't have to open up too soon. They don't have to take undue chances against an attack that put 13 goals on them in five games. Portland can stay with their regular approach, one that will limit the exposure of their center backs and use their pressing high through the midfield to limit RSL's access to playmaker Javier Morales. Whether you're protecting or chasing a lead, it's the type of modest scenario that starts to look very realistic when you're given 14 days to dwell.
Still, how much that matters in the face of what we know about these teams is debatable. Between the regular season, U.S. Open Cup, and leg one in Sandy, these teams have met five times in 2013. Portland has not only failed to win, they've only led for 40 minutes – less than nine percent of the time. They've never led by two. Against a team they haven't beaten since April 2011 (the first time the franchises ever met), Portland not only needs to win. They need to win by three. A two-goal margin only gets them to penalty kicks.
[MORE: Notes on Portland ahead of the West's decider.]
Real Salt Lake's leading scorer, Álvaro Saborío, will be out, but he didn't play in leg one, either. The Costa Rican international also failed to get on the board in the team's last meeting in Portland, a 0-0, October draw that Jason Kreis called the type of game his team would need to play in the postseason. If they pull off the same trick on Sunday, they're back in the finals.
Just as every indication ahead of Portland's finale with Seattle said the Timbers should win that match, there's nothing in these teams' recent history that says Portland's going to their first MLS Cup final. They have a large, unconvincing body of work against RSL – a collection of evidence that tells us they have no answer for Salt Lake. Two weeks might give RSL time to entertain some doubts, but they're going to have to do a major psych-out job to offset the advantages they've shown throughout the season.
Unless Caleb Porter found a magic bullet during the last two weeks, history's likely to repeat itself, though in a season that's seen Portland claim their first playoff appearance, postseason win, and conference final berth, it's not difficult to imagine a breakthrough win over RSL landing them in their first MLS Cup final.
[MORE: Sporting Kansas City punches ticket for MLS Cup; downs Houston in Eastern Conference final]