PORTLAND, Ore. — Four years later, Real Salt Lake is back in MLS Cup, their 1-0 win Sunday  in Portland completing their 5-2 aggregate dissection of the West's top seed. His team having claimed the title on penalty kicks in 2009, Jason Kreis has a chance to become the fifth Major League Soccer head coach to win multiple league titles.
Here are four things we learned (or, where reminded of) from Sunday's clincher at JELD-WEN.
Real Salt Lake owned Portland in 2013
You've read it in almost every piece we're posted this week, but after Real Salt Lake recorded their first victory this year in Portland, it's worth noting: Real Salt Lake were undefeated in six games against the Timbers. They saw Portland out of the U.S. Open Cup, and they ended Portland's Major League Soccer season. Of the eight games the Timbers lost this year, four were to Real Salt Lake, Kreis's team going 4-0-2 in 2013 against the West's top seed.
"I can't really explain it – I honestly can't," Kreis said after the game about his team's dominance of Portland. "Every game feels to me to be even … I feel like it's more a being fortunate situation than anything else."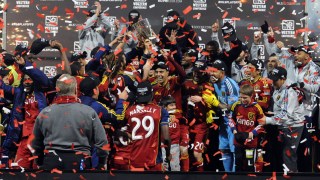 The obvious difference between Real Salt Lake and Portland: The time the teams have been together. Real Salt Lake made major chances this offseason, but the core of their team has been together since their 2009 title. The Timbers rebuilt after an eighth place finish in last year's Western Conference.
"We have so many players who have played in this system for so long and have played together for so long that I think they just have an innate sense of where they need to be at all times," Kreis explained.
That familiarity was particularly valuable against the Timbers, a team that (at least stylistically) plays very similar to RSL. We heard about it all season, how much the two teams admired the others' play, but with the season on the line, RSL's experience may have been the difference. Whatever Portland could do, RSL could do better.
[MORE: Real Salt Lake earns place in MLS Cup final, downs Portland 1-0 to win Western Conference]
Robbie Findley stepped up. Again.
The former U.S. international seems to get a lot of attention from fans for what he can't do, but come the postseason, bottom lines become more important. In 2009 (the last time RSL was in MLS Cup), Findley scored the second half goal that sent the final to penalties kicks. This year, back with the team after a brief spell in England, the 28-year-old has pocketed two more.
"We brought Robbie Findley back because he's capable of scoring the goal in the biggest moments," Kreis said, also reflecting on what the team lacked during Findley's European sojourn.  "We've had forwards over the past couple of years that frankly score the goals in the soft games, but not necessarily when all the chips are done. Robbie's waited for the exact right time to find his best form."
It's nothing special. Findley's not going to launch bombs from 20-plus yards or amaze anybody with dazzling displays of skill. But what he will do is use his speed to harass (as he did in leg one) or get in the right spot (as he did on Sunday).  When the rest of the team is clicking, that's often all you need to convert when it matters most.
[MORE: Real Salt Lake Man of the Match: Nat Borchers]
2013 was just too soon for the Timbers
Go player-for-player down Portland's squad and you see a team which, while both promising and much improved from last year, still needs to improve. That Caleb Porter was able to paper over those cracks for most of the season was a testament to the job he did during this first year; however, the team's play at the back and up top leave room for improvement.
"We didn't look out of place. I think that's remarkable for our team, really 10 months into building this, to be in a position to win," Porter said post-match. "There are some things that we learned in this series, for sure."
He harped on the finishing, confessing it wasn't good enough on Sunday, and in his praise of Real Salt Lake central defenders Nat Borchers and Chris Schuler, Porter highlighted a place where his team proved lacking. But only one season into the job, it was easy for Porter to maintain perspective.
"There's definitely a progression, when you're knocking on the door. This is our first time knocking on the door, and unfortunately, we didn't open the door."
"We're not going to get worse," Porter affirmed. "We're going to get better."
[MORE: Mark the date: Dec. 7 MLS Cup final will be at Sporting Park in Kansas City]
Difference in central defense was huge
If Borchers and Schuler play this way on Dec. 7, it's hard to see Sporting Kansas City having any more luck than Portland or Los Angeles. Real Salt Lake's central tandem seem imperious to whatever's thrown at them, be it LA's vaunted counterattack or a Portland team that had five players score at least seven goals. In four playoff games, RSL's only conceded three times.
"Especially their center backs, they were exceptional in the box tonight," Porter confessed. "We threw everything at them, and I thought they managed the box brilliantly."
Contrast that with the Timbers, who were playing with their third and fourth choice center halves (Mikael Silvestre and David Horst lost to injury early in the season). A Timbers defense with the second-best goals against rate in the league gave up eight in four playoff games, unable to maintain their regular season performance when the quality of competition increased. Against RSL, Pa Modou Kah (reponsible for the turnover ahead of Sunday's goal) and Mamadou 'Futty' Danso were exploited.
The deficiency in defense was particularly evident against Real Salt Lake, a team that seems destined to be the measuring stick for Portland's growth. Throw out the teams' last meeting of the regular season, a game were Kreis seemed to set up to keep the score down (0-0 final), and RSL scored 15 goals in five games against Portland. If the Timbers really are going to be better in 2013, they need to make that number more respectable.
In the mean time, Real Salt Lake will go into the 2013 final enjoying the same edge they had in 2009: a central tandem that's become the best in Major League Soccer.