By now, everybody knows Barcelona are without Lionel Messi, the world's best player out until 2014 with a hamstring injury. But Spanish champions had five other regulars missing from today's starting XI in Amsterdam, a group that fell victim to Dutch champions Ajax, 2-1.
First half goals from Thulani Sereno and Danny Hoesen sent the home team into intermission up two, though things swung back the Blaugrana's way early in the second half when Joël Veltman gave up a penalty that also saw the Ajax defender red carded. Up a man for the match's final 42 minutes, Barcelona were unable to build on Xavi Hernández's conversion, left to suffer their first loss in all competitions this season.
While the defeat will have little effect on Barcelona, who have already sewn up a place in the round of 16 (and will win the group with a home draw with Celtic on Dec. 11), it keeps Ajax within reach of the knockout rounds. Scheduled to play their final group stage match in Italy, the Dutch champions are within one point of second place Milan. An upset on Dec. 11 at the San Siro will see Frank de Boer's side into the round of 16.
After a high-intensity start that eventually saw Barcelona wrestle some control of the game, defensive midfielder Sergio Busquets (dress, but on the bench) proved just as missed as Messi, with Ajax able to compete with Barcelona's normally dominant midfield. In the 14th minute, Ajax launched their first major move toward goal, with the home team's first goal coming from Thulani Serero five minutes later. Putting home a cross from Ajax's right, the 23-year-old South African gave his team a 1-0 lead.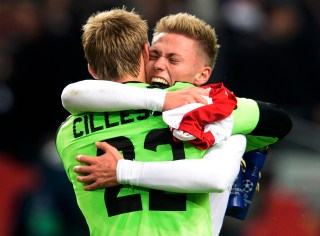 The goal, along with Danny Hoesen's 41st minute winner, came against a Barcelona defense unsettled by its absences. With Carles Puyol forced to play right back, the absent Dani Alves as noticeably missed, as was left back Jordi Alba, a longer-term absence. With starting goalkeeper Victor Valdes also out, Barcelona had only one of their first choice back five in their proper place. As with the two-on-one Puyol was left to handle on the cross for the first goal, the defense's giveaway (from Mascherano) and inability to clear out a bouncing rebound allowed Hoesen to double Ajax's lead.
As they tried to find back in the second half, the Blaugrana also missed Alexi Sanchez, with Martino left bringing Adama Traoré, Sergi Roberto, and Patric off the bench. Though they controlled the match's final 40 minutes, Barcelona only managed two shots on goal, Ajax able to hold out with 10-men against a half-strength squad.
Unlike the case of Chelsea, who also suffered a road upset on Tuesday, there are easy answers to why Barcelona were knocked off. While there may not be a huge difference in quality between Ajax and Basel (both underdogs played extremely well), Chelsea were using players that usually feature among their first choice XIs. Whereas José Mourinho's substitutes were Fernando Torres, Eden Hazard, and Kevin De Druyne, Barcelona was left relying on little used prospects.
When Martino's bringing the likes of Traoré, Roberto, and Patric on to chase an equalizing goal, it's no wonder Barcelona were unable to prevent their first loss of the year. But having clinched a spot in the next round, there's no reason to dwell on what was ultimately a meaningless result.
Goals
Ajax: 19′ Thulani Serero, 41′ Danny Hoesen
Barcelona: 49′ Xavi Hernández
Lineups
Ajax: Jasper Cillessen; Ricardo van Rhijn, Joël Veltman, Niklas Moisander, Nicolai Boilesen (35′ Christian Poulsen); Davy Klaassen, Davey Blin, Tulani Serero; Lasse Schöne (51′ Stefano Denswil), Danny Hoesen (84′ Lerin Duarte), Viktor Fischer
Unused subs: Lesley dde Sa, Mike van der Hoorn, Kenneth Vermeer, Lucas Anderson
Barcelona: Pinto; Carles Puyol (68′ Patric), Gerard Piqué, Javier Mascherano, Martín Montoya; Alex Song, Xavi Hernández (74′ Sergi Roberto), Andrés Iniesta; Pedro, Neymar, Cesc Fábregas (82′ Adama Traoré)
Unused subs: Oier, Marc Bartra, Jean Marie Dongou, Sergio Busquets