Just when you thought Chelsea might be getting their act together, they play one of their worst games of the season. Tuesday in UEFA Champions League, Blues went 90 minutes without putting a shot on target, all the while relying on Petr Cech to keep them in their game in Switzerland. But despite six saves on the night, Cech couldn't stop the shot that sent the Blues to their second loss to Basel this season, Mohamed Salah's chip over the Chelsea keeper and into the right side netting giving the Swiss champions a 1-0 upset at St. Jakob Park.
FCB probably deserved more, generating their first chance in the third minute and sustaining  pressure throughout the first half. At intermission, Chelsea had yet to put a shot toward goal, with Basel holding 58 percent of the ball while launching nine shots.
Cech, however, kept Chelsea close, coming up big on chances from Taulant Xhaka, Fabian Frei and Salah as Basel forced four saves from him in the opening 24 minutes. Ineffectual though midfield and unable to come up with stops in the final third, the Blues seemed destined to concede an early goal. By the half hour mark, however, Chelsea had weathered the storm, eventually carrying a 0-0 scoreline into halftime.
The second half started better for the visitors, particularly after Eden Hazard was brought on for Oscar in the 55th minute. From there, Chelsea briefly threatened Basel, eventually settling into a tempo that allowed them to control more of the ball. As the second half wore on, it seemed José Mourinho's team had enough to bleed out a scoreless draw.
In the 87th minute, however, all of Chelsea's persistence was rendered meaningless when a long ball from central defender Fabian Schär found Salah bursting past right back Branislav Ivanovic. A controlled touch off his right thigh saw the Egyptian attacker push the ball in front of him and into the penalty area. As Cech came for a ball approaching his six-yard box, Salah lifted his shot over the Chelsea keeper and into the far side netting, his second touch on Schär's round one offering giving Basel their second victory of the tournament over Chelsea.
A one-goal game decided by a late winner may seem superficially close, but Chelsea were decidedly second best all day, a status the key numbers accurately reflect. The 15-2 edge Basel held in shots described the difference between the teams, with only a stretch of play in the second half giving the teams the appearance of equal footing. Basel finished with seven shots on target while their goalkeeper wasn't tested once.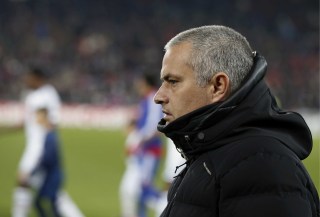 The poor result, however, is unlikely to hurt Chelsea. Thanks to Schalke's surprise draw at Steaua Bucharest, the Blues clinched a place in the knockout round. At nine points, Chelsea still lead Group E, ensuring they'll earn the packet's top spot with a win on Dec. 11 against the Romanians at Stamford Bridge. Even if they draw with Steaua, Chelsea can win their group if Schalke knock off Basel.
With the damage from today's embarrassment limited, inconsistency should be more worrying than Chelsea's bottom line. Coming off a 3-0 win this weekend against West Ham, the Blues gave every reason to believe they'd extend their Champions League winning streak to four, clinch their group, and give themselves the luxury of fielding kids and reserves two weeks from now. Instead, the team suffers another Newcastle-esque dip, lucky to get out of Switzerland with just a one-goal loss.
Much like the situation with Manchester United, new leadership help explains the inconsistent results, but after performances like today's, you wonder if the team limitations the appeared under André Villas-Boas, Roberto Di Matteo, and Rafa Benítez are again surfacing. Is the ceiling for this team much lower than their prodigious talent makes us believe?
It's too early to answer that question, either positively or negatively. Another Basel loss, however, gives us more food for thought.
Goals
Basel: 87′ Mohamed Salah
Lineups
Basel: Yann Sommer; Kay Voser; Fabian Schar, Ivan Ivanov, Taulant Xhaka (71′ Arlind Ajeti); Mohamed Salah, Mohamed Elneny, Fabian Frei, Geoffrey Serey Die, Valentin Stocker (90′ Gastón Sauro); Marco Streller (78′ Giovanni Sio)
Ununsed subs: David Degen, Philipp Degen, Matías Delgado, Germano Vallati
Chelsea: Petr Cech; Branislav Ivanovic, Gary Cahill, John Terry, Cesar Azpilicueta; Ramires, John Obi Mikel, Frank Lampard; Oscar (55′ Eden Hazard), Samuel Eto'o (42′ Fernando Torres), Willian (86′ Kevin De Bruyne)
Unused subs: Ashley Cole, Juan Mata, Andre Schürrle, Mark Schwarzer