I remember watching The Shawshank Redemption and thinking, that movie was really freaking good.
After a night's sleep of subconcious analysis my opinion changed.
That movie was awesome.
A couple of watercooler conversations later and my opinion morphed again.
That movie was sensational.
Since 1994, my opinion hasn't changed. Shawshank remains my favorite movie of all time.
It's a full boat –  fantastic story, top-notch actors (and acting), shot beautifully, superbly directed … that movie has it all.
And so did last Saturday's Premier League match between Everton and Liverpool.
Sounds crazy to say, but it's true.
The Merseyside Derby Shawshanked me. After five days of reliving that match, that's the only conclusion I can come to. It was sensational.
Below are eight reasons why I spent the last week walking around with my jaw on the floor.
1. Rivals 
No better match in world football than a rivalry. If it's a local derby, even better. The Merseyside Derby is a fantastic match-up between two long-time rivals whose stadiums are a goal-kick away from each other.
Dream setup. Check.
2. Goals
In recent years the biggest problem with the Merseyside Derby is that no one would score. Both teams are always desperate to win but both are typically too nervous to concede.
Enter Brendan Rodgers at Liverpool (last year) and switch out 'Davey Defensive' Moyes for Bobby Martinez (this summer) and suddenly we have to offensive footballing sides. Lovely.
In the lead up to the derby Martinez promised a free-flowing game and many, myself included, doubted it.
Nil-nil draw, we muttered, kicking stones.
So when the match ended in a six goal thriller, everyone with even a minor interest in the derby was wetting themselves.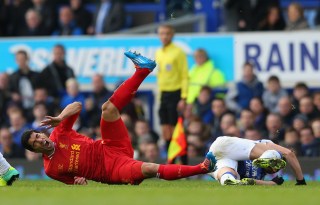 3. Hard Tackles
Liverpool v. Everton may not be known as a high goal-scoring fixture but one thing you can always depend on are tough tackles.
We prefer them to be clean but that can quickly be too much to ask.
Kevin Mirallas' tackle on Luis Suarez was a ridiculous challenge.
It deserved a straight red, no question.
But Phil Dowd, ever the seasoned vet, held off on giving it.
Why?
I personally think he didn't want to ruin the derby by sending a player off.
But who knows? Maybe he just missed it. Maybe he didn't feel like protecting Suarez (I doubt it).
Point being, Dowd chose yellow and not red. That move right there saved the match.
And how Liverpool handle it?
Exactly how you'd think they would – by looking to their talismanic captain, Stevie G, who promptly threw a cynical elbow at Gareth Barry's head.
Now, I don't think Gerrard actually connected the blow but there's no question it was a calculated move. Payback. And, perhaps given the Mirallas tackle, it was justified.
With the spirit of the derby in mind, Dowd chose not to send off Gerrard. One instance from each side. Fair play.
Game on.
4. Red Cards
Elaborating on the last point, red cards have dominated the history of the Merseyside Derby.
A few season ago Jack Rodwell was sent off after Suarez took a dive. It was never a red card. Ruined the match.
Dowd recognized this history, allowed each side one good thump, and let them play. Brilliant by Dowd. This day and age referees get little credit.
But on the day Dowd's decisions allowed that derby to happen. Bravo, Phil.
5. Lead Changes
1-0 Liverpool. 1-1 level. 2-1 Liverpool. 2-2 level. 3-2 Everton. 3-3 level.
The heavier the score swings back and forth, the better.
For a fan, there's nothing better than taking the emotional journey of thinking you're going to lose, to thinking you could sneak a draw, to thinking you're going to win, to thinking a draw is a fair result, to praying for a draw, back to thinking a draw is a fair result.
As long as the game of football continues to play with my emotions, I'll forever be there, foaming at the mouth, begging for more.
Greatest game on earth. Anyone who says otherwise is a fool.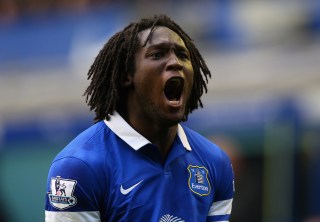 6. Great Goals
Suarez' free-kick was bananas.
If anyone saw the photo analysis done by the Match of the Day team in England, they showed that Tim Howard's wall was lined-up correctly – one man outside the post.
Still, no one has a clue what Steven Pienaar was doing. It seemed like he was anticipating a touch and shot. But that was a direct kick. Suarez was always shooting.
The Uruguayan noted the gap between the wall and Pienaar and plucked it perfectly. That's why he's one of the best players in the world.
Deal with it, people. He bites. He's reckless. But he's a top, top striker.
Romelu Lukaku's first goal was a great team goal. He's second was a ferocious header. His celebration was positively intoxicating.
Are players allowed to destroy corner flags in celebration?
Seems like that's the case. And strangely, I fully approve of this. Break the corner flag in half for all I care about. (For what it's worth I also think players being yellow carded for a jersey removal during a goal celebration is ridiculous. Let the man celebrate, for the love of Bob!)
Daniel Sturridge's goal was pretty sick as well. Enter the match late and score the equalizer with a backwards skimming header to the far post?
That was unreal. Howard had no chance. The beard can only do so much.
7. Atmosphere
When Goodison Park goes off, there's no better stadium in the Premier League.
On Saturday, that place was in a complete tizzy. Nuts.
(Which reminds me – if any of you want to see shots from inside the crowd at last week's derby, pay attention to NBC's short-form video series, 'I Was There'. We have one cooking for the Merseyside Derby and I'm pretty sure it's going to pop. I'll keep you posted.)
8. Fair Result
A great match has to have a fair result. Obviously, 'fairness' is largely subjective. But few people who watched that match would argue that 3-3 was not a very, very fair score.
You could argue that the best games ends with a winner.
I might agree.
But if so, then last weekend's draw had to be one of the very best I've ever seen.
Shawshanked.