Messi, Ronaldo, and Ribéry. Every indication says this year's Ballon d'Or come down to those three Barcelona's Lionel Messi and Real Madrid's Cristiano Ronaldo are givens in this conversation, and a standout year from Franck Ribéry on top of an astounding season from Bayern Munich has vaulted the France international into the discussion. With most ballots sent in by now, there's no more room in the conversation.
Which, of course, won't stop us from second-guessing the whole discussion. Take yesterday, when we had two chances to comment on Ribery's curious candidacy, albeit in passing. This is from our post on Real Madrid's support of Cristiano Ronaldo:
While the France international's improved play without the ball is a huge factor in his candidacy, the Bayern winger scored 20 goals in 50 appearances for club and country in 2013.
Ronaldo? 67 goals in 56 appearances.

So the question voters have (hopefully) asked themselves: Are the unquantifiable aspects Ribéry brings to the game worth enough to transcend that 47-goal gap?
It's a question that addresses the idea Franck Ribéry might have out-performed Cristiano Ronaldo, but let's leave that aside, even if it's great comments fodder. (Seriously, have at it, below.)
What I'm more concerned with is others' exclusion from the conversation, and in that sense, Ribéry serves as the best reference point. If he was able to break into this discussion, one that's normally dominated by Messi and Ronaldo, why haven't others?
Part of that is how the award's announced. The 23-man shortlist will be reduced to three finalists shortly, a whittling down that influences how we talk about the award. When voters are casting their ballots, they're asked for first, second, and third choices, another reason Ballon d'Or discussions focus on trios. At this point, the conversation has picked one player to join Messi and Ronaldo, focusing all its attention on him. Toppling that big two is such a monumental task, it takes the wills of many to keep the narrative afloat.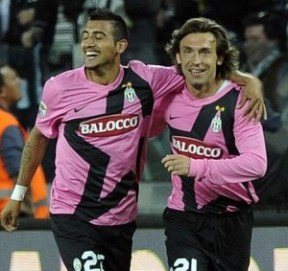 But the resulting tunnel vision isn't fair to the handful of players who have as strong a case as Ribéry. Again, this is a guy who scored 20 goals, was crucial to many others, but has an offense-heavy case based largely on his intangible contributions to his team's performance. If you recognize this is an individual award (and great teams are already rewarded by trophies), it's not too difficult to argue players like Zlatan Ibrahimovic or Robin van Persie were better in 2013 (I'd only agree with one of those, though).
There are other two players, however, who've come on strong since the start of the club season – players who've received almost no attention for this award. Both are overshadowed by teammates more apt to pick up individual honors, something that kept one of them off the 23-man ballot entirely.
But Arturo Vidal deserves some attention here, especially if you're using Franck Ribéry as the standard for what it takes to be in this discussion. Ribéry was unquestionably great last season, but if the argument hinges on his is production and influence on a successful team, Vidal's case shares those merits. Though not as lauded as midfield partner Andrea Pirlo (who finished seventh in last year's voting), he is the better player at this point in their careers, somebody who's capable of being the best player in all facet of a game.
This season, in all competitions, Vidal already has 10 goals and four assists from his central midfielder's role. In 52 games this year for club and country, the Chilean international has scored as many goals as Ribéry (20) while seemingly making a greater defensive contribution. That's not to say Vidal definitely had a better year than Ribéry (these players are close enough where personal preferences should be allowed to win out), but if Ribéry's in a player of the year discussion, Vidal deserves a place, too.
On the surface, Ribéry appears to be getting credit for Bayern's team accomplishments, but even if you think that has a place in individual awards, why aren't other Bayern players getting the same benefit? For example, given how important we've seen Philipp Lahm be in defensive midfield this season, would it make sense to look at his play this fall, his contributions to Bayern's success last season, and his role with a highly successful German national team and note his intangibles case probably transcends Ribéry's? It's worth talking about, particularly as Lahm's play to start this season may have closed the gap Ribéry built up last spring.
And Ribéry did have a truly great year. Through June, he was Bayern's best player, and the best player in the Bundesliga. But there are a handful of players who, over the course of the year, were just as good. While he may get some bonus points for his contributions to Bayern, it's not like he was their only good player. And even when you give him that benefit of the doubt, it's unclear he's done enough to monopolize this conversation at the expense of Vidal, Lahm, Ibrahimovic, and others. One players greatness shouldn't come at the expensive of all others'.