When watching soccer on TV, have you ever sat there and wondered what the man behind the microphone really thinks?
Maybe this will go someway to helping with that.
In the latest edition of "View from the Booth" we chat with NBC Sports' lead soccer announcer Arlo White about Andre Villas-Boas' treacherous predicament at Tottenham as they welcome Manchester United to White Hart Lane. Newcastle could go into the top four if they beat West Brom and can the Saints shock Chelsea?
You can hear Arlo calling live games this weekend on NBC Sports Network and NBC, and watch every single game available live online via NBC Sports Live Extra,
So, let's get to it.
Newcastle have quietly gone about their business this season and Alan Pardew's men can potentially break into the top four if they beat West Brom on NBC at 12:30pm this Saturday. What's the secret? Fit players? No Europa League? Boat loads of Frenchmen!?
I'm really looking forward to experiencing the atmosphere at St James' Park again. The whole city of Newcastle is buzzing on a match day, and when the team are doing well, the Toon army take the excitement level up a notch.
Even the most optimistic Newcastle fan must have feared for their side after the Tyne-Wear derby. They'd been beaten again by their nemesis Sunderland and faced a home game against Chelsea next, before traveling to White Hart Lane to face Spurs. It didn't look too clever.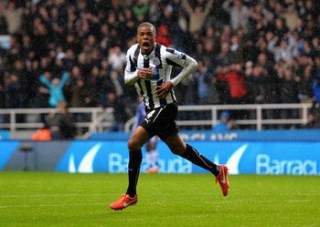 All of a sudden, Alan Pardew's side have sprung to life. Chelsea were beaten handily at home. Goalkeeper Tim Krul played out of his skin to preserve a narrow win at Spurs, and Norwich were beaten 2-1 at St James' last time out. As if by magic, Pardew is now facing questions about his team's chances of challenging for the Champions League spots. They start the weekend just two points outside the top four.
Loic Remy has been on fire, scoring 8 goals in his last 8 Premier League games, but as Pardew pointed out last week, Shola Ameobi was the "pick of the bunch." It doesn't seem 5 minutes since I interviewed a giant, young and softly spoken Ameobi in the bowels of the Nou Camp after he'd scored Newcastle's lone goal in a 3-1 Champions League defeat against Barcelona. Sadly for both of us, it was actually 11 years ago. Ameobi is 32 now, I'm considerably older, but he led the line superbly against Norwich and is enjoying his run in the side.
Newcastle are playing well, and their often fatalistic fans will hope they don't blow it against a team they feel they should beat.
As for West Brom, they've been ticking along quite nicely, albeit having drawn a few too many games. They are 8 points behind their electric pace at the same stage last season. Steve Clarke would surely leap in at this point and argue that his side should have won at Stamford Bridge the other week but for the award of THAT penalty, and he would have a valid point. I think it robbed West Brom of a bit of momentum. However, if Shane Long can reproduce his form from the Villa game last Monday night, the Baggies fans might 'Boing, Boing-ing' their hearts out at the top of the Leazes Stand come 7:20pm.
Spurs v Manchester United… this game is going to be incredibly tense as Tim Howard joins you for the call on Sunday, 7am ET on NBCSN. We spoke about Spurs' lack of creativity last week… should Tottenham's fans be worried?

This is a huge game for Spurs. Their capitulation at Manchester City was alarming, and it capped a body of work so far this season that has increased the scrutiny on AVB.
Before the Manchester mauling, Spurs had progressed steadily if unspectacularly, into the upper reaches of the Premier League. They weren't scoring many goals, but the saving grace was that they weren't conceding many either. It took 13 seconds, and then a woeful 90+ minutes to change that situation dramatically.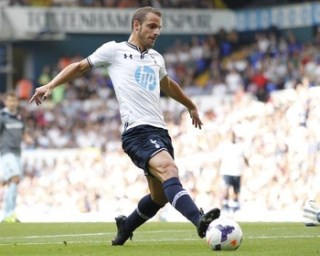 Spurs still lead the league in clean sheets with seven, but Spurs fans are generally not pragmatists. They want to see free flowing, attacking Football. They don't want to add "1-0 to the Tottenham" to their match day repertoire, even if 1-0 wins would be a dramatic improvement on not scoring for three entire games for the first time since 2009.
But where will the goals come from? Roberto Soldado has managed one goal from open play in 945 minutes of Premier League Football. Was anyone else surprised to see him play 90 minutes in the freezing conditions in Tromso on Thursday night? Maybe that was a prelude to a spot on the bench in the Premier League, but with the freshly rehabilitated Emmanuel Adebayor struggling with injury and Jermaine Defoe toying with a move away from the Lane, that might be unlikely.
AVB said that he'd toyed with a new 4-4-2 formation before the City game, I wonder if Sunday might be the time to throw a bit of caution to a stiffening wind, in an attempt to give his season a timely jolt.
I also wonder if we might see Ryan Giggs start the first game of his 5th decade on Sunday. He was sublime in Leverkusen on Wednesday night in the Champions League. In the absence of Michael Carrick, Giggs provides David Moyes with experience and poise in the middle of the park, with a fine range of passing. He displays a composure which Fellaini and Cleverley sorely lacked at Cardiff last Sunday.  But can Giggs start two games in five days? Or will be be kept back for the home match against Everton on Wednesday? We shall see.
United are running into form, and aside from a Clint Dempsey-assisted win at Old Trafford last season, Spurs have suffered an horrific run of form against them in the Premier League era. AVB and Spurs need that run to change.
Finally, what else are you looking forward to?
The 10am Eastern games on Saturday are full of intrigue and six pointers. West Ham are desperate to halt their poor recent run of home form, against a vulnerable Fulham. But if the Hammers let another home game slip by without taking the points, they could lurch into the bottom three.
Tony Pulis takes charge of Crystal Palace for the first time, at Norwich. The Eagles could inflict a hugely damaging defeat on the Canaries, and if they do so, they'll climb to within one point of them. Worrying times in East Anglia.
The Sunderland revival under Gus Poyet must gain some momentum soon before they are cut truly adrift in the bottom three. Can they overcome the recent trauma of a 6-1 defeat at Villa Park last season to gain three priceless away points at Villa Park?
Can Southampton get something at Stamford Bridge, or will their testing two game road trip at Arsenal and Chelsea yield nothing? Cardiff v Arsenal is a fascinating one as well. The Welshmen buoyed by their late equalizer against Manchester United, but now pit their energy and combativeness against arguably the silkiest side in the Premier League in Arsenal.
All in all, it's another cracking Premier League weekend in prospect. Hope you all enjoy it on NBC Sports.