Much like Tim Cahill, a loan deal for Robbie Keane never made much sense, but I guess it's obligatory for the rest of the world to speculate about any player that comes to Major League Soccer. In time, that may be the secondary Beckham effect. The LA Galaxy star opened the door to this kind of speculation after his two stintswith AC Milan. Now, even when we're talking about past-their-prime stars like Thierry Henry, Keane, and Cahill, it's standard to wonder where they'll be playing each winter.
Keane, however, won't be playing at all. As he revealed to reporters earlier this week on a season-ending conference call, the Ireland international was scheduled to undergo surgery on both Achilles tendons, with the procedures successfully performed on Wednesday in London.
From his wife Claudine's twitter account: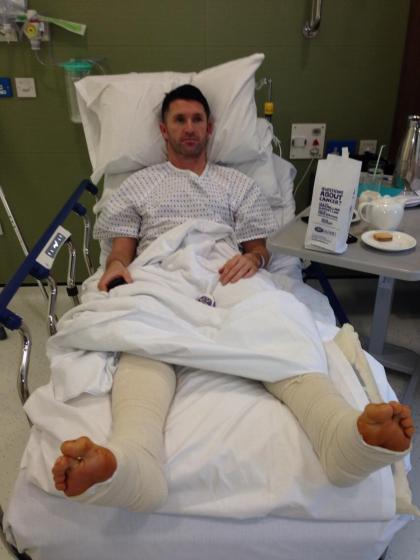 Between duty for club and country, Keane played 41 games in 2013, scoring 27 goals. One of the top three vote-gettings for this seasons Major League Soccer Most Valuable Player award, Keane posted 16 goals and 11 assists in the league's regular season, his second full year with in Los Angeles.
According to the Galaxy's Insider blog, the team Most Valuable Player will complete his rehabilitation in Ireland before returning to California in January. Keane's not expected to miss any preseason activities, with the Galaxy opening the 2014 regular season March 8 against Real Salt Lake at StubHub Center.