Over the past decade in the Premier League a huge influx of foreign owners has helped transform many of England's biggest clubs.
Some purists argue that foreign owners don't understand the ethos of certain teams and are not sensitive to the needs of the fans, others believe the endless millions that wealthy benefactors, who hail from outside the UK, pour into the teams and the country itself is of huge benefit to the English people.
One of the largest shareholders in Arsenal Football Club, Alisher Usmanov, is of the latter opinion.
Mr. Usmanov has a personal wealth of over $20 billion and has tried to increase his 30 percent stake in Arsenal only for American majority shareholder Stan Kroenke to brush him aside. However, with the growing band of foreign owners in the PL set to increase in the future, Usmanov believes it is benefiting the league.
"Everyone who has legal right to buy something can perform this right," Usmanov told BBC Sport. "We have Kroenke, [Aston Villa's Randy] Lerner, many, many people and now many Asian owners. I think everyone is comfortable if the club are successful. If the club are not successful then, of course, everybody wants to find somebody guilty."
Russian billionaire Roman Abramovich bought Chelsea in 2003 and that started a wave of foreign investment in the PL as American Malcolm Glazer took over at Manchester United, Sheikh Mansour from Abu Dhabi bought Manchester City, Aston Villa were bought by American Randy Lerner and now the list goes on and on.
Usmanov wants that to continue and doesn't think it's doing anybody any harm as more money floods in from overseas.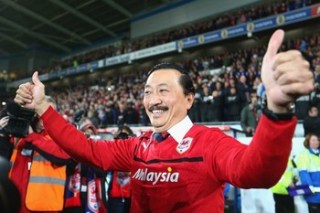 "I'm sure it is good [for English football]," Usmanov said. "When investors come and invest in the economy, in British football, it is a big part of the entertainment economy in the United Kingdom. What's bad?"
As it stands ten (Manchester United, Manchester City, Liverpool, Arsenal, Aston Villa, Sunderland, Southampton, Cardiff City, Chelsea and Fulham) of the PL's 20 teams are owned by non-British companies or individuals. Many fans of those clubs have claimed struggles with their identity as new owners try new ideas, re-brand the team in different ways and try to make their new 'business' as profitable as possible.
But can fans really complain about changes in color or traditions? After all, these wealthy individuals are allowing the side they support to thrive and compete in the most lucrative and most watched league in the world.
Something has to give and ultimately, money talks.
Whether that's with finances from England or finances from foreign countries, the Premier League clubs involved are benefiting tremendously.
As Usmanov said, 'What's bad about that?'