Last week after all the rigmarole and hype had subsided somewhat, I got the chance to speak with two of the leading lights of Major League Soccer's newest franchise.
Chatting away with Co-owner and President of Orlando City Soccer Club Phil Rawlins and current head coach Adrian Heath, I got the sense that these guys are only at the beginning of an incredible journey as they aim to take MLS and soccer in North America by storm.
Since relocating the team from Austin, Texas to Orlando in 2011 and blitzing their way to two USL Pro titles in recent years, Orlando City were finally confirmed as MLS' 21st franchise on November 19.
With a new 20,000 capacity soccer-specific stadium in downtown Orlando signed and sealed, plus a plan in place to eventually  become MLS' best side, Rawlins and Heath have a busy time ahead of them. But that's not to say the journey they've been on thus far hasn't taken plenty of time and effort as paperwork, funding and red-tape has held them up.
(MORE: Orlando City SC confirms they will be next MLS franchise)
Finally they've reached the promised land and now they're in MLS, that's only the beginning.
I was about to find that out, as I spoke with the two Brits who are aiming to transform soccer in Central Florida and, in time, the U.S.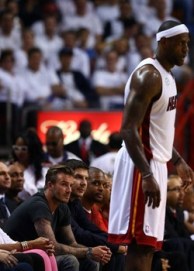 On any doubt about making it to MLS:
PR: I never really doubted it would happen to be honest with you. We've always known that there's some twists and turns along the way and some bumps in the road that we'd have to navigate. I've never really had a doubt in my mind that it wouldn't happen at some point. It was just a case of how quickly could we make it happen and how quickly could we get into the league to start playing. That was our focus, our ultimate goal was to get in at the start of 2015 if at all possible. We've achieved that, so we're delighted.
On Miami potentially getting an MLS franchise:
AH: I think you only have to look at the Pacific Northwest to see what rivalry will bring to the table. If you look at Portland, Seattle and Vancouver, the rivalry is incredible and it's captured the imagination of everyone… not just soccer fans. The atmosphere resonates to everybody. If we could do something likewise with Miami and there's talk about Atlanta and one or two other places, who is to say we couldn't generate the same sort of rivalry?
In world soccer, that is the thing that drives a lot of it: derby games.
On being the focal point and 'trailblazers' of soccer in the Southeast:
PR: I think we very much do [see themselves as trailblazers]. This is a very good market place, a young growing city, it's got a great demographic for soccer. The average age is 34, right in the target of MLS. We see ourselves as being somewhat trailblazers but we love being the pioneers, we set our own standards. We have done for many, many years. We've looked to set a new bar for soccer not only in the Southeast but across MLS.
If we're successful, which we know we will be, that will only just create more and more interest in market places locally and like Adrian said hopefully fuel those rivalries and derby games to come.
On emulating any current expansion sides in MLS: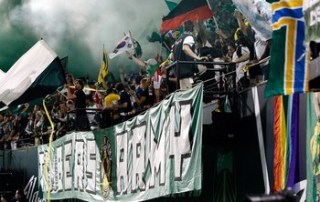 AH: I've always liked the way Salt Lake play, I think they play the game the right way. I like what Sporting have done and I think you have to take your hat off to what Caleb Porter has done in his first year at Portland. They try and play football the right way, they play at a high tempo and high energy game, which is something that I think supporters enjoy. In terms of on the field, if we could do what Sporting have been doing since they moved into the new stadium and play like Salt Lake and get the atmosphere that Portland get… we've crossed all three boxes!
On playing philosophy and what type of player Orlando will bring in:
AH: I think it will be a bit of a mixture of all the things you've just mentioned [big name DPs, top college recruits and players from their own academy]. The ownership group, Phil and Flavio, have never made any secret that they want to bring in a big time player when we arrive. Obviously the name out their all the time is Kaka, whether it's Kaka or somebody else, it will be somebody of that ilk we think. But certainly, since we've been here, we've been working hard in our own way behind the scenes with the academy. We think we're starting to make inroads there. We've got four of our kids now in the U.S. development pool. We're trying to do a bit of everything and we know we're going to have to being players in from college because that's where we will get the bulk of our squad from, or certainly within the league.
So overall, it's a little bit of everything. Ultimately it's about putting a team together, young, old or whatever, we just want to make sure on the opening day we're going to be competitive from day one.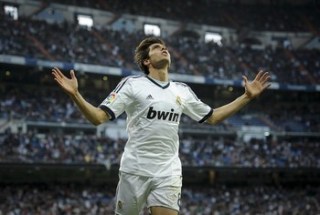 On any potential link up with Stoke City in the future:
PR: We don't have a formal relationship with Stoke. The connection obviously runs deeps because I'm a part-owner of Stoke and I've been a director at Stoke for 14 years now. Adrian is of course an ex-player and began his career there. We have deep, emotional connections to the club, we don't have a formal contract so we won't be looking at bringing players in from loan there. What it does give us, through Adrian, myself and Flavio's business colleagues in South America, it gives us a great network to tap into to bring the very best of those marketplaces here.
The relationships we have there is worth a lot, so we will look to exploit those and make the very most of them and bring the very best talent that we can and then marry that with the best local talent.