What looked like a weekend that would be dominated by Gareth Bale's hat trick became a time to consider a newly vulnerable Barcelona, the injury-laden holders pulled even on points at the top of the league after their surprise loss at Athletic Bilbao. Thanks to Iker Muniain's 70th minute winner, Ernesto Valderde's team posted their first win over Barcelona since 2006, their three Sunday points allowing them to vault Villarreal and claim fourth place in La Liga.
Despite having only dropped points twice this season (a status that would normally garner them some room at the top), the Blaugrana find themselves in the thick of a title race, their 40 points in 15 games leaving no room between themselves and the league's next best team. But whereas any other season that team would be Real Madrid, it's the Merengues' cross town rivals who've managed to keep pace, with Atlético Madrid and Barcelona now sporting matching 13-1-1 records.
Atleti took care of business on Saturday, second half goals from Koke and Diego Costa (his 18th of the year) giving the Rojiblancos a 2-0 win at Elche, further reinforcing the point: Diego Simeone's team has the staying power to keep up with Barcelona and Real Madrid (only three back after Saturday's win over Valladolid). Whereas Barcelona suffered their second consecutive loss on Sunday, Atlético has only lost once in 2013-14. Given the standoff they played Barcelona to in the Spanish Supercopa, it's unclear the teams' difference in quality matches their gap in reputations. Underdogs by name, Atlético are legitimate title threats on the field.
And with Barcelona going through a particularly injury-hit spell, this may be Atlético's chance to put some room between them and the reigning champions ahead of the clubs' meeting on Jan. 12. While the Barcelona team that visits the Vicente Calderon will be more formidable than the one that lost at San Mamés, the absences of Lionel Messi, Víctor Valdés, Dani Alves, and Carles Puyol proved too much to overcome in Bilbão. For the second straight match, Barcelona only put two shots on target, Sunday's loss building on mid-week disappointment in Holland to give the team a two-game losing streak. With league matches against Villarreal (fifth), Getafe (seventh), and Elche (13th) ahead of their visit to Madrid, Barcelona will be hard-pressed to take full points, something this week's results make it unclear they're be able to do.
Losing at quality teams like Ajax and Athletic isn't reason enough to hit panic buttons, but in a Spanish league were the margin for error is miniscule, the absences of Messi, Valdes, and Alves have especially hurt. Today, Barcelona lost their first league match since March, and because none of the league's other top three are dropping enough points, their slip cost them sole possession of first. If they can't get their stars back soon (or if they hit another spell of injuries later this year), they may not have the same wiggle room to defend their title.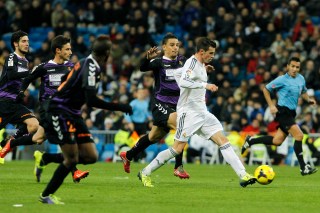 Bale Ronaldo-esque in star's absence
So much for that slow beginning to his Real Madrid career, right? Through nine starts (11 all-competition appearances), the Merengues latest star has nine goals and six assists, the latter number La Liga's best since Oct. 1. With three goals on Saturday, the former Spurs winger almost single-handedly pushed El Real past visiting Valladolid, a first half goal from Karim Benzema all the kept this weekend's win from being all about Bale. Real Madrid went on to win 4-0, moving within three points of first.
Now fully integrated into his new team, it's not hard to imagine Bale out-performing the prodigious numbers that earned him a transfer to the Santiago Bernabeu. In all competitions last year, Bale scored 26 goals in 44 games, and while he isn't quite the same center-of-everything presence in Madrid that he was at White Hate Lane, the talent around him means his team's going to score far more goals. At his current rate, Bale would best last season's total by four, should he play 44 games. Given Real Madrid's likely success in Champions League and Copa del Rey, he'll probably play more. If he stays healthy, Bale will have his most productive season yet.
When we talked about Ballon d'Or cases mid-week, we didn't mention Bale, mostly because it's so easy to see he isn't quite Cristiano Ronaldo. But at this point, there isn't much that separates the 24-year-old from Franck Ribéry. Whatever gap does persist is likely to be closed by the end of this season.
In the interim, Real's new galatico is doing a fine job filling in for the team's sidelined star.
[MORE: Gareth Bale hat trick leads Real Madrid to big win (video)]
Elsewhere
Getafe 1, Levante 0 – Pedro León's 79th minute winner moves Luis Garcia's team seventh, ending their three-match winless run.
Villarreal 1, Málaga 1 – A 94th minute corner put home by Weligton cost the hosts full points and their fourth place standing, the Yellow Submarine passed on Sunday by Athletic.
Celta de Vigo 3, Almería 1 – Suso's ninth minute opener saw the hosts respond with three goals before the hour mark, Celta's fourth win of the season putting space between Luis Enrique's team and the drop.
Espanyol 1, Real Sociedad 2 – Christian Stuani's own goal in the 88th minute sends Javier Aguirre's team to their third loss in four games. La Real, on the other hand, have overcome a slow start to reach sixth place after their third win in four.
Real Betis 2, Rayo Vallecano 2 – Betis stay bottom of the table thanks to Alberto Bueno, whose second half, stoppage time goal completed his brace and cost the home side two points.
Granada 1, Sevilla 2 – Kevin Gameiro's 87th minute winner gives Sevilla their third win in a row, vaulting Unai Emery's team eighth in the league.
Valencia 3, Osasuna 0 – Three goals in the span of eight minutes gave Jonas the hat trick, the Brazilian taking advantage of Francisco Puñal's early red card to push Los Che into the table's top half.
Standings
1. Barcelona, 40 pts. (15 games)
2. Atlético Madrid, 40 pts.
3. Real Madrid, 37 pts.
4. Athletic Club, 29 pts.
5. Villarreal, 28 pts.
6. Real Sociedad, 23 pts.
7. Getafe, 23 pts.
8. Sevilla 22 pts.
9. Valencia, 20 pts.
10. Espanyol, 18 pts.
11. Elche, 17 pts.
12. Granada, 17 pts.
13. Levante, 17 pts.
14. Celta de Vigo, 15 pts.
15. Málaga, 14 pts.
16. Osasuna, 13 pts.
17. Rayo Vallecano, 13 pts.
18. Real Valladolid, 13 pts.
19. Almería, 12 pts.
20. Real Betis, 10 pts.