24-year-old David Meyler's first Premier League goal is one he'll remember for a long, long time.
With Hull averaging less than a goal per game, they put two past Simon Mignolet and Liverpool and used a strong, anchored midfield to stymie Luis Suarez and the Reds attack to win 3-1 at the KC Stadium.
Meyler's winner did the trick, and Tom Huddlestone forced a Martin Skrtel own-goal down the stretch to ice the win, Hull's first-ever over Liverpool in any competition in 17 tries.
The Reds were lively at times, but it was only for short moments and they snoozed through much of the 90 minutes.
It was a terribly dull first 20 minutes, with Hull City content to out-midfield Liverpool.
Thankfully, the soccer gods took over and said "enough with this." Jake Livermore found himself with the ball in the Liverpool half, and decided to have a go at goal from range.  It took a deflection off Martin Skrtel, and a lucky break for Hull turned into the game's first goal.
It woke up Liverpool for a bit, and the Reds immediately responded, with a Jordan Henderson run forcing a yellow-card challenge from Curtis Davies which gave the visitors a dangerous free-kick.
Steven Gerrard stepped up and delivered, bending his kick around the wall and in the net to level the score just seven minutes after falling behind.
Liverpool then went back to sleep, but Hull stayed incisive.  The home midfielders didn't press hard, happy to keep possession, but the home side didn't disappoint as they asked a few questions of the visiting defense and used a physical approach to pin down Liverpool's buildup.
The Reds began the second half much brighter, clearly given some encouragement by Brendan Rodgers at the halftime break.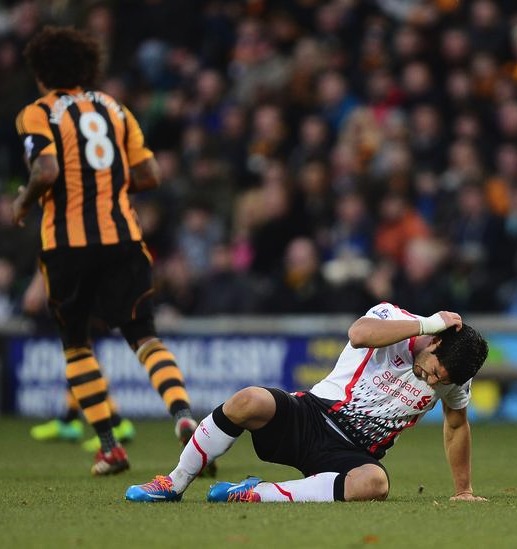 However, after the initial Liverpool spell, the game grinded to a halt once more until the 65th minute, when Hull began a spell of their own.
Tom Huddlestone anchored the Hull midfield, and he found Robby Brady who dribbled into a dangerous area but couldn't put anything on the ball.
Finally on 70 minutes the game opened up. Liverpool build a beautiful chance in the 71st minute, only to have Allan McGregor deny Victor Moses in his first real action between the sticks. Luis Suarez did well on a one-two with Moses, and the ball went out to Philippe Coutinho who crossed back to Moses, and the young winger was rejected on close range by a strong McGregor.
It didn't last long for Liverpool, as then Hull took the reigns and scored back on the other end through David Meyler.
The Irish midfielder popped off an early shot, and a scrum ensued in which Liverpool were unable to clear the ball.  It ended up back at the feet of Meyler, who didn't miss with his second shot across the face and into the far corner past Simon Mignolet for the lead.
Hull continued to pin down Liverpool impressively, and as time wound down Yannick Sagbo nearly put Hull 3-1 up on a breakaway in the 87th minute, but was saved well by Mignolet.
However, they would get their 3-1 lead moments later as Tom Huddlestone got another Skrtel deflection to wrong-foot Mignolet and seal the win. Huddlestone received the ball from Sagbo at the top of the box and probably should have hit the shot first-touch, but instead he backed it up and fired, and Skrtel's head put it in the net.
Unfortunately, Huddlestone will not be cutting his hair, as the score is down as an own-goal off Skrtel, with Huddlestone's attempt going wide.
It's a shocking yet comprehensive win for this season's best new side thus far, as Hull City move to an impressive 10th place in the table with the three points.  Liverpool had an opportunity to jump closer to Arsenal at the top, but fail to do so as the Gunners lead remains seven points.
GOALS:
Hull City – Livermore 20′; Meyler 72′
Liverpool – Gerrard 27′; Skrtel (og) 87′
LINEUPS:
Hull City – McGregor; Elmohamady, Figueroa, Davies, A. Bruce; Meyler, Huddlestone, Livermore, Brady (Boyd, 90′), Koren (Rosenoir, 66′); Sagbo (Graham, 90′).

Liverpool – Mignolet; Flanagan, Toure, Skrtel, Johnson; Lucas, Gerrard, Henderson, Moses (Alberto, 74′), Sterling (Coutinho, 66′); Suarez.