LONDON — After his sides stunning second half fightback against Southampton on Sunday, Chelsea boss Jose Mourinho didn't go as far as declaring that his side are ready to lift the Premier League title.
But he does feel his young side are adapting well to the challenges of a title race as they brushed Saints aside 3-1 with a mature and composed display.
Stunned by Jay Rodriguez' early goal, Mourinho's men trailed until the 55th minute but fought back superbly to go second in the table and sit just four points behind leaders Arsenal. Asked whether this win signified a team who are ready to lift the title, Mourinho was cautious.
"It's the sign of a team that is going step by step and understands my ideas and mentality," Mourinho said. "Some of the players are progressively feeling the responsibility. Feeling that Chelsea, in December, cannot be completely out of the title race. They must feel the responsibility to play for Chelsea and that was a sign of maturity. We were losing after 10 seconds, but we said 'keep calm, let's go.'"
(MORE: Chelsea 3-1 Southampton: Stirring comeback sends Blues second)
The Blues pressed in the first half as Artur Boruc saved splendidly from Fernando Torres' close-range header and Chelsea went in 1-0 down at the break. But Mourinho's men kept their heads, and after the interval Gary Cahill and John Terry used theirs in quick succession to nod the West London side ahead.
Mourinho was impressed with his sides second half display as Southampton couldn't cope with their rampant attack lead by a fired up Torres. The Spanish forward, returning to the starting lineup after injury, was serenaded by the home crowd as cries of 'Torres, Torres' reverberated around Stamford Bridge as he was replaced late on. Mourinho told me this when I asked about Torres: "The way he's working for us, it's fantastic."
However it was a tactical switch at half time that swung the game in Chelsea's favor as the 'Special One' sent on towering striker Demba Ba for midfielder Michael Essien and switched formation to 4-4-2 in order to hassle and harass Southampton's two central defenders.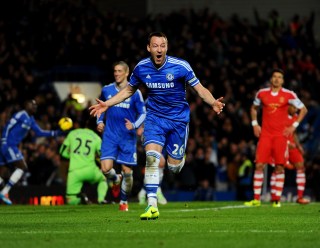 It worked a treat, as Jose Fonte and Dejan Lovren were forced to go long and give up possession as Chelsea continually picked up the ball and started free-flowing attacks.
Mourinho masterminded yet another victory — as Chelsea stretched their unbeaten run at home in the PL to 67 games under their Portuguese manager — after another early substitution worked in his favor.
"We changed to the 4-4-2 and I think we gave Southampton a different game, a game that they didn't expect. I think it was difficult for them to cope with the situation," Mourinho said. "We were not producing enough. I tried to give the opponent a new problem, one they were probably not ready for. They like to play it from the back, the fact we played with two strikers pressing Fonte and Lovren, I think they started going long and that allow my team to start creating chances."
In the next six days Chelsea now face two tricky tests away from home against Sunderland and Stoke, before welcoming strugglers Crystal Palace to Stamford Bridge in three games that will test their mettle not to drop points against weaker opponents.
But hovering on the horizon is a pivotal clash with league-leaders Arsenal on December 23, which could decide who is top of the table at Christmas. Mourinho brushed off suggestions that he's setting big targets and goals for his side and instead wants to focus the players improving… whilst staying in the title hunt.
"I can't establish targets and say 'I want to win five straight games' or 'I want to be top of the league then.' No. I want nothing," Mourinho said. "I want to work with them, to feed the young players and the new team which has been working with me for a few months. By the time we are doing that, we are there. That's the importance thing. If you are 10-12 points behind, you're building… but you're not fighting for the title. If you are 4-5 points behind, you're building and evolving but you're fighting for the title. These boys have to cope with the responsibility of being there."