There is much pot talk today. As ESPN's Ian Darke mused on Twitter, there was so much "pot talk" he suspected he had somehow woken up in Washington State.
The "pots" in question, of course, are the "pools" of teams assigned today by FIFA from Brazil. Each of the 32 qualifiers were assigned one of four pots. From that, teams will be drawn, one from each pot, into eight groups this Friday.
Mike Prindiville laid out the basics in this ProSoccerTalk post.
So much of the subsequent "pot" talk revolved around potential scenarios. The optimists among U.S. Soccer supporters may have immediately begun dreaming of the Group of Life. That would look something like this:
The United States getting drawn into a group with Switzerland (the seeded team everybody wants), Algeria and Greece. That might look even better than 2010, when the final draw fell pretty favorably for Bob Bradley's Americans.
But the pessimists immediately commenced to worrying about the nightmare scenarios. That would look something like this:
The United States being drawn into a group with Brazil-Argentina-Spain (choose your Pot One poison), and then with Ghana (a historical troublemaker for the United States) or talented Ivory Coast out of Pot Two, and then the Netherlands or perhaps Italy out of Pot Four.
Well, not to be alarmist, but can we talk about the Sum of All Fears draw scenario? You might want to ask any small children to leave the room; they don't need to hear this kind of stuff.
Because there are four teams in Pot Four, one will be drawn at random and placed into Pot Two. Residing in Pot Four are two nations that everyone believed should have been seeded in the first place: Italy and the Netherlands. Even France, Portugal or England being the team moved into Pot Two could create a tougher foursome for someone – possibly for the United States.
So, how about the United States tumbling into a harrowing group that looks like this:
Brazil, Netherlands, Italy.
Yikes!
Or, a U.S. group that also includes Germany, Italy, Netherlands. Or, a party-pooping group for the United States that also includes Argentina, England, Italy.
Ruh-row!
Bottom line, the draw before the draw – when that one team from Pot Four is selected randomly and placed into Pot Two – will say so, so much.
(MORE: U.S. to face Korea Republic, plus January camp dates revealed)
(MORE on Friday's draw: As expected, U.S. placed into Pot Three)
(MORE on Friday's draw: How Friday's procedure will work)
(MORE on Friday's draw: Not using the FIFA rankings to solve the nine-team problem)
(MORE on Friday's draw: U.S. contingent at Friday's draw)
(MORE on Friday's draw: Remembering the lucky 2010 U.S. draw)
.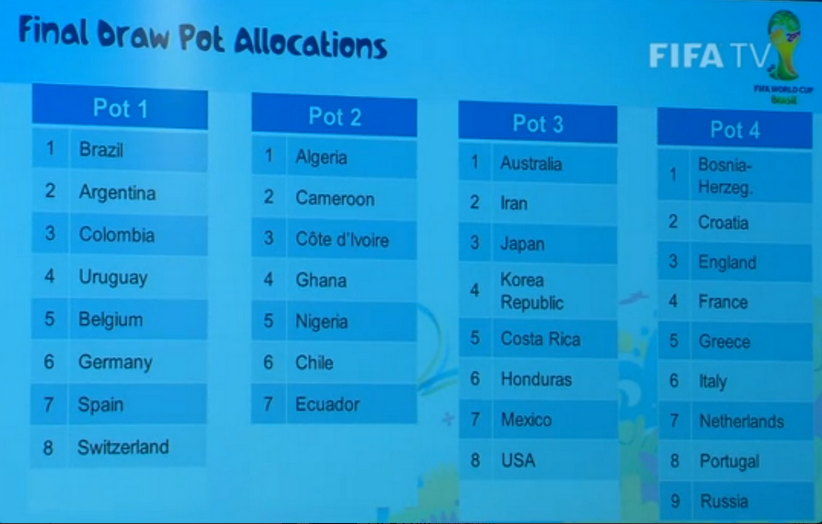 .