One of the themes of Major League Soccer commissioner Don Garber's Tuesday State of the League address was competitiveness. The league, he said, wanted to be the most competitive in the world. What exactly that means, we'll wait for another time to nail down, but the Commissioner did point out that five teams finished within six points of the league's regular season title. From MLS's point of view, it's a pretty safe assumption parity is a highly desired quality when assessing competitiveness.
In a league like that, playoffs are almost obligatory, with a 34-game regular season unlikely to be enough to distinguish squads being pulled toward the mean. But given most of the world persists without crowning champions through postseasons, it's worth asking whether Major League Soccer's system worked. After a regular season and three rounds of playoffs, has the competition format done a good job of identifying the two teams that should be competing for this year's title?
That is, after all, what this is all about, right? Sure, you need to play enough games to pay for the whole thing, but ultimately a league needs to have a credible competition. It needs to have a format where the best teams are rewarded; else, it becomes pretty difficult for people to buy into your league.
It's one thing to have a number of teams capable of competing for a title, or even have the occasional shock winner. It's something entirely different to be perceived as a place where champions might as well be drawn out of a hat, with too many teams having a shot-in-the-dark chance of claiming a championship.
MLS seemed to be approaching that in 2009 and 2010, when two Western Conference teams played their way through the East before claiming MLS Cup. The league's subsequent tweaks have helped with that perception. There's no more conference crossover. Now, the top five teams from each conference make the postseason, never mind that a sixth place team might be better than a higher finisher from the other conference. The schedule, an equitable double round robin, is now unbalanced, so teams play more games within their conference. Instead of MLS Cup final at a predetermined site, the finalist with the best regular season point total hosts the game.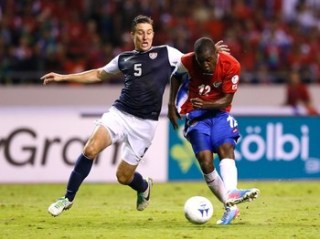 Having a playoff system means you don't need to answer those questions. Teams just need to make the playoffs, and although the whole thing kind of goes awry when a low-finishing hot hand blazes through the postseason (rendering the bulk of the season meaningless), everything looks great when you get to the end and two proven contenders are fighting for the league title.
In that respect, this year's competition format worked. The best teams not only qualified for the playoffs but they didn't cruise through the regular season. At year's end, two teams firmly ensconced in the "who's the best team" debate are competing for the final. What more could you ask for?
Perhaps a better way of settling home field advantage for MLS Cup? With an unbalanced regular season schedule, awarding home field to the highest point getter is only truly fair when the quality conferences are balanced. Right now, they're not. In time the East may improve, but right now, there's little question the West is the stronger conference, and because Real Salt Lake played more games against that tougher circuit, they finished two points short of Sporting Kansas City. The Eastern Conference champions aren't hosting Saturday's game because they were the better team through the end of October. They're hosting because MLS gave them an easier schedule.
The most-obvious solution is to alternate which conference hosts MLS Cup finals. Recognizing that the unbalanced schedule is both beneficial (in terms of travel, building rivalries, and the other reasons why MLS implemented it in the first place) and makes it impossible to meaningfully compare the records of teams from different conferences, the league should simply switch off. In even-numbered years, one conference hosts the game. In odd number years, it goes the other way. MLS would avoid the problems for the previous format (potentially having a neutral's atmosphere when fans are such an important selling point for the league) while avoiding the issue introduced by the unbalanced regular season schedule.
Think about how well this would have worked in 2011 and 2012. Instead of two games in Los Angeles between the Galaxy and Dynamo, we would have had one in Carson, the other in Houston. While you could argue the Dynamo didn't deserve to host either of those games, Los Angeles didn't exactly plow through the regular season in 2012. If they would have travelled to BBVA Compass last year, few would have complained.
But as far as 2013 is concerned, the qualms about home field and MLS Cup are a relatively minor concerns – the type of wrinkle you'd expect from an 18-year-old league still playing trial-and-error with its rules. If we're worried about whether home field is decided in a fair way come the season's last game, we should probably move away from the current system. Otherwise, 2013's been a pretty good once for MLS's competition format.