SOUTHAMPTON — Barking out orders on a clear, crisp day on the South Coast of England in Autumn, U.S. international Cody Cropper is a long way from Minnesota the day before Thanksgiving.
But he looks at home.
The young 'keeper has carved out a name for himself, against all the odds, in English soccer and is now making waves at one of the best clubs in Europe at nurturing young talent, he's on the crest of a wave and he wants more.
Cropper, 20, could be about to get his big break.
Last Sunday I went to watch Southampton lose 3-1 to Chelsea at Stamford Bridge, Cropper was there as third-choice 'keeper, completing the warm ups on the pitch and currently sits behind Polish international Artur Boruc, veteran Kelvin Davis and young Argentine Paolo Gazzaniga. In between my first meeting with Cropper just before Thanksgiving and now, all of a sudden he's moved up two spots in the depth chart.
(MORE: Watch every Premier League live online via NBC Sports Live Extra)
On Wednesday against Aston Villa at St. Marys, Cropper is expected to make his first ever match day squad in the Premier League under Saints boss Mauricio Pochettino. Boruc broke his hand in the defeat to Chelsea, while veteran Davis is also out injured.
It's time for the U.S. youth international — who impressed in the U-20 World Cup for the USA over the summer — to shine. This is the chance Southampton's U-21 'keeper has been waiting for his whole life.
"My goal has always been to play in the Premier League," Cropper said with a steely determination. "I don't care what anybody says, I'll do whatever I can and need to do, to get to that stage. If it's here, hopefully it is, because Southampton plays a respectable style of football, this is the best way to play. That's the goal, to make my Premier League debut. To be a consistent 'keeper in the Prem, like Boruc, like Davis, like Petr Cech. It's about being in the Premier League."
On the international stage, Cropper is also hoping for his big break.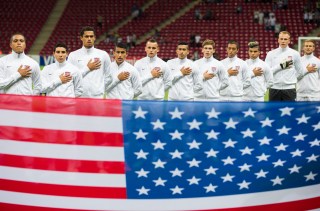 After getting a call up to the U.S. national team from Jurgen Klinsmann back in August for a friendly against Bosnia, the Saints youngster is aiming to keep improving and stay in the thoughts of the USMNT. His career since upping sticks and moving from Minnesota to England as a 15-year-old has been a roller-coaster after several tryouts have come and gone but contracts at Ipswich Town and now Southampton, have fell his way.
Since he arrived at the Saints last year, the ascent towards his Premier League dream has happened rather quickly.
"It's all gone very fluidly for me," Cropper said. "I've had ups and downs but at the end of the day I'm just glad to be here. It's a great experience because a lot of American goalkeepers don't get over here, it's an advantage in my favor."
Hanging around the vast training complex the Saints have on the edge of the New Forest National Park, I got chatting with some of the club staff who see Cropper on a daily basis, they have nothing but good things to say about him.
"He was very shy when he first arrived, but he's come out of himself now. He has something about him, a spring in his step," one security officer tells me. The countless other members of staff I chat with whilst I watch Cropper train echo similar sentiments.
The jovial spirit and playfulness in Cropper's demeanor is evident as we sit down and chat openly in the canteen at Southampton's Staplewood practice ground after he trundles off the training pitch. The eyes of Saints' next crop of young talent are anxiously lurking at Cropper and myself as we chat over a cup of coffee. I was in the presence of something special going on at Saints.
The first team, who Cropper regularly trains with, are currently enjoying their best ever start to a campaign in the English top-flight. Their emphasis on bringing teenagers through — Luke Shaw, 18 and James Ward-Prowse 19 are starters and many others academy products are involved in the PL's youngest side — and giving them a chance to shine in the first team means Cropper, and those sat eating pasta dishes around us, are future PL stars and international players in the making.
(MORE: USMNT roster announced for friendly against Bosnia)
As we mentioned, Cropper is a regular for the U-21 side who play against other Premier League's development sides, and it's there that he's shown great shot-stopping abilities and a has a towering presence about him as the mustache he's growing for 'Movember' makes his teammates look even younger. Cropper is easily over six-foot-three and the way he carries himself makes him seem ready to make the step up to the first team.
Following in the footsteps of the most famous American 'keepers in the PL today is what he wants. Training with Tim Howard and Brad Guzan while he was in the USA camp vs. Bosnia back in August was a dream come true for the youngster.
"Growing up as a kid I looked up to Howard massively," Cropper said. "He was a huge reason why I wanted to do what I do. That standard is the standard for every American goalkeeper. Brad Freidel, Kasey Keller, Tim Howard. That's the standard for every American goalkeeper. As much as I want to be there… I'm not there yet. But I will do everything I can do to get better because I want to be in with those names. Those three or four names, throw Guzan in there, is an incredible place to be in the history of U.S. soccer and that's where I want to be."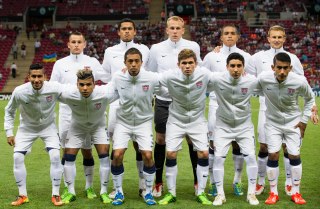 Cropper commented on how relaxed both Howard and Guzan were and also the huge number of tattoos Howard possesses. That seemed to blow his mind as he lent back in his chair and raised his eyebrows. He also said Klinsmann was "very nice and quite eccentric, but not in a bad way. He knows what he wants." Whilst also praising the squad the USMNT head coach has assembled. He's desperate to get into one more camp before the World Cup, the taster he had in Bosnia was, he hopes, only the start.
Cropper's a likeable character, and as we chatted back and forth about a plethora of topics about U.S. life, how the Minnesota Vikings and Wild suck, his dislike for cricket and summer vacation plans to Vegas amongst other things, several members of Saints' training staff walked past and made snoring sounds as Cropper continued to plow on and take me through his entire career. He smiled wide and they laughed back.
The man from Minnesota is highly thought of at Southampton. The playful banter proves it.
(MORE: See where Southampton are in the Premier League Standings)
You have to remember, not many young American 'keepers come to England first before proving themselves in the collegiate system or in MLS. Guzan and Howard were professionals for many years before making the big jump up to England. Cropper believes he has an advantage over the other young U.S. 'keepers because he's been playing abroad for so long.
"My progression is much more advanced than what a lot of the goalkeepers in the States are getting because they're all going through the collegiate system. Which isn't at the same level," Cropper explained. "Even though over here it's hard for me, it's still pushing me to my limits and being in and out of training with the first team is phenomenal for my development. If I get a contract here or if I don't, it's still developing me to go into a first team system at another club at another stage in my career."
At Southampton he regularly trains with the first team and gets to learn from both Boruc and Davis who take time to help nurture his development.
"You can take a lot of experience from those two," Cropper said. "Boruc is a lot more demanding when you're training with him. He wants this, wants that. He is very expectant. When you're training with Kelvin, he really helps you out on the mental side. The jump from the U-21's to the first team is a massive gap, you struggle a bit with the pace, strength and ability of the first team players. Kelvin helps me through the mental side of things. He talks to me after every game, we go through the video clips. It helps having someone so experienced helping me out who has played at pretty much every level."
Taking a step back to his childhood, Cropper initially grew up in Atlanta until the age of 10 but then moved North to Minnesota when his parents separated. He played basketball and swam at high school but why soccer? Turns out, it's all he's ever known.
"It was because of my Dad. As far back as I can remember I've always wanted to play soccer," Cropper said. "I've always wanted to be with my Dad and he was a coach and coached a high school team in Georgia. After school some of his players would come pick me up and I'd always hang out with them and go to every game. From a kid I always wanted to be a professional. If it was at MLS level or in Germany, or England. My goal was England, the opportunity came and I stepped into it. Right now I have my foot in the door but it's now taking that final step through the door and proving myself."
Cropper is now the second-choice 'keeper amongst Southampton's injury-ravaged goalkeeping unit as a packed December schedule sees the Saints play seven times in the next 29 days. Only another inexperienced 21-year-old Argentine stands between him and getting some minutes in the PL. His moment of truth may be about to arrive.
At 20 years of age, he's incredibly young for a goalkeeper, but his stature and presence makes him seem a lot older.
(MORE: US World Cup squad examination, who is going to Brazil? Goalkeepers)
With the 2014 World Cup draw coming up, Cropper still hopes he can sneak into Klinsmann's squad for the upcoming camps in the New Year and become the USA's third-string 'keeper in Brazil. Impressing for Saints in the Premier League in the next few weeks could help him achieve that.
"If I could get in to those friendlies it would be massive for me," Cropper said with a glint in his eye. "Not only for me at Southampton but with the USA. Since Bosnia there's been two camps but I was disappointed not to be called up to the Scotland and Austria camp. The guys playing week in, week out in MLS, I think I'm pushing them. That third spot is open but they're all playing in MLS and I'm not playing in a first team, it's hard for Chris Woods or Jurgen to drop one of them. It's what I want and it's what I can to get it."
We chatted about the various USMNT players he talks to, including Sunderland's Jozy Altidore, and a whole host of other U.S. youth internationals such as Conor Doyle, Sebastian Lletget and Caleb Stanko who he's come through the ranks alongside.
The next big goal for Cropper, aside from making his name in the Premier League with Southampton, is making the U.S. squad for the 2016 Olympics in Rio.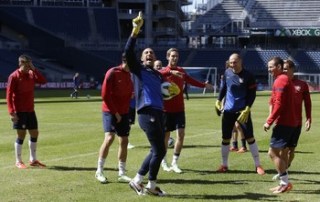 "I went to the 1996 Olympics in Atlanta, I don't remember it but my Dad took me to every game that the U.S. played," Cropper said. "I've seen all the videos since then and I have always wanted to play in the Olympics and I've watched them every time they've been on. That's definitely something I want to do, that's my next goal. The Olympics is a massive step up from the U-20's."
He's clearly enjoying life in England and is settled with his girlfriend and her family and with his own grandparents not too far way in the Midlands, he has people looking out for him after he initially found it hard to settle over 5,000 miles away from home.
"I live on my own right now, but some of the other goalkeepers may move in. We get on really well," Cropper said. "I actually just bought a dog, I have a little friend to go home to. He's a cocker spaniel called Harley. After the Harley Davidson, a solid American name."
A member of Southampton's media staff looks around worriedly as myself and Cropper begin to chat about him purchasing a Harley Davidson motorbike after he just found out there's a showroom in Southampton.
"Maybe save that for later on after you're done playing Cody," says the Saints employee.
We both laugh and imagine the looks on peoples faces if Cropper were to roll into training on a Harley. Priceless.
Despite spending the last five years in England, that Harley story proves Cropper is still very much an All-American at heart. If his career keeps blossoming at the current rate his ascendance towards the U.S. national team and becoming a Premier League regular, like his heroes Howard and Guzan, isn't far away. His drive and determination to get there as soon as he can is clear for all to see.
Soon you could be tuning in to watch the three USMNT 'keepers play in the Premier League. Tim Howard, Brad Guzan… and Cody Cropper.