"What are you doing this offseason" is the question you hear most this time of year around Major League Soccer, but it has less and less significance. With seasons starting sooner and ending later, there's barely enough time to fit in drafts, re-entry drafts, ang preseasons before we're kicking off again in March. The games may stop on this Saturday, but come Monday morning, teams will start overhauling their rosters. With player movement often grabbing headlines as big as the matches themselves, there is no offseason for an MLS diehard.
Take last year. Coming out of Los Angeles, you'd think there would have been a period of reflection on the year that was, particularly since neither David Beckham nor Landon Donovan seemed ready to give us quick answers to their career quandaries. Instead, Garth Lagerwey was putting us to work. As planes were lifting off from LAX, the Real Salt Lake general manager was shipping Jaimson Olave and Fabian Espindola to New York. Around the same time, news broke that Will Johnson was going to Portland. While the rest of the league was resetting, an Real Salt Lake team that have been to five straight post seasons was rebuilding.
At least, we called it rebuilding, though now that Jason Kreis's team is back in their first title game since 2009, we might want to reconsider the label, one which became a bit of a cliché throughout the regular season. Espindola, Johnson, and especially Olave were valuable pieces for RSL, but when you look at the core Lagerwey maintained, the offseason looks like more of a small shuffle than major remodeling. The core of the team was still in place.
That core starts at the back with U.S. international Nick Rimando and continues through a back line that returned three quality veterans: fullbacks Tony Beltran and Chris Wingert and former Best XI central defender Nat Borchers. In the middle, Real Salt Lake still had their linchpins: Kyle Beckerman at the base of their diamond; Javier Morales at the tip. And although he wasn't there when the team raised the cup in 2009, Costa Rican international Álvaro Saborío has been an integral part of the team's continued success. He was coming back, too.
Add in Ned Grabavoy, key in a season where RSL were occasionally without Kyle Beckerman, and the team had eight starters returning from a squad that finished second in the West. Among the replacements they had in house, Jason Kreis could call on Luis Gil in midfield and Chris Schuler at the back. The only real question was whether they'd have somebody to fill Espindola's shoes. By the time March came around, they'd have more than enough options: Robbie Findley; João Plata; Devon Sandoval; and Olmes Garcia.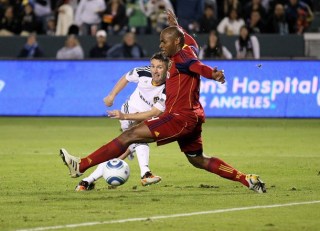 How did this come to be thought of as rebuild? It was probably that Olave trade that got the ball rolling. That it came so quickly, involved such a good player, packaged him with another starter, and didn't land Real Salt Lake a significant player in return hinted Lagerwey was being forced to hit the reset button. To a limited extent, that was true, but whereas many saw those early December trades as auguring a complete rebuild, the next dominos never fell, even if the narrative had already been set in motion.
If we're forcing ourselves to call 2013 a rebuild, then it started all the way back in 2010 when they drafted Chris Schuler. It continued when they traded for a 17-year-old Luis Gil a month later then took a three-year break. That's when (this offseason) the team drafted Sandoval, traded for Findley and Plata, and signed Garcia. In between, players like Sebastian Velazquez (draft) and Lovel Palmer (re-entry) were added, but they aren't a big part of the rebuild narrative. If we're looking at how RSL were able to like Olave, Johnson, and Espindola go without regressing, the answers lie in a series of moves that don't look much different than the drafting of Sebastian Velazquez or the reclamation of Lovel Palmer.
Except for those high profile departures, 2013 has been business as usual for an organization that continues to uncover talent. Sometimes that involves getting the most out of recycled talents like Rimando, Grabavoy, and Wingert. Other times it's late draft steals like Schuler and Velasquez. There's the occasional Garcia-esque signing from abroad, and when they need to, they can go out and get a Morales or Saborío. This isn't rebuilding. This is roster management done within the thin margin allowed a small market team competing against the likes of Los Angeles and Seattle.
It's natural to think of the emptied lockers of Olave, Johnson, and Espindola and assume big changes were in store, but the fire sale never came. If Real Salt Lake's brains continue running their organization the way they have, that fire sale will never has come. When the day comes that Rimando, Beckerman, and Morales have to go, the transitions may prove just as smooth, provided the same philosophies are underpinning them.
If changes stay limited and can be planned for in advance, there's no reason why RSL can't continue to succeed. Last year, they finished second in the West and made the conference semifinals. This year, they finished second and are playing for an MLS title.