Okay, this is it. For real now.
With just over 24 hours to go until the FIFA blokes in Brazil fondle a few plastic balls in a glass vase and either shatter or ignite the dreams of entire nations across the globe, the draw for the 2014 World Cup is almost upon us.
Throughout the qualification process, we've had this nifty little simulator to try and predict who will play who and which group the USA and every other nation will be placed in. Now all the seeds and pots are confirmed, this tool has a lot more weight and the World Cup dream has suddenly become a lot more real.
(MORE: 2014 World Cup draw simulator – USMNT destined for tough group)
So, for one last time before all the waiting is over, it's time to spend the next day or so breaking down the permutations and clicking that all important "simulate draw" button on this fantastic World Cup draw simulator.
I've warned you before that this thing is highly addictive, so don't come running to me if you get in trouble with your boss or the family for excessive amounts of World Cup draw procrastination…
That said, I couldn't resist giving it three more tries before the WC draw tomorrow. Needless to say, I'm still unsure as to quite how the USA will fare. It will be tough, but as you can see from the results below, there is hope for Klinsmann's men.
Give it a go, you won't regret it.
FIRST TRY – There is hope…

SECOND TRY – Uh oh….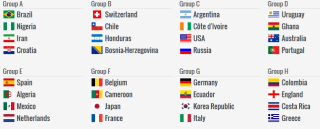 THIRD AND FINAL TRY – Um, that's even worse…