This postseason, we've seen it click for Benny Feilhaber in a way we've never seen before. We saw his talent for the U.S. Men's National Team when he developed into a type of super-sub under Bob Bradley, but in Germany, the Premier League, and Denmark, he never had the same impact. When the Brazil-born midfielder came back to Major League Soccer with the New England Revolution in 2011, he had the talent to be an impact player, but it's only now, one year and one stop later, that the 28-year-old's found a platform to display his skills. Has Sporting Kansas City finally solved the Benny Feilhaber puzzle?
If so, they've only done so over the last three games. Opening the playoffs in New England, Kansas City left the former U.S. international on the bench in a 2-1 loss. It was only after Laurence Olum was lost to injury that Feilhaber got a chance, seizing his opportunity with a standout performance in Sporting's 3-1 victory. His interception of Matt Reis' 113th minute outlet and subsequent cross to Claudio Bieler created the round-winning goal, capping a night in which he created six scoring chances. Given the performance and the circumstances, it was Feilhaber's best game since returning to Major League Soccer.
Like the rest of his team, Feilhaber went quiet two days later in Houston, but in the Eastern Conference final's return leg, he replicated his Revolution performance. After a slow start, Feilhaber ended the night with six more created chances and an assist, his second half scoop for Dom Dwyer against creating the tie-sealing goal.
"Obviously those things get magnified," Kansas City head coach Peter Vermes said of Feilhaber's game-winning assists. "What I would say is that [in] the intensity of the matches, he's risen with that as well, which is a good thing."
But where has all this come from? Why the sudden turnaround? Has Feilhaber just stepped up when his team's needed him most? Undoubtedly yes, but whether that's coincidence or a function of something that's changed since the middle of the season is the question.
Acquired this offseason for draft picks, Feilhaber played fewer minutes than he had in either of his seasons in New England, at points left out of Kansas City's team entirely.While he provided valuable depth in August and September, starting eight consecutive games, Feilhaber only played 90 minutes once. In October, Feilhaber dressed four times but only saw 45 minutes of action, a usage pattern that persisted into the first game of the playoffs.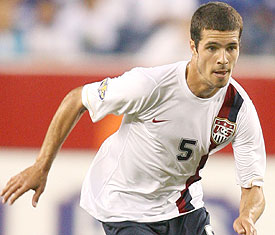 "I was down," Feilhaber said this week, talking about his struggles to maintain a consistent place in the team. "I felt like I was fighting for my job. And in some ways, I was losing."
It was a huge turnaround from the beginning of the season when Feilhaber started the team's first nine games, but that was back when expectations may have been greater. Now the pecking order seems clear. Graham Zusi is the clear focal point of this team – the man who orchestrates the attack. Instead of trying to find a way to help distribute the burden, Feilhaber is an obvious complementary piece. When he has room to create, it's often because Zusi has opened it up. Feilhaber can worry about pulling the trigger, not shouldering the load.
"What he's getting better at is not slowing the game down too much," Vermes said of Feilhaber's improvement. "Because we still want to go, and that's a recognition thing."
The irony there is Feilhaber's value in the open, when he elects to "go." When he gets out in the open — as he did so often with the national team; as he did for the deciding goal against Houston — Feilhaber can pick out a pass at an all-star level, often displaying that tantalizing skill which leaves you wondering when and how somebody will figure out how to get the most out of Benny Feilhaber.
For a man who was always at his best in spurts for the national team, this may be his best role. As he showed against New England and Houston, Feilhaber can be decisive in moments, but when asked to be the guy to control the minute-by-minute (as he was in New England), he often leaves you asking for more.
Now, filling a role that complements Zusi, Feilhaber is left to be his best without trying to be what he's not. And by letting him do that, Peter Vermes may have solved the Benny Feilhaber conundrum.